Transitioning From Road Running to Trail Running
Last spring, I took a leap of faith (or stupidity, TBD) and signed up for my first ultra marathon. Tomorrow at 7 am, I'll be at the starting line of my first 50K, preparing to run a little over 31 miles through a state park in Wisconsin. I know, right? I am nervous. And I'm not sure if it will be more awful or exhilarating, but I'm pretty sure it will be some mix of the two.
I'm not quite sure how I got here (blacking out and signing up for races is a thing), but I know it started with my mom, as crazy ideas tend to do. Shout out to you, mom! Whether you remember or not, you planted this idea in my head a few years ago and it never left.
There was only one problem: I signed up for an ultra marathon on trails, and I've always been a road runner. I didn't have much experience in the trail running department, but I was excited to mix it up from my normal road running routine.
Around the same time frame, a friend was making the transition from road running to trail running. I just assume that everyone who has ever stepped foot on Chicago's lakefront path at any point over the last five years knows Carolyn Gardner, but for those who don't know her, she's a fierce little lady runner with a huge heart full of endless encouragement.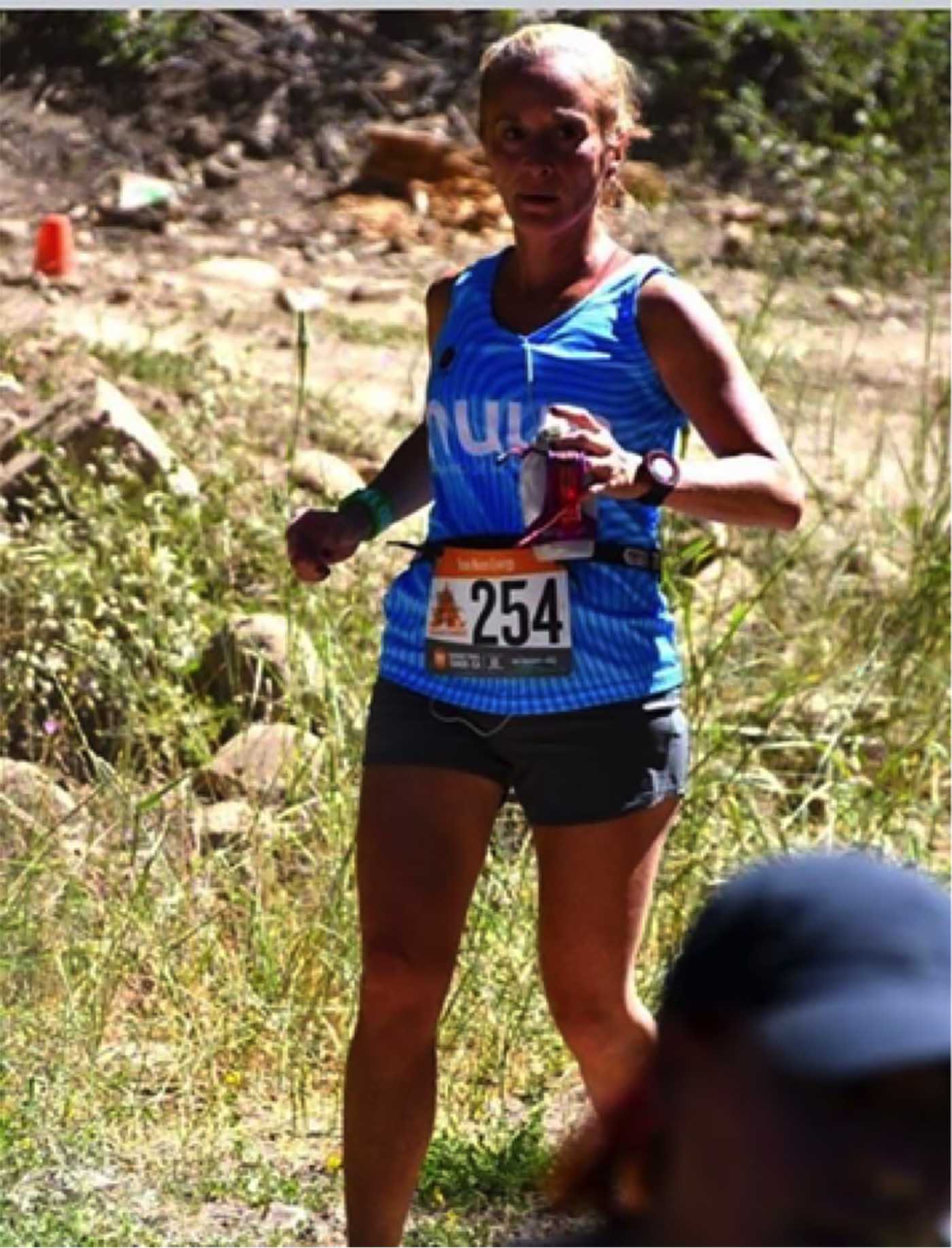 Photo courtesy of Carolyn Gardner, taken by Tyrell Heaton
Since her first race in 2006, Carolyn immersed herself in the Chicago running scene. She loyally served on the Girls on the Run-Chicago Board for five years. She has been a Nuun Hydration ambassador for the past two years, was a co-founder of Chicago run club Crew Runs the World and participated as a Nike Run Club Pacer. Since moving to Los Angeles last year (insert crying emoji here), Carolyn remains active in the fitness community as an LA team leader for Oiselle.
Historically a road runner, Carolyn has completed 12 marathons, 14 half marathons and about 40 other road races – but something changed over the years. She lost a "spark" she once had for hitting the pavement.
"I ran the LA marathon earlier this year, and while I love the course, during the race I realized the 'spark' for running marathons was gone. I needed a new challenge," Carolyn admits, "and here in Los Angeles, there are mountains and trails everywhere. One popular form of fitness is to go hiking. Once I tried it for myself, I was hooked. With my running background, it was natural for me to progress from hiking to running trails."
We've both discovered that there are a few key differences between road running and trail running and the transition is a little more nuanced than I initially anticipated. It can best be broken up into three main differences: a different mentality, different gear and different preparation.
Different Mentality
Carolyn explains, "when you are running trails you really have to be mentally present. Whether you are running on mountains or on flat trails, the terrain is so variable that you must pay attention and watch your footing. It is easy to go on auto pilot when road running, but I have found running trails is much more strategic, and there is a stronger need to be aware of your surroundings. Trail running requires mental toughness to get up mountains and down hills."
Related: did I mention I'm nervous?
Different Gear
I don't usually need an excuse to buy a new pair of running shoes, so I welcomed adding trail running shoes to my collection. Carolyn adds, "Trails can be rocky, sandy, wet, covered with trees, etc. and you really need shoes with treads to properly navigate and prevent injury. The good thing is there are numerous options for trail shoes these days so there is a fit and style for everyone."
Carolyn also pointed out the need for proper hydration gear. "If you are running a trail there is a good possibility there will not be a water source along the route," Carolyn warns. "It is important you carry what you need with you."
I'd like to take this moment to point out that I really needed that advice last year (right before my first trail half marathon). I didn't think to BYOB on the trails, and didn't get to the first water stop until six miles into the race. There was a terrifying moment when I thought there might not be ANY water provided during the race. Let this serve as a lesson to thoroughly review the race course before getting to the start line (… of any race, but especially for trail races).
Different Training & Preparation
One of the biggest challenges I had to get over was the change in terrain and elevation. For training, I was purposely leaving town and planning long runs in places like Barrington Hills and Lake Geneva.
Let me repeat the fact that I went to Lake Geneva to run hills, not to enjoy a beer on the lake. Who have I become?!
Now a resident of LA, Carolyn is no stranger to hills.
"I am not as focused on running a ton of miles throughout the week, but instead I have added strength training sessions. Here in Southern California the trails include tons of hills, and I need the additional strength training in order to run them," Carolyn said.
Trying to soak up all of Carolyn's last-minute wisdom and experience ahead of the 50K, I asked her what her main tips were for first-time trail runners. Here's her top five:
Don't go out too fast on your trail run. It requires much more energy to conquer the trails so pace yourself – and yes, that means your pace might be slower.

Don't be afraid to walk or power hike when needed.

Relax! Trail races are super fun and usually have really good food and beer at the post-race party.

When running uphill, shorten your stride. Taking short steps uphill is much more efficient.

My biggest advice is to just try it. I was an urban road runner for years and the trails never appealed to me. Now, I wish I had tried them sooner because I love the challenge it brings … and the views are pretty cool, too.
You can follow Carolyn's trail adventures and read-up on more of her advice on her blog, Run Fierce Live Fit.