How I Became Someone Who Loves To Work Out With Friends
If you've read here before or follow us on social media, you undoubtedly know that we believe that working out is better with friends. From #Sweatworking to workout dates to using friends as accountability buddies, we're all for mixing fitness with pleasure. And for me personally, working out with my pals is an essential part of my weekly routine. But it wasn't always that way. When I first got into exercise, I was downright terrified of working up a sweat in front of my friends or my significant other. Now, I can barely drag myself out of the house for a workout if I don't have a buddy. Here is how my mentality shifted from only working out solo to asking friends to join in on the fun.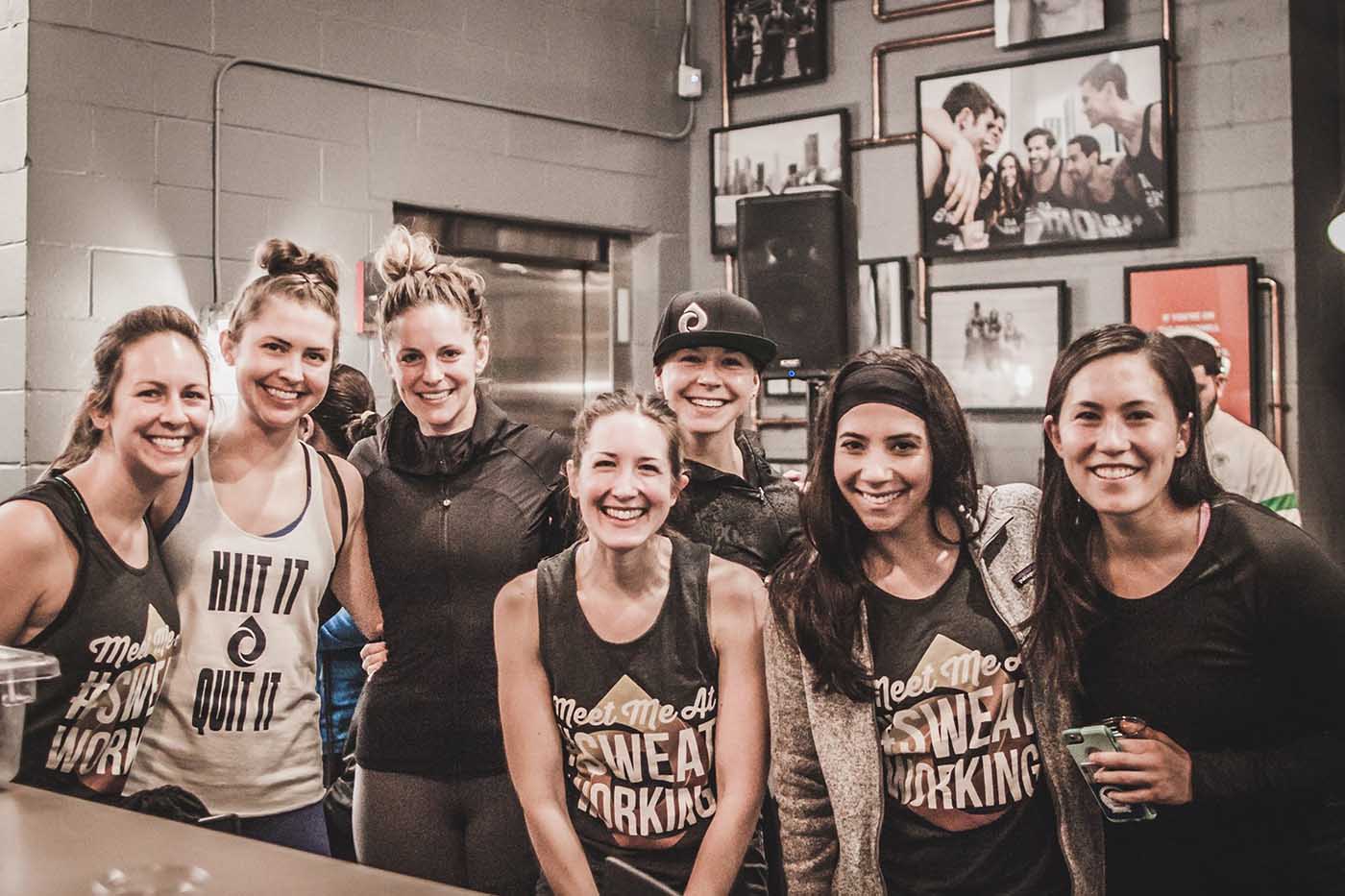 Then: "I don't want my friends to see me having a hard time in this group fitness class – and there is no way I can keep up with them!"
Now: "Wow, she is a beast over there with those 25 pound weights. Maybe I should try them on my next set."
I have never been an athletic person. I hated playing sports in gym class growing up, I wasn't strong and that hand-eye coordination thing never really existed for me. This fear of physical activity kept up with me as I went through college and into young adulthood, and I refused going on runs with roommates or to classes with coworkers. Eventually, I realized that having a hard time is the point, and really, just got over myself. Group fitness classes were my gateway drug to working out with my friends. I started trying out different classes and realized I loved experiencing it with other people because they were struggling too – it was extra motivation to make sure I was working as hard as everyone else.
Then: "I am sweaty and my face is red and I look disgusting. I don't want ANYONE to see me, let alone my friends or boyfriend."
Now: "You bet I'm disgusting right now – I just killed it in there!"
Well … nothing has really changed here, physically. Yes, my face gets red during and after a hard workout, and I sweat when I work out. Guess what? So does everyone else. What changed here wasn't realizing that everybody sweats, however, it was reframing how I think about working up a sweat. Now, I wear those workout effects like a badge of honor. After all, I like to work hard when I get to the gym; if I walked out looking as fresh as T. Swift, there'd be something wrong with me.
Then: "Exercise is my time to get away and not have to talk to anyone."
Now: "You're here. I'm here. That's cool, we're doing our own thing and we're both amazing."
I used to avoid certain workouts so I wouldn't run into anyone I knew in class or in the locker room. Over time, I really hated that I was holding myself back in this way – I knew that while it's totally fine to do your own thing, the very thought of people being around shouldn't prohibit you from getting in a good workout. Eventually, I learned that you can still get the benefits from using fitness to unplug when you have friends or other people alongside you. Often times now when I go to classes with friends, we primarily talk at the beginning and end, with the occasional exchange of a look that says "Wow, this is really tough today!" As it turns out, working out with friends is a great way to spend time together without all the pressure to be talking nonstop. This kind of hangout is a huge plus for someone like me who is becoming more introverted with age.
Then: "Working out isn't fun – I don't want my friends to think I am lame."
Now: "Working out is actually fun, and it is even better with friends."
So much of our fitness mentality is shaped by the people around us, and I've had plenty of friends gently mock me for choosing to spend my Saturday mornings running all over Chicago. While this teasing was all in good fun, it still turned me off of asking friends to join me. My mentality shift here was realizing that it is 100% my choice to spend my time doing whatever I deem most fulfilling to me, and often, that means a workout. I started suggesting fitness as a social activity, and not caring if people said no.
However, I learned that people usually said "Yes!" when you ask them to work out with you. Who knows, maybe that teasing friend really wishes they had someone to make exercise less intimidating – your invitation might just be what it takes to get them out there.