How Molly Goodson Made The Assembly a Community of Women Goal-Getters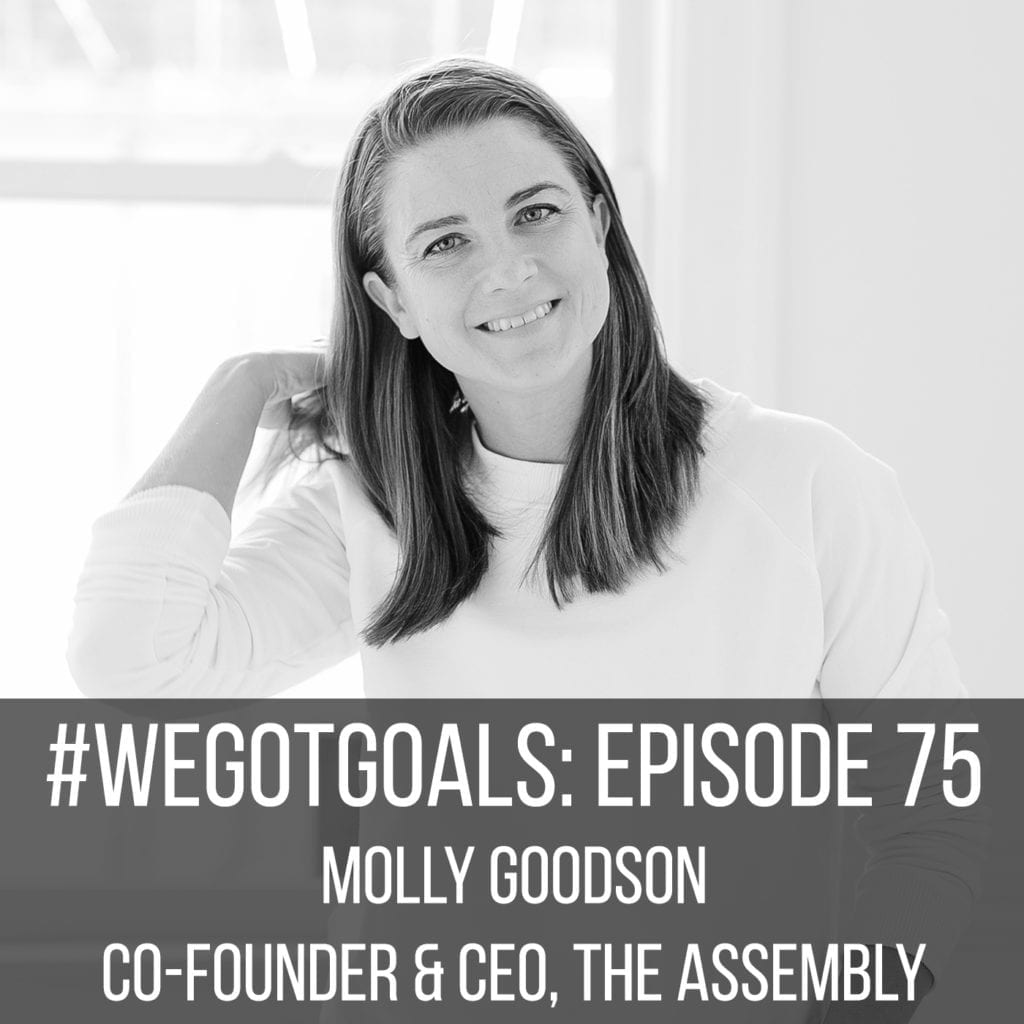 Photo credit: Praise Santos 
At least once a week, I have a slight crisis of environment. We're lucky enough to work from home pretty regularly, but as anyone who works from home full-time can tell you, it's not always all it's cracked up to be, and there eventually comes a time where you're going to go batshit insane if you have to stare at your home's walls for another minute. But at the same time, leaving to go somewhere else wouldn't necessarily be an improvement — sure, you could go to the corner coffee shop, but the outlets are usually taken and the lattes are criminally overpriced. What's a woman to do?
Molly Goodson lived that conundrum over and over again as a remote worker herself. As an added layer of complexity, she and her friends were starting to plan workout dates more and more often — but the struggle to hang out post-sweat was real. Most studios were too small for comfy conversations, so they'd have to change locations, often after waiting for a shower in crowded locker rooms. (And as Molly was telling me this, I was vigorously nodding, silently stopping myself from saying, "Oh my god, me too!" after every sentence)
Recognizing all of those issues, she realized a place was needed where women could have a sort of home away from home, with space for work, play, socializing, working out, and trying new things. Thus, The Assembly was born and built in the heart of San Francisco's Mission District.
But unlike what you might see at a WeWork or The Wing, The Assembly uses health and wellness as the unifying theme across the open, airy old church it inhabits. Like aSweatLife, Goodson recognizes that your best life can come with fitness as the catalyst, even if the best moments of your day happen outside of that gym. Their daily schedule is a dream whether you're a health nut or just a little wellness-curious. Yes, there's the usual yoga, meditation, and run clubs, but you'll also see workshops on negotiation, watercolor painting, and indigo dyeing.
"I felt that as I was getting older, health and fitness was something I made a point to prioritize… truly it is the biggest thing I do on a daily basis for my mental health," shared Goodson.
Her lightbulb moments came when leaving her job in the media world.
"I had this nagging thought in my head about this idea, this topic of changing the way we speak about health and wellness, and how do you actually build community into a topic a lot of people throw the word around in," explains Goodson.
As she was thinking about community and wandering the city looking for that elusive perfect co-working space, Goodson was also reading about new health and wellness trends like cupping or reiki.  She was curious about trying them out, but realized it was tough to actually go out and find a practitioner. Those three layers — community, co-working, and trying new things — combined to form the foundation of The Assembly.
So on a goal-focused podcast, I had to ask Goodson how The Assembly helps foster goal-setting and achieving among its members. She immediately launched into an impressive analysis of all the different ways The Assembly's staff and environment are optimized for helping members achieve goals in three different areas: fitness goals, professional goals, and social goals.
You'll have to listen to the episode to get the full rundown, but the one that affected me the most was hearing her talk about social goals; all too often, we focus on that next promotion or that faster mile as the only types of measurable goals worth chasing after. But shouldn't it be just as important to set goals for yourself to make a new friend, get back in touch with an old one, or organize a friends' night out for you and your core women?
Goodson and her crew think so — and that's why her staff is specially trained to engage with members, ask about their interests, and even make introductions between members who might get along or have a common interest.
Whether it's in a workout studio in Chicago or in the historic church that houses The Assembly, everything really is better with friends. (Including podcast ratings and reviews — if you liked this episode with Molly Goodson, please subscribe to #WeGotGoals on Spotify, Apple Podcasts, or any other podcasting app, and while you're at it, leave us a rating or a review.)
Want to visit The Assembly for yourself? Click here for more info on how to say hi IRL.