7 Lessons Late July's Nicole Bernard Dawes Taught Us About Goals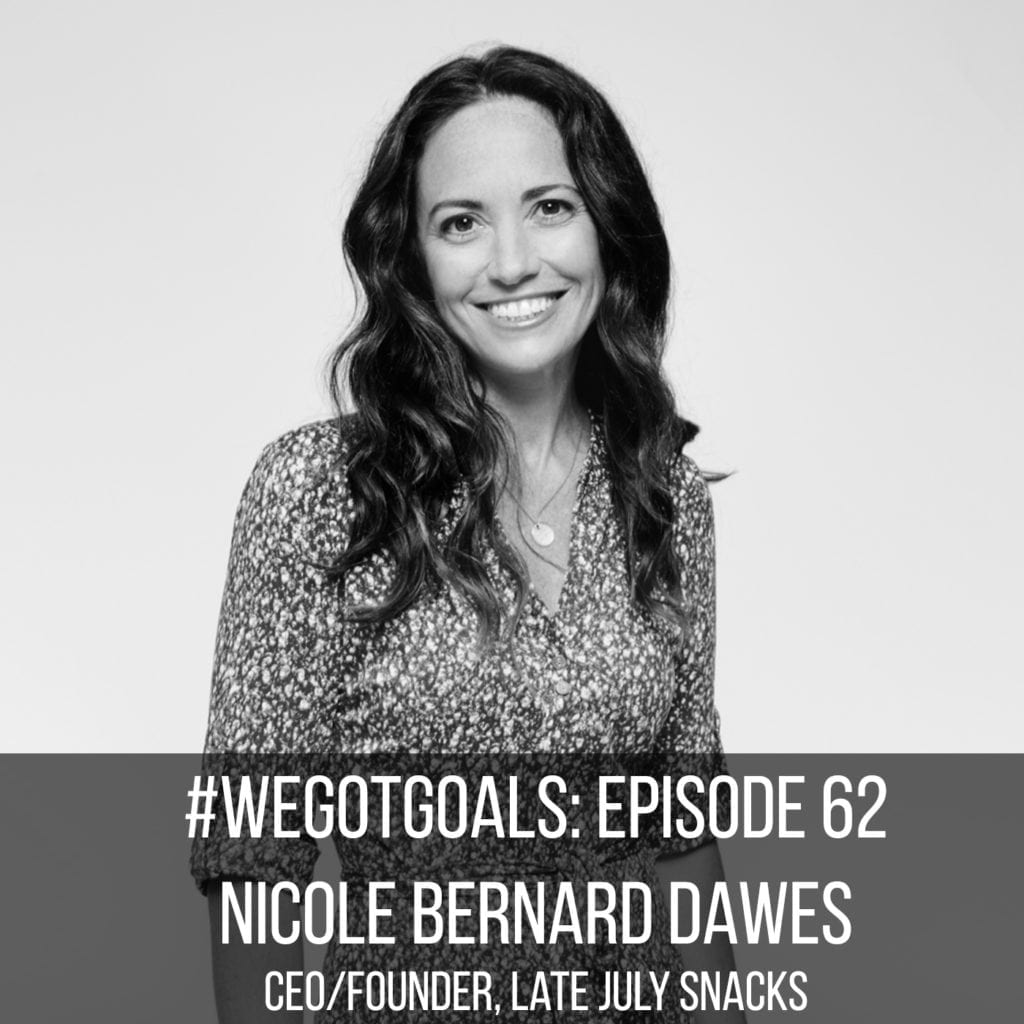 Sometimes, we'll have a guest on the #WeGotGoals podcast who doesn't actually like or set goals (I'm looking at you, Dawn Jackson Blatner and Josh Katt). For whatever reason, they don't connect to the term, or they've employed a different paradigm to accomplish great things.
Which is fantastic—one of the best things about the show, in our humble opinions, is the glimpse at the wide variety of paths high achievers have taken to reach success.
But this week's guest, Nicole Bernard Dawes, has the opposite perspective. Goals drive nearly everything the founder and CEO does. She aims to set both ambitious aspirations—say, starting an organic snack company, Late July Snacks, that hit $100 million in sales this year—and small mini-targets, including what she wants to get out of each business meeting. And she's not afraid to lay them all on the line.
"If you don't even know what you want, you're definitely not going to get it," she says. "And I think clearly articulating what you want helps people."
Setting goals helped Dawes recover from an incredibly difficult year in 2009. First there was the recession. Then her father Steve Bernard—her co-founder (and, before that, the founder of Cape Cod Potato Chips)—passed away from pancreatic cancer. When he died, the bank called the loan, leaving Dawes and her husband/business partner Peter scrambling to raise cash.
"Through that, it forced my husband and I to take a hard look at kind of who we were at Late July and what we wanted this company to really become," Dawes says. What did they decide and how did they pull through? In our interview, Dawes shares seven lessons that kept her moving forward.
Find the right people …
One of the most critical changes Late July made the following year was to the hiring process. Being qualified to work at the company, they decided, meant more than just having the right education and experience. Dawes began looking for people who'd make a positive addition to the environment, and spent a significant amount of time having multiple team members interview each candidate. In some cases, that meant positions went unfilled for years, a stressor in a fast-growing company. However, the result was worth it: "I truly believe today that we have the most wonderful team in our industry," she says. "We have a group of people that wakes up every day ready to support each other and believes in the company and believes in the products."
… and a purpose you're passionate about.
Dawes made another big decision in the wake of her father's passing: to leave cookies behind and enter the tortilla chip market. That was no small shift—cookies made up $2 million of the company's $9 million in sales at the time. However, Dawes felt strongly she wanted to steer the company in a healthier direction. Of course, she wasn't satisfied with just any crunchy nibble. She aimed to create the number-one tortilla chip in the natural-food business. "Singular focus on being number one requires all your effort, and all your team's effort," she says. "No matter what our team was doing, we always kept that goal in the back of our mind.'
Start new things small and build.
It took a year to perfect and introduce the tortilla chips, and they got off to a rocky start. "That was a little bit scary because we had just bet our entire company's future on this launch," Dawes says. That taught her Late July needed to build brand awareness in this new space. So, they spent the next year concentrating on a few key accounts, securing a foothold there before spreading their wings to the larger marketplace. That focus helped them course correct quickly. "I think we might have become the number three in the first year," Dawes says.
Deliver quality.
That rapid rise was built on superior flavor. As the daughter of a potato-chip mogul father and a mother who owned a health food store in Cape Cod, Dawes prioritizes making food that's both nutritious and delicious. "I've always believed that as a natural products brand, we have an obligation for the entire industry to make our products taste great," she says. "When a consumer has a bad experience with one natural product, they make an assumption about everything." And to succeed in the highly competitive salty snack realm requires repeat business: "No consumer is ever going to buy a snack twice if they don't like the way it tastes."
Stay open to feedback.
How, exactly, does Late July makes its chips so scrumptious? Besides constant comparison to competitors and making sure the whole team is eating—and loving—them, Dawes says they stay alert for constructive criticism. She applies this philosophy to all areas of her life and business; it's a key component of her overall positive outlook. "We're all just kind of learning and growing, and none of us are perfect. The more receptive you are to hearing things that could be done better, the more likely you are to improve faster," she says.
Set goals outside the boardroom, too.
Looking to the future, Dawes is aiming for Late July to dominate the salsa category too (they're in the midst of launching that line, and popcorn, right now). However, she also gives her personal life high priority by setting goals there, too. Her big goal is to be available to her two sons, now ages 16 and almost 12. She puts it in practice by working from home more and eating family dinner together four or five nights a week. And, she encourages her employees to take similar steps. "We all have lives, and when you're a high-achieving person, you have to not hide that," she says. "It's OK—it doesn't make you less of a productive person to prioritize your private life."
Sweat it out.
"I manage stress, I think, weirdly well," Dawes says. Some of that may come naturally, but she also finds a solid fitness routine enables her to perform her best (a sentiment that makes us smile here at aSweatLife). A couple of years ago, Dawes got a Peloton bike—and thinks they should be standard issue for any entrepreneur. Now, she has no excuse not to knock out a 20-minute ride, even on her busiest days.
Listen to Nicole Benard Dawes' full episode anywhere you get your podcasts—including, now, on Spotify! If you like what you hear, please help us spread the word by leaving a rating or a review. And stick around until the end of the episode, where you'll hear a goal from one of you, our listeners. (Want to be featured on a future episode? Send a voice memo with a goal you've crushed, a goal you're eyeing, or your best goal-getting tip to [email protected])