How Chef Josh Katt Built a Fast-Growing Food Service Empire—Without Setting Any Goals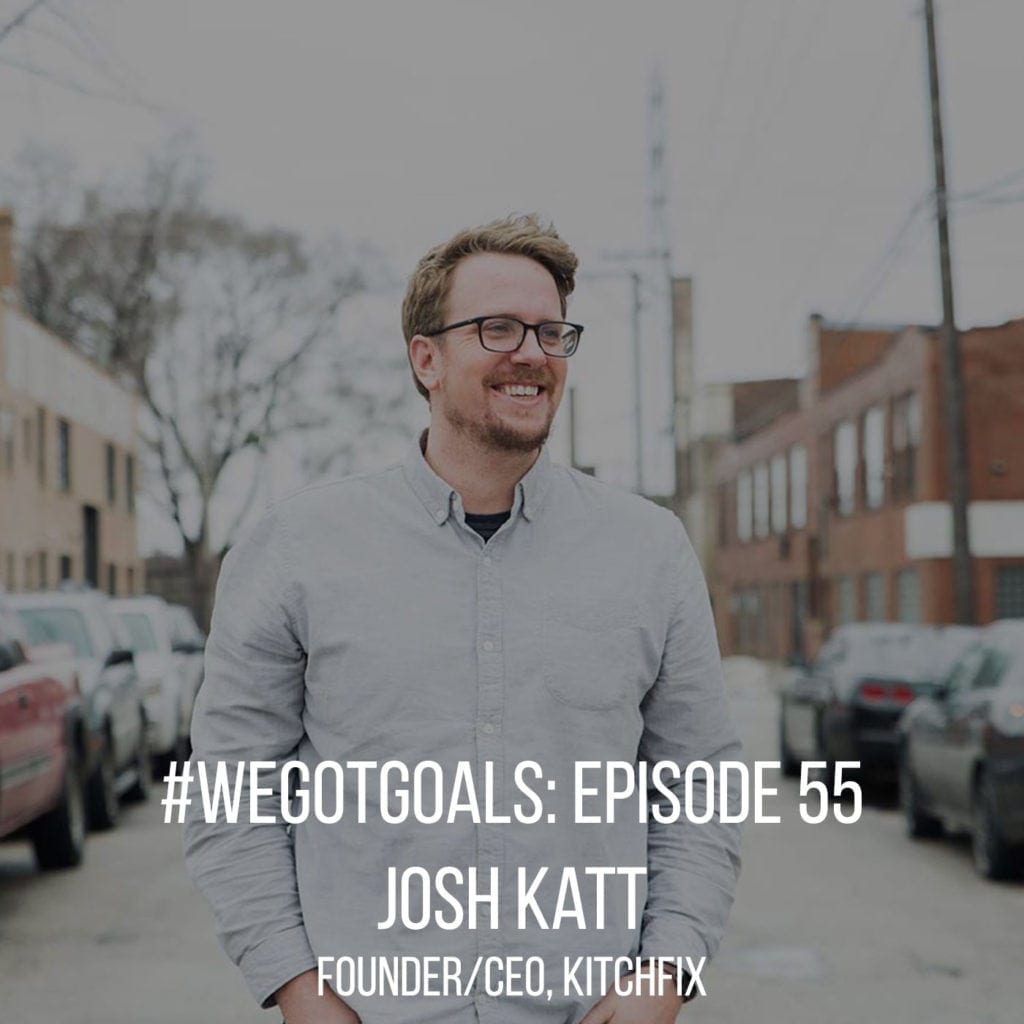 Chef Josh Katt, the founder and CEO of Kitchfix, isn't a goal guy. In fact, when I posed the first of our two big questions on #WeGotGoals—what's a big goal you've achieved, why was it important to you, and how did you get there?—he couldn't really come up with an answer.
Don't take that to mean he's achieved less than other guests we've had on the show. In about five years, Katt has built Kitchfix from a small personal chef business into a citywide meal delivery and catering company. He has more than 60 employees and a Gold Coast storefront, not to mention packaged products like Paleo granola and waffles available in-store and online, nationwide.
Maybe it's just a matter of semantics. Katt prefers to discuss things in terms of passions and beliefs, guiding principles he aims to follow. Eating a healthy, nourishing diet. Knowing where your food comes from. Treating your customers well at every step of the transaction—while also doing right by your employees.
Those core elements have taken Katt far beyond where he might have dreamed when he first moved to Chicago from Michigan in 2006. Back then, he thought he'd cook in fine-dining restaurants. Soon, though, he realized the late-night, hard-knock lifestyle just wasn't what he wanted in the long term.
Katt explored a number of different food-related jobs throughout the city, including catering and retail. He worked with a non-profit called Common Threads that taught kids about healthy dishes from around the world. There, he met a woman who asked if he could work as her personal chef. He jumped at the chance, but there was a catch—she was recovering from cancer and eating an anti-inflammatory diet.
Katt dove into reading and research, and realized his farm-to-table cooking experience in Michigan aligned perfectly with the type of nourishing dishes her recovery required. What's more, his heart and soul became part of the recipe. "I really took to the idea that food is very powerful," Katt says. "It can heal your body."
One client became a few became a few more. Katt eventually realized he could bring costs down by investing in a kitchen—then, of course, he needed a few more clients to make the rent on that space. He worked with gyms to spread the word about his healthy, convenient options. Each step was essentially guided by combining financial practicalities with his guiding principles.
"How am I going to make my paycheck? I don't want to go work in a restaurant. I love cooking, I love having flexibility, so what do I need to do to make that happen?" he asked himself.
Kitchfix became the answer. And though he didn't always know he'd start a company, he did know he'd work hard to help make peoples' lives better.
Now, he does that not only by feeding customers nutritious, delicious meals—he also aims to correct some of the imbalances he's observed in the life of food-service workers (and the bigger-picture economic disparities he saw in the city). So, he offers jobs to those with criminal records and others who might not be able to find work elsewhere, paying them fairly and including benefits.
The stories of transformation, both among those who prepare and devour his meals, fuel him. One woman received thousands of dollars of Kitchfix funds as gifts to sustain her through chemotherapy. Another family was able to delay putting their father in assisted living thanks to the availability of meal delivery.
"Now I'm a little removed from the day to day, but I get to see these cool things my team is doing for people," he says. "This thing that I created five years ago is now doing those things for people; people are using it for good and I'm not really partaking in the actual cooking as much as I used to. It's a pretty cool feeling."
Katt continues to learn in his transition out of the kitchen and toward scaling his principles into an expanding enterprise. In addition to business development, "part of my growth is really establishing some systems and structure for the team," he says. "Communicating the vision and communicating the passion that we're talking about is important. Hiring the right people is important. We do food service a lot differently than the average restaurant."
He's coming to appreciate the need for strategy and using terms like "10x" and "BHAG." But Katt's goal-getting advice for anyone else who has a deeply held conviction and a desire to make it something bigger remains simple. Don't think too hard, he says—just take the leap.
"I may be on one end of the spectrum of not thinking first or setting a goal and just going for it; there's certainly room for goals and thought," he says. "But a lot of people get hung up on that stage, right? Like it's too cerebral and they're not just doing it. So I would say just take a chance, go for it. You'll regret it later if you don't."
Listen to this week's episode to hear more about Katt's own eating habits, the one thing he'd change about the Kitchfix menu if he could do it all over, and his big, ambitious goals for the future (one will make you toss your nachos and hot dogs in surprise).
And stick around till the end of the episode to hear our first installment of your own big goals! If you enjoy it, subscribe anywhere you get your podcasts and leave us a rating or a review on Apple Podcasts.