Three Healthy Hacks to Live Your Best Life This Summer
[Disclosure: This post is a part of a sponsorship with Kitchfix. As always, we only talk about the places, people, things and experiences we truly love.]
They say summer bodies are made in the winter, but let's be real: summer bodies are made year-round, and some of the most tempting food and drink in the world coincides with the start of warmer weather, weddings, and summer vacation travel. Plus, with so many fun summer activities on your agenda, you want to feel energized and active, not blah and bloated.
Britta Katt, Marketing Brand Manager at Kitchfix. knows exactly how you feel.
"We see customers traveling more in the summer, or enjoying more patio-weather restaurant meals, so they want a little more flexibility with their number of Kitchfix meals. However, eating out more in the summer for our customers also results in a lot of emails that say – 'Help! I probably over-did it this weekend!'"
Of course, you naturally want to look and feel great during the months when your body isn't hidden under eighteen layers of clothing, and you may think that the only way to achieve those #summergoals is to eat a super-clean diet, 100 percent of the time.
Au contraire, amigos: we're here to tell you that you CAN have it all. Go ahead, order chips and guac on the patio during a Summer Friday, and relax back in your lounger at the pool sipping a full-sugar piña colada on a lazy Sunday. Here's how to practice moderation in eating this summer so you're feeling your best AND not missing out on the best eating and drinking the season has to offer.
Eat better, not less
The problem: Your weekend revolved around eating and drinking on various patios  — and spoiler alert, it wasn't the most health-conscious bender.
Your healthy hack: Reset on Monday with anti-inflammatory meals.
We've all had those weekends where you enthusiastically said "YES!" to everything that came your way — yes to rosé slushies! Yes to a fish fry on someone's rooftop! Yes to a full 48 hours of indulgence!
But come Monday morning, you know you're going to feel sluggish and bloated, and your first instinct might be to severely limit how much you eat for the next few days.
That's not totally necessary, says Katt, who notes that the Kitchfix menu naturally centers around nourishing, detoxifying options with summer flavors that you'll still enjoy during a picnic at the park.
"Food can be such a stressor on the body, so it's important to treat your body well, not overloading on fillers all week long, but helping it to function optimally with food that is anti-inflammatory and provides energy.
"We really don't use the word 'diet' here, and even when we have people who come to us to lose weight fast, it doesn't always align with our philosophy," explains Katt. "We believe in eating better, not less."
And at Kitchfix, eating better means eating anti-inflammatory ingredients.
"One thing I love about our meals is that you are always eating 'bloat-free,' which makes me feel even happier in the summer," Katt shares enthusiastically. "Leaving out things like gluten and dairy tend to help digestion (not bloat you out), and make you feel good after eating a meal, versus like you want to take a nap!"
No meal prep? No problem
The problem: You were out and about so much on the weekend that you missed your usual grocery shopping and meal-prep appointment.
Your healthy hack: Make your life easier (and avoid desperation pizza deliveries) by ordering reheat-and-eat meals.
Who among us hasn't skipped the grocery store on a Sunday night when something better came along? Guilty as charged.
But missing your usual grocery shopping window doesn't mean you're doomed to spend Monday through Friday buying lunch or ordering delivery at night. Companies like Kitchfix make it easy for you to plan those "just in case" meals that you can reach for if your weekend gets out of hand.
"At Kitchfix, we know that we are not a one-for-all solution for every customer for every meal. We encourage people to cook, explore ingredients and flavors, and enjoy some of the amazing and renowned restaurants we have here in Chicago!" explains Katt. "What we want to do is provide high quality, convenient, nutrient-dense meals that are reliable and enjoyable for people to eat throughout the week."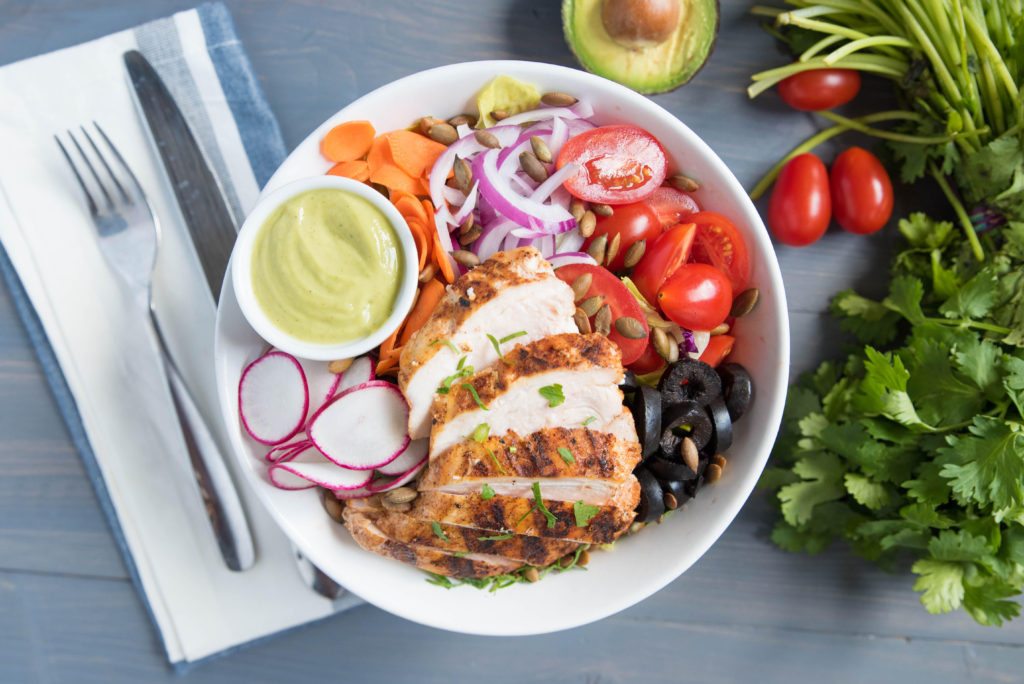 The shelf life of a Kitchfix meal is about four days, making it easy for you to have a few ready to go in the fridge at any given time. Leave a couple in your work fridge or order some to have on hand on a Monday after you've been out of town for the weekend — just make sure to label your lunches in the office fridge, because the meals look so good your coworkers might be tempted to snag one for themselves.
When in doubt, go for seasonal and local ingredients
The problem: You don't want to spend precious daylight hours in the grocery store trying to remember dozens of guidelines for eating well. You need to make it in and out quickly to get on with your summer plans.
Your healthy hack: Follow this one rule of thumb for shorter grocery trips and nutritious eating: gravitate towards seasonal, local ingredients whenever possible.
One of the best parts about eating in the summer is the abundance of fresh produce available and ready to use. Say hello to watermelon, summer squash, asparagus, and more, and wave goodbye to the heavier root vegetables your winter diet relied on.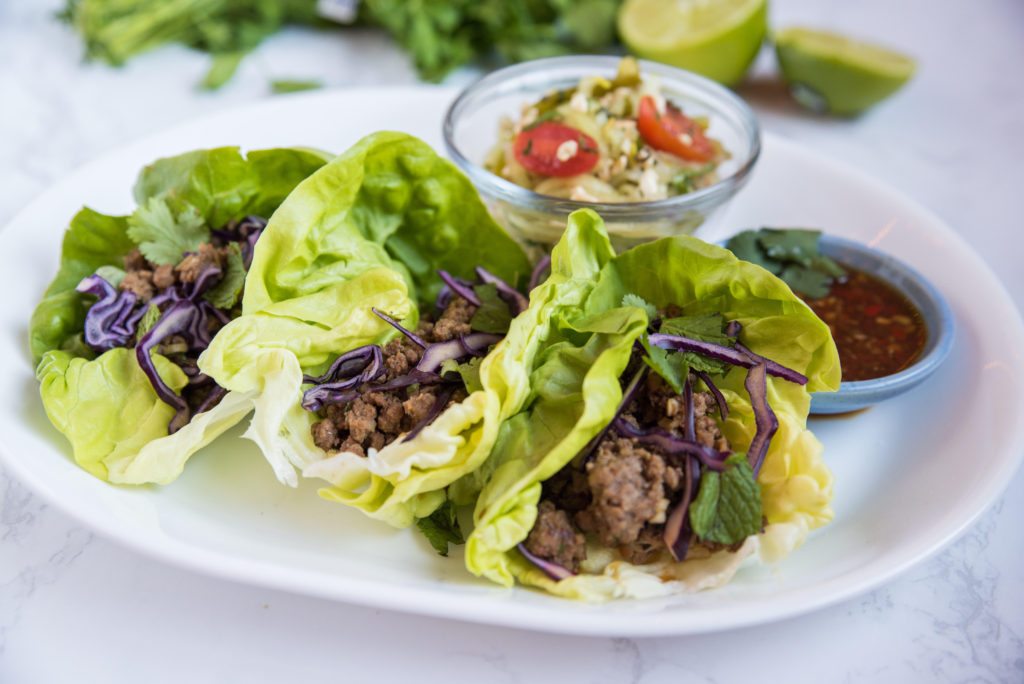 As Katt points out, you're not the only one looking forward to summer ingredients in their food
"One wonderful thing that happens in the summer for our chefs is their sourcing opportunities grow! Especially because we strive so hard to source locally, which can be tough for certain ingredients in the winter, we are now able to get ingredients closer to home than we were able to the past few months (think Michigan blueberries)."
Katt went on to list a few popular meals that Kitchfix rotates in every summer, like a grilled chicken BLT with fresh heirloom tomatoes from Husk Farms in Indiana and the Paleo carnitas tacos with pineapple salsa and Paleo sour cream (perfect for satisfying those summer taco cravings while still getting a healthy twist).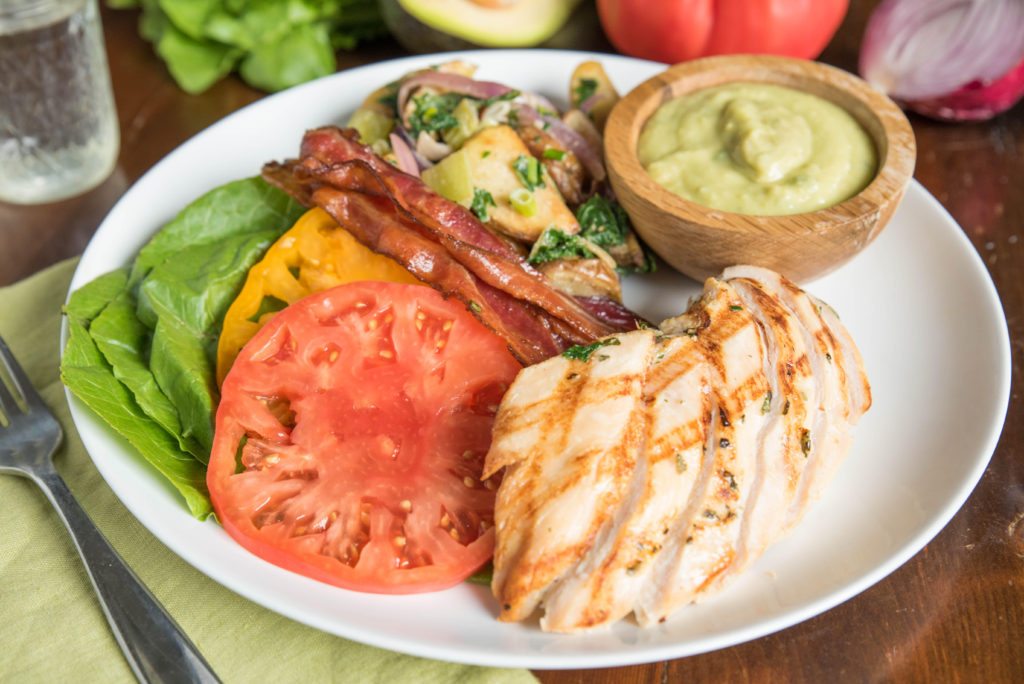 At the end of the day, no matter what you ate or drank over a perfect summer weekend, the end goal is feeling good about yourself and the choices you're making — whatever they may be.
"If you were off the wagon all weekend enjoying mojitos and pizza, we hope you can say 'that was fun, delicious and worth it! Now, I'm ready to give my body some extra love this week with clean, nourishing meals,'" empathizes Katt. "We are all about positive talk and self love. No one is perfect and we all want to enjoy great food and company, but everything is about balance."
Head to Kitchfix.com to explore more options for balanced eating during summer or any time of year.