Tim and Jessica Murphy on How Community and Communication Power the BibRave Brand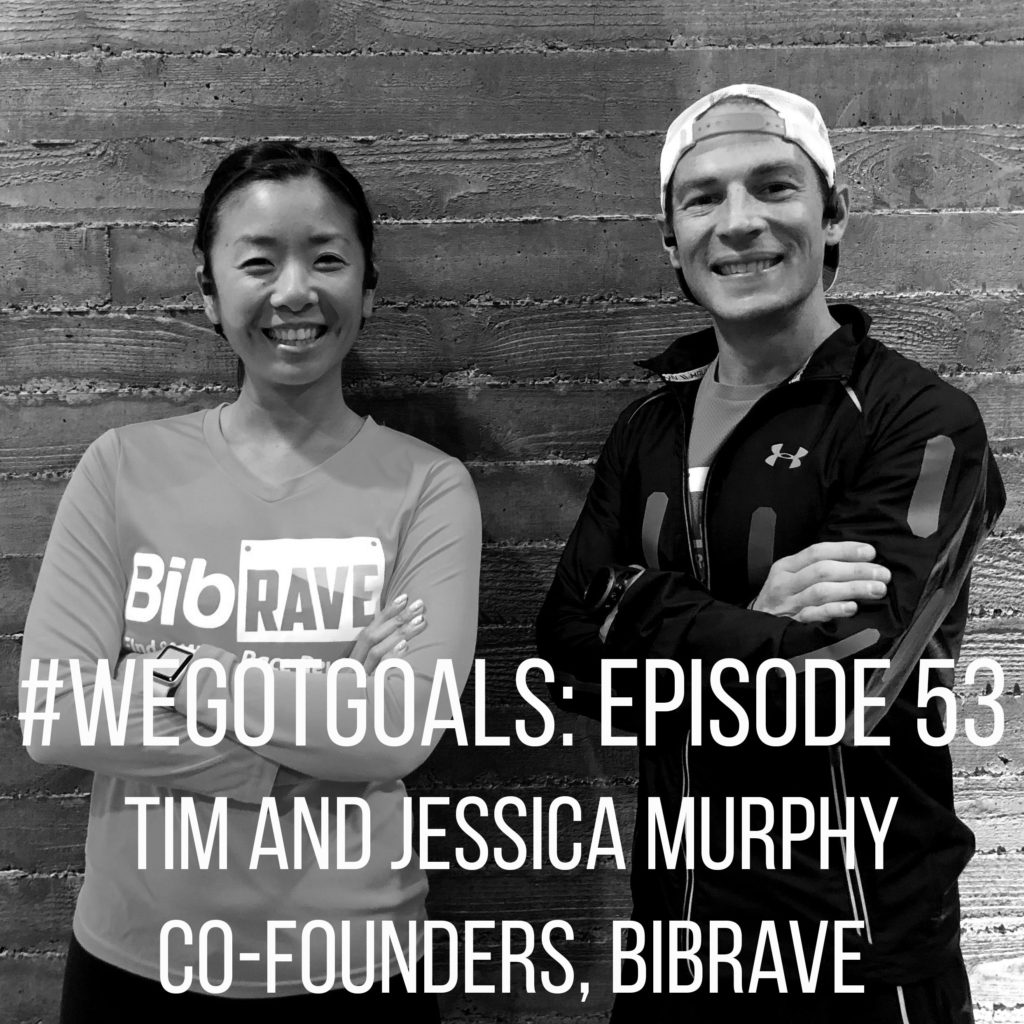 A group of deer or sheep is a herd. A collection of ferrets, a business. (Seriously.) But what's the best term for a community of runners?
If you're Tim and Jessica Murphy, you call them the BibRave Pros. And in four short years, you gather more than 100 of them, working to connect them to each other, to races, and to related brands so the whole sport benefits.
For this week's episode of #WeGotGoals, I caught up with the power couple and BibRave co-founders before last month's Boston Marathon. I've known them since BibRave's early days here in Chicago (they now live in Portland), and wanted to learn more about how they've built such an engaged, inspiring collective of socially savvy athletes.
"I love talking about community and what the word actually means, because I feel like it gets used and sort of abused a lot," Tim said. Not any group of app or website users, customers, or past participants qualifies. "It's not a community until there becomes this sort of interconnected fabric where they're all concerned with one another's wellbeing, and they're cheering for each other, and they're sad with each other. There is a genuine connection between them."
Runners naturally tend to flock together, but Jessica and Tim don't take the bonds between their BibRave Pros for granted. First, they focus on choosing the right people—not necessarily those with the biggest following, but athletes who are positive, empathetic, diverse, and have struggles and triumphs that everyday runners can relate to. "We want to embody the fun and communal aspect of running," Jessica said.
From there, the BibRave team—five staffers total—works hard to keep these ambassadors engaged. Every Tuesday at 8 p.m. Central time, they host a popular Twitter chat (follow it at #BibChat) about a different running-related topic. They also produce a weekly podcast. And, they work to create opportunities for affiliated runners to interact in real life, at races and other events (starting with signature bright-orange singlets that make them relatively easy to spot).
The evolution of the BibRave community transformed the entire direction of the company. When they launched BibRave about four years ago, the Murphys envisioned it as a Yelp or TripAdvisor for races, featuring user-generated content to help runners share and learn from each other's experiences.
Eventually, they noticed how engaged and invested running influencers became in the BibRave brand. Around 2015, Jessica said, they had a light-bulb moment that shifted their business model.
"When we were out talking to other partners and other people in the industry, one thing that struck us was people want experts in social media and in community and we have that, but we're kind of only using it to serve BibRave," she said. "What if we started to use it to serve other people in the industry?"
BibRave pivoted and now works with brand and races to get their products and events into the hands and race calendars of influential runners across the country. Those runners, the BibRave Pros, have the opportunity to try new things. And, the running world as a whole benefits from learning about the latest and greatest from peers they can identify with—a win-win-win that involves transparency, hard work, and lots of moments of celebration along the way.
"To become a part of those people's running lives has just been amazing," Tim said. "To watch people hitting accomplishments they didn't think they could hit and bringing everybody along for the journey—that's very, very cool. It wasn't something that we could have known was a goal, but I think it's something we've been really proud of so far."
Jessica and Tim had another goal that wasn't explicit but that they're proud to have crushed: creating a company that could sustain both of them. While Tim went full-time at BibRave about two years ago, Jessica didn't do so until early this year, after stints at LinkedIn, Nike, and Runner's World.
That period of time created some stress—Jessica often traveled for work, which limited the time they could spend together both personally and working on BibRave. But ultimately, the lessons she learned in those roles have brought incredible value to BibRave. And now that they do spend what Tim called a "ridiculous" amount of time together, they've found they actually feel less guilt and conflict.
"We have our moments where we're in work; we can then more strictly define moments where we're not," Jessica said. "I feel like we have a better balance. And we do work really well together because we complement each other with different skills and talents. As we do that more, I feel like we're hitting a good stride."
We've interviewed co-founders before (including Julia Carmona and Lauren Katzberg of Stylisted), but never a pair that were life partners in addition to business partners. (That's despite the fact that aSweatLife's very own founder & CEO Jeana Anderson Cohen is married to her co-founder, Justin Cohen.) Tim and Jessica say learning to talk calmly and openly about work has, in turn, improved their marriage.
"You have your communication style sort of hard stop, right? That's just how you most effectively communicate," Tim said. He now knows the best way to ask Jessica a question—to give her a heads-up and set some context—and employs it whether he wants to inquire about a business deal or where they should go for dinner.
Listen to this week's episode to learn more about the signposting communication technique they use at work and in life, what it takes to become a BibRave Pro, and the Murphy's big goals for the future, including transforming the road-racing experience for the better. If you enjoy it, subscribe anywhere you get your podcasts and leave us a rating or a review on Apple Podcasts.