Sound Meditation – Your Entry Into Achieving Zen
Finding new ways to de-stress and relax is becoming a hobby of mine. It took me a while to learn that mental health is just as important as physical health so now I embrace it as often as I can. When a friend mentioned she was going to a gong bath meditation, I knew I wanted to try it with her. I knew what a gong was, I knew what a bath was and I knew what meditation was. Easy enough, right? But when I asked my friend if I needed a bathing suit and she just laughed at me, I figured a little research was needed.
Turns out, a gong bath doesn't require any water at all. A gong bath is a sound meditation that uses gongs and singing bowls to bring you to a more meditative state. Essentially, it's a sound massage for your body and mind. Because the frequency and vibrations from sound can affect your body, the soothing sound of a gong can reduce stress and create a deep sense of relaxation. The term 'bath' is simply because you let the sounds wash over you.
You're kind of intrigued, right? Well so was I! Having no idea what to expect, I walked into Anatomy Redefined and was pleasantly surprised to find a gorgeously curated meditation room. It was perfect – glowing candles on the side, meditation beds set up throughout the room complete with blankets, pillows and eye pillows. Up front were several different size gongs and singing bowls. Once I lay down and took a few deep breaths, our meditation guide and owner of Anatomy Redefined, Liz, said a few words about the ancient practice and how it works.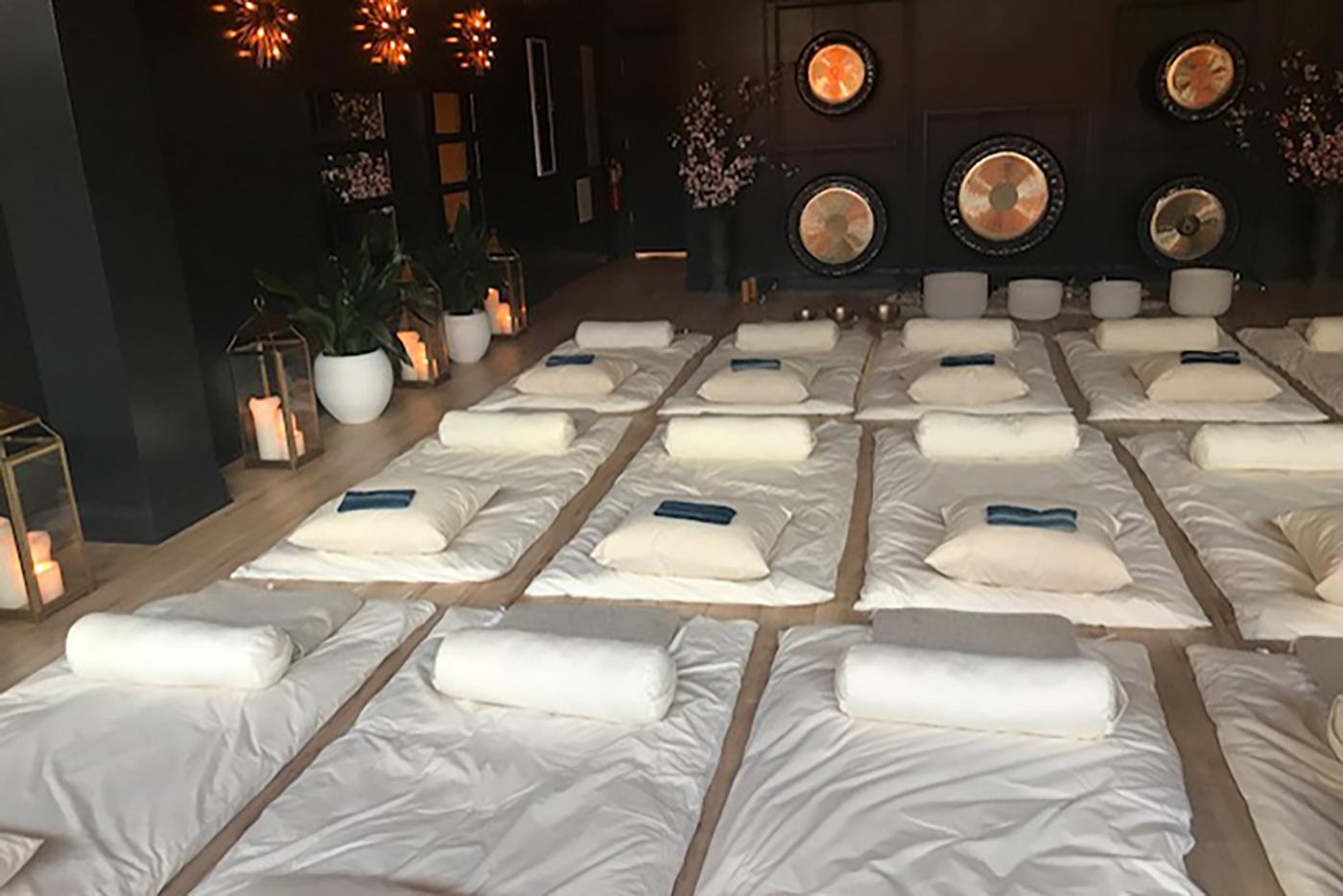 We got comfortable and she then began to play for 60 minutes. The music and vibrations from the gong was overwhelming – in a good way. I could almost feel myself let go over everything stressing me out and start to relax after what seemed like five minutes. I do have to admit, at one point I opened my eyes to see how the instructor was playing the gongs. It was like a full body work out, she was up, down, sideways, spinning – it was like a perfectly choreographed performance that most participants would never see.
When the session was over, I felt relaxed and rejuvenated. I was more calm and mindful of what was causing me to be stressed out and anxious. It almost felt like I was in a deep sleep for hours.
If you haven't checked out a sound meditation, I highly recommend it. It can be a challenge to clear the chatter in my head during normal meditation, but sound meditation made it feel much more accessible. The vibrations and noise gave me something to focus on, something that was both peaceful and serene. Anatomy Redefined offers both group classes as well as private sessions, as well as other services like tuning fork sessions and other workshops and special events.