Ignite Your Own Self Love With These Three Tips From #SweatToInspire
At an evening of self love at #SweatToInspire, we stretch outside of our comfort zones, which is what the night is truly about. Inspiring women got up to share their stories, we pushed our bodies to their limits with Emily Hutchins, owner of On Your Mark and Nike Master Trainer and we danced our faces off with Bobby Gouse O'Brien, creator of MVFitness.
With an incredible and historic venue in the south loop as the backdrop, we took over one of Revel Motor Row's stunning courtyard. We started the evening with talks from three of our heroes – Dawn Jackson Blatner, RDN, CSSD; Jenn Junk and Robin French – to ignite the fire that would fuel our workouts. That fire was self love.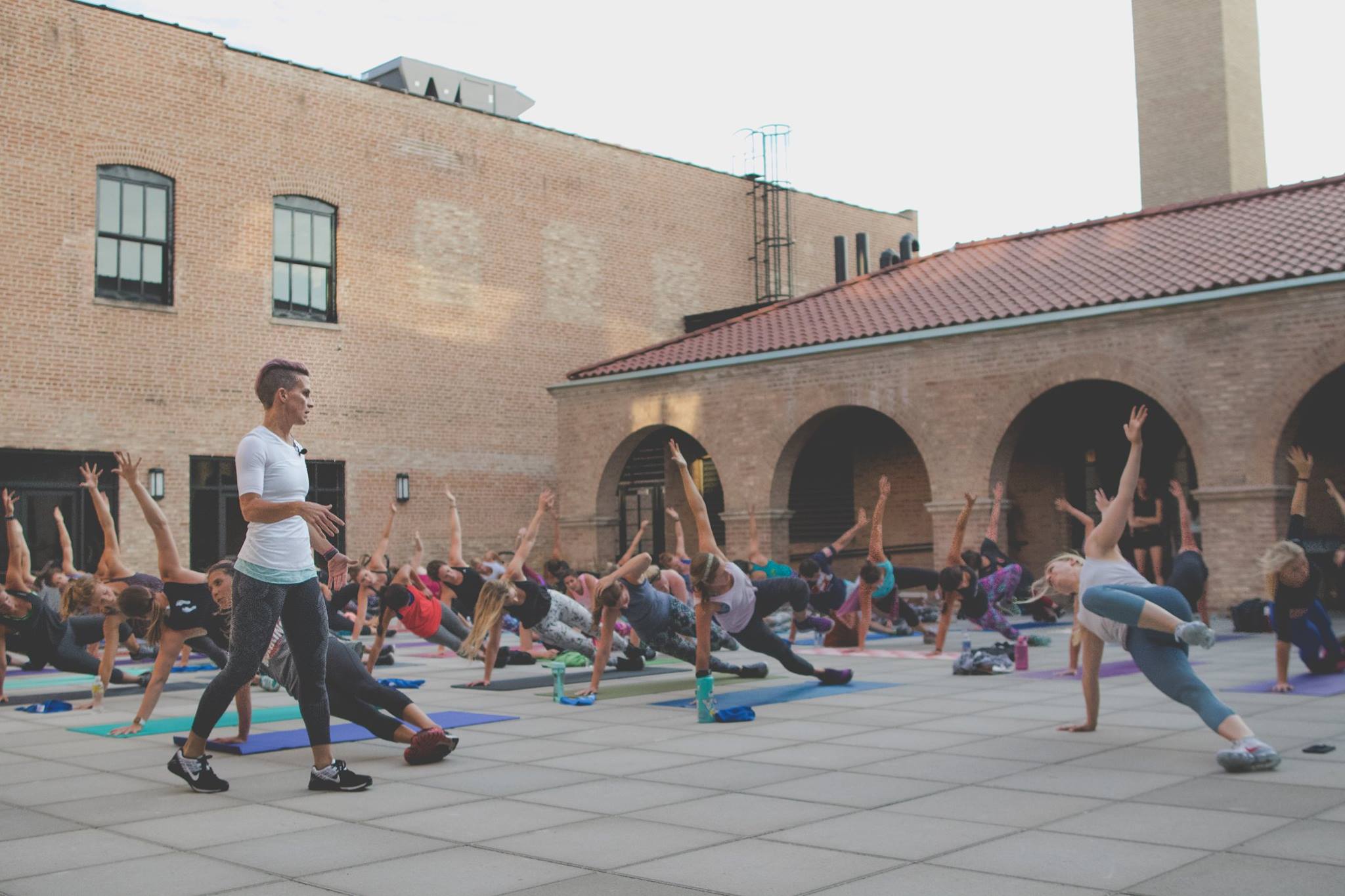 (Photo by Christiana Basso – more here)
If you couldn't make it, but want to take the practice of self love with you, use these tips to make a lasting impact.
1. Avoid Self-Criticism.
There was a decisive moment for Dawn when she chose self love. Dawn has led a wonderful career that – from the outside – looked perfect. But it wasn't until Dawn received a call from someone who wanted to know how she built her life that she realized it was lacking joy.
To find the Joy she was searching for, Dawn enlisted the help of a business coach and realized that it was her that made her business special. With that piece of intelligence in her pocket, she set our to show the world who she was through her website, her writing and her work.
But looming in the background trying to break down all of her hard work is her that nasty internal voice that tells her she's not smart, good or seasoned enough for opportunities.
Here's how Dawn avoids self-criticism: 
The catch-and-flip: When Dawn catches (the catch) herself insulting herself, she takes hold of the statement and flips it on its head (and flip). So when she tells herself, "you're not experienced enough for this opportunity," she flips it and reminds herself exactly how experienced she is.
Don't compare: Remembering that she is a unique human is part of what makes her fantastic. Avoiding the trap of Instagram is her lifesaver. Your friends' opportunities are different from yours and won't take away from your success.
Avoid criticizing others: For Dawn, criticizing others only flexes the muscles of the negative voices in your head. Don't feed the beast. Avoiding criticism in all forms and you'll save yourself from that trouble across the board.
2. Surround yourself by people who know your path. 
Jenn Junk started an organization – Recovery On Water – that uses rowing to help survivors of breast cancer support one another and learn how to become more in tune with their bodies in the process. With her, breast cancer survivor Kymberly Reynolds and member of ROW explained how the ROW community helps to support each other on a journey towards self love.
"We have women who have been on the same path  – it may veer off a little differently here and there – but if you have someone you need to talk to, there's somebody there who understands  what it is you're going through." Kym said at #SweatToInspire, which landed on the fifth anniversary of her diagnosis.
3. Practice Instant Forgiveness
Closing up the talk was Robin French, owner and instructor at Bare Feet Power Yoga, who started her studio in Chicago's West Loop neighborhood to allow people to "come as they are, be as they are and leave as they are."
To do that at Bare Feet Power Yoga, one principal that Robin instituted was that of "instant forgiveness." Since Robin told us about this, we've practiced it at aSweatLife and it just might change your life too.
"Instant forgiveness means acknowledging that [a mistake] happened and allowing yourself to move on," she said.
With that premise, along with a whole love of compassion and warmth, it's easy to see why Chicago loves practicing at Bare Feet Power Yoga.
Self love takes time and is a muscle you need to flex. Take the time and offer yourself forgiveness when you slip up along the way.
Let us know!
Did this post help you get closer to achieving one of your goals?