CorePower Yoga Does Yoga at Chicago's Lyric Opera House
One of my perpetual goals is to do more yoga. Sixty percent of the time, setting this goal works every time. But for the [large majority] of the times it doesn't, I find myself feeling defeated. Why is it so hard for me to stick to this goal? Well, I simply don't enjoy it. What I do enjoy: exploring the old and discovering the new in Chicago. If I have to choose between yoga and walking around my neighborhood, the latter always seems to win.
You can only imagine how I felt when I discovered that CorePower Yoga has been holding events around the city for a while now. After doing a little more research, I soon learned that I've really been missing out. Luckily, I was invited to attend "Yoga at the Opera," a new event that CorePower is holding at The Lyric Opera House.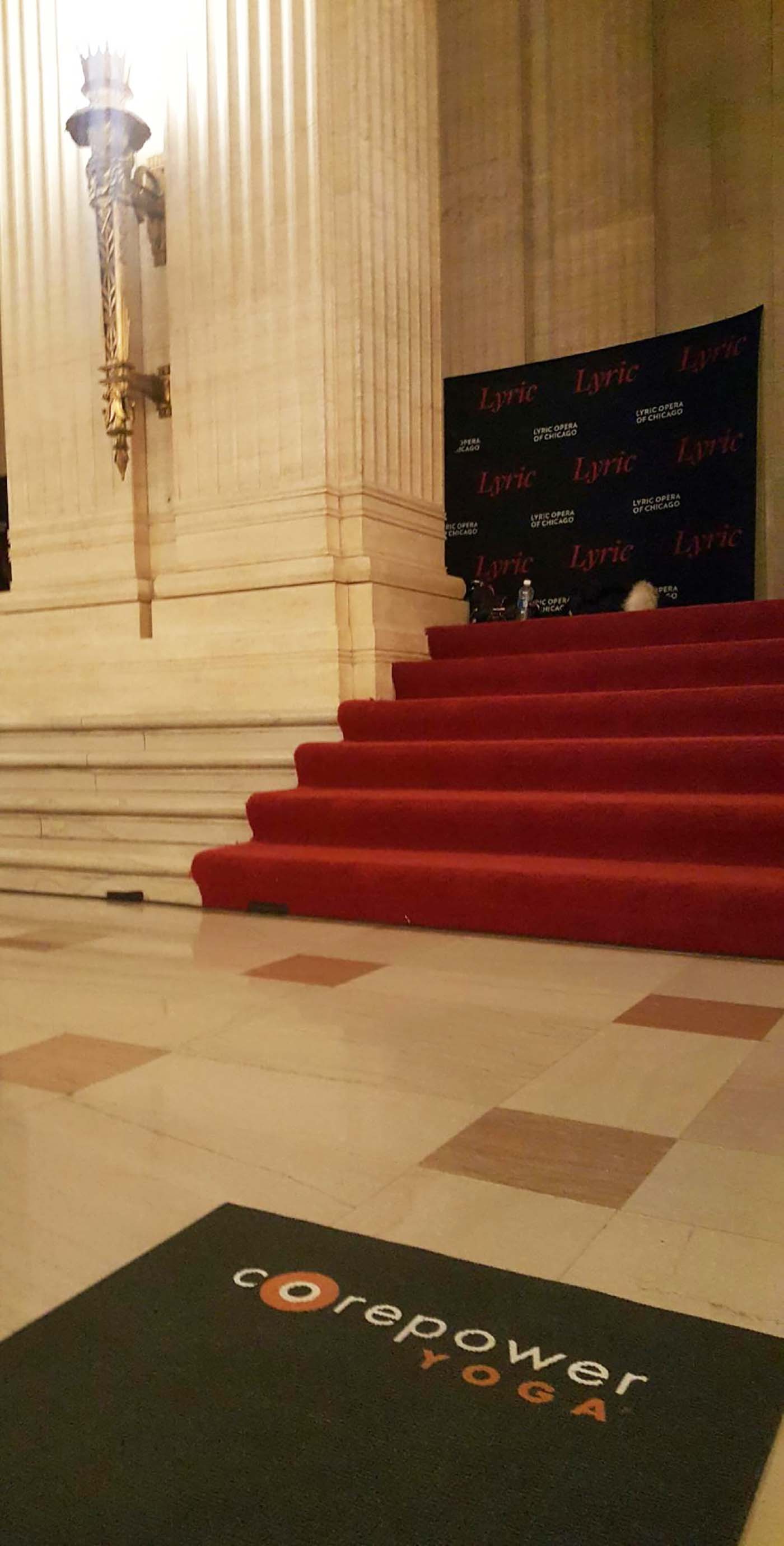 "We are always looking for like-minded businesses that share the same values and also those that help CorePower show up in unexpected places," Marissa K., the CorePower studio manager at the West Loop location, explained. "The Lyric Opera was looking to have people that aren't opera-goers experience their space, and CorePower is always looking to bring our powerful practice to unique outside spaces. We are excited to teach classes in a place that has such a rich history!"
Having never been to The Lyric Opera, I was immediately drawn to the architecture and art inside the space. In fact, taking it all in actually helped me to do the impossible during my practice: turn off my thoughts. Typically, I struggle to "flow" during yoga as I'm thinking about my to-do list. During this session, however, I simply focused on the beauty that surrounded me and felt more relaxed than ever.
Intrigued? Good news! CorePower will be holding this event indefinitely! The next one will be held on April 12th at 5:30 PM. You can buy tickets here.
Want more?
"We branch out all the time! Chicago CorePower has classes all over the city in places like Grant Park, the top of John Hancock Center, the top of Willis Tower, different plazas and outdoor spaces during the summer months and beyond!" Marissa explained.
This spring and summer, yogis and future yogis alike can look forward to CorePower teaming up with True Food Kitchen Chicago. Together, they will host free pop-up classes. The first event was on Saturday, March 25, and we can look forward to more coming soon.
If you're anything like me and turning your mind off within four small walls is difficult, then these events might be for you! Hope to see you at one of them soon!