Tone It Up: A Community of Women Mastering the Balance of Happy and Healthy
Three words. Three simple words that fill our hearts up with hope, with joy. They're three words that keep us going, that keep us living, and that keep us enjoying life with those who mean most to us.  They're three words filled with so much potential, promise and commitment.  They're three words that feel so good to say, but feel even better to hear from someone else, so you know you're not the only one thinking them …
"Diet starts Monday."
I used to say this far too often, back when I thought that "healthy" was synonymous with "restrictive." I would work out every day Monday – Thursday and follow it up with a protein and vegetable rich dinner. Then Friday would come and I would find myself at an all too familiar crossroad: Do I keep the momentum going or do I do something else? Inevitably, I would skip the gym to go to dinner or grab a few drinks with friends. How could I possibly be fit, meet my goals AND make time for a social life?
Well, January 3, 2016, I discovered the answer: Join Tone It Up.
Tone it Up is run by its two founders Karena and Katrina. One look at their Instagrams (@toneitup & @karenakatrina) and you'll agree that they are the dictionary definition of "#goals." Together, they have created meal plans, workouts and fitness products to help women, well, tone it up! What sets them apart from other trainers doing similar things? The strong, supportive communities that have formed across the country, all thanks to them.
I started my Tone It Up journey simply by clicking "Join" on the private "Chi-Tone! Chicagoland Tone It Up Team" group on Facebook. At the time, I expected to learn some workout tips and maybe even a new recipe. Little did I know, life as I knew it was about to change.
A few short weeks after being accepted into the Facebook group, I found myself at my first "TIU meet-up," located at Nike Training Club on Michigan Avenue.
I was intimidated before I even walked in. On the way there, I imagined a room full of cute, fit, bubbly girls in way cute athleisure outfits, talking about their amazing dieting and exercising regimens. Next, I imagined what I would contribute to the conversations as someone who hadn't worked out in a few days and was stuffing her face with tacos 12 hours prior. "There's no way I'm going to fit in," I thought.
Well, I wasn't completely wrong. I did in fact walk into a room full of cute, fit, bubbly girls in the cutest athleisure wear. But they had way more to discuss than clean eating and working out. Some were detailing the date they went on last night. Some were comparing notes on their latest Netflix binge. Some were simply catching up after a few days of not seeing each other. Yes, some were also discussing how sore they were after their workout Thursday, or how good Wednesday's Tone It Up recipe was. But it quickly became very clear to me that there was so much more to the meet-up than just working out alongside some other locals and moving on with the day. These girls weren't choosing between working out on Saturday and seeing their friends. These girls were working out on Saturday with their friends.
My curiosity was piqued.
The workout was a blur of cheers, hi-fives and so many burpees. It felt good to work up a sweat in such a supportive environment. I already felt more accomplished after that workout than I had after the last ten combined.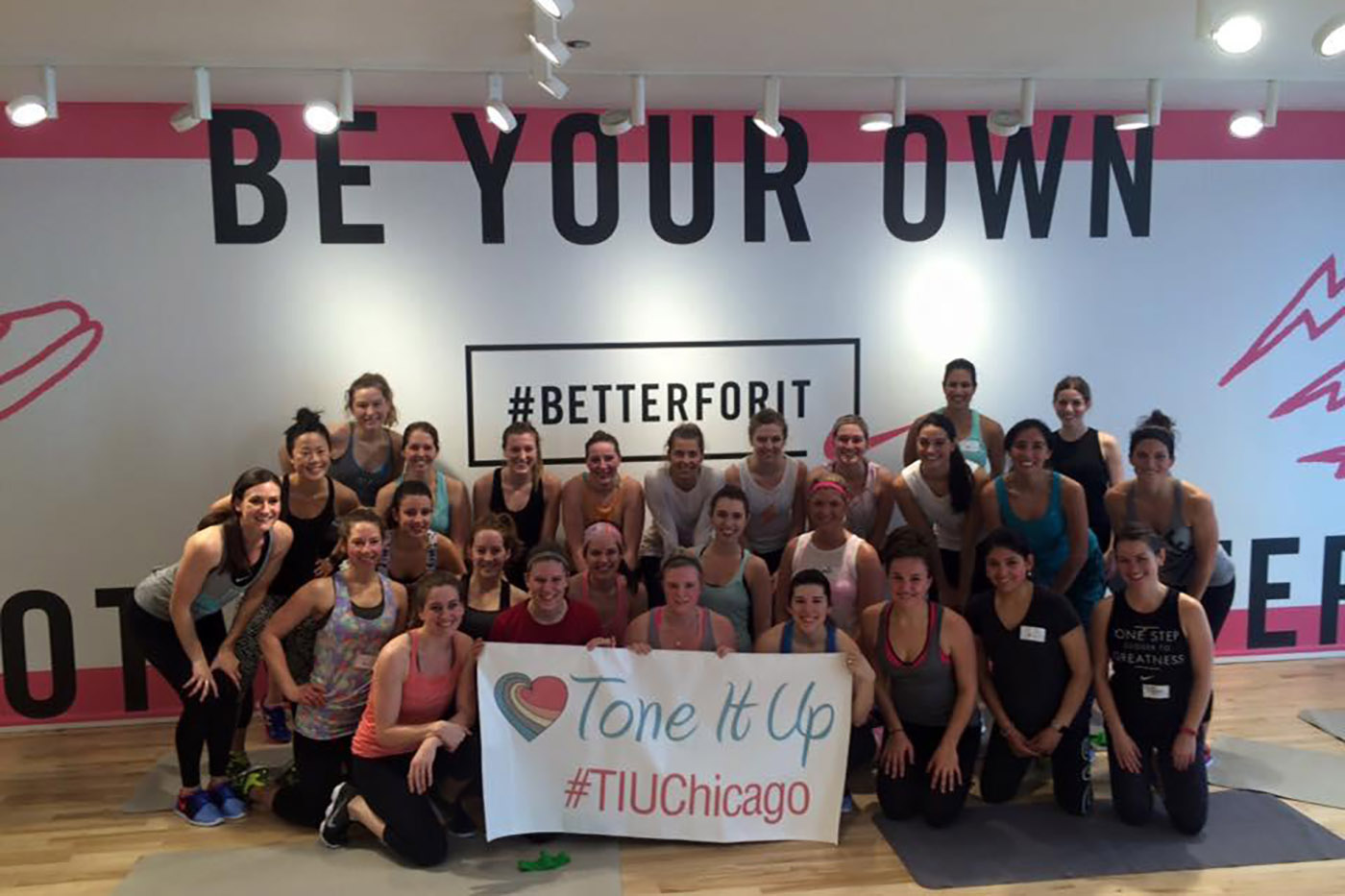 Up next: brunch. My intimidated nerves returned. "What does someone who loves eating order at a TIU meet-up? A bowl of kale just isn't going to cut it," I thought as I concluded that I would just get something small and eat more when I got home.
Yet again, I was pleasantly surprised. The girl next to me ordered a sandwich, admitting that she was starving and could never give up bread. Another group of girls ordered a round of mimosas. At this point, I felt both ashamed of my "all-or-nothing" lifestyle and hopeful that maybe I could finally learn to put it behind me.
During brunch, I got to talk to some of the most incredible, inspiring women who joined Tone It Up for so many different reasons. Despite their different journeys, they all had one thing in common: their love for the Tone It Up Chicago community.
One #TIUgirl I had the pleasure of meeting that day and can now call a friend is Meghan Ryan (@megryan_tiu), whose inspirational story makes you want to get up off the couch ASAP.
"Throughout this last year I have lost 30 pounds, 3 pant sizes and countless inches all over. But, more importantly, I gained a confidence and self worth that I didn't even know I had. I have lifted heavier weights, PR'd in multiple races and completed a triathlon, all of which I never thought possible! As much as I put in the hours of meal prep and workouts to make my transformation happen, I owe so much of it to the incredible support of the community that comes along with TIU. I have met some amazing women right here in Chicago that I talk to regularly and now consider friends. It is so great to have girls in your city who you can call up to meet you at a new class you've been wanting to try or to go for a run or bike ride along the lakefront. It helps keep you accountable. I'm so thankful to have the TIU Chicago girls in my life!"
Clorissa Comer (@fit_life_balance), another #TIUgirl I have the pleasure of calling a friend, had an equally inspiring message to share:
"So far in my fitness journey with TIU, I've lost multiple pant sizes and pounds! But more importantly, I've never felt more comfortable in my skin and I've met some incredible women through the TIU community. I didn't realize how much I needed a community like the TIU community to support my goal of living a healthier lifestyle. Support from family, friends and strangers makes the world of difference when you're trying to reach such difficult goals like weight loss. Making life changes can't be done alone; you need a huge team cheering you on so you don't give up. What's great about making friends through the TIU Chicago community is that not only are they health and fitness focused, they know how to have a good time. We go out to (bottomless) brunch, wine nights, happy hours, exploring new neighborhoods or coffee shops. These aren't just my "fitness friends." Sure they may have started out that way, but as I've spent more and more time with these women, I realize the commonality we all have – of wanting to live a healthy but enjoyable lifestyle – has bonded us to become friends outside of our workouts. I was pulled into the Tone It Up program by the nutrition plan and fun workouts, but I stuck around for the community it provided me with."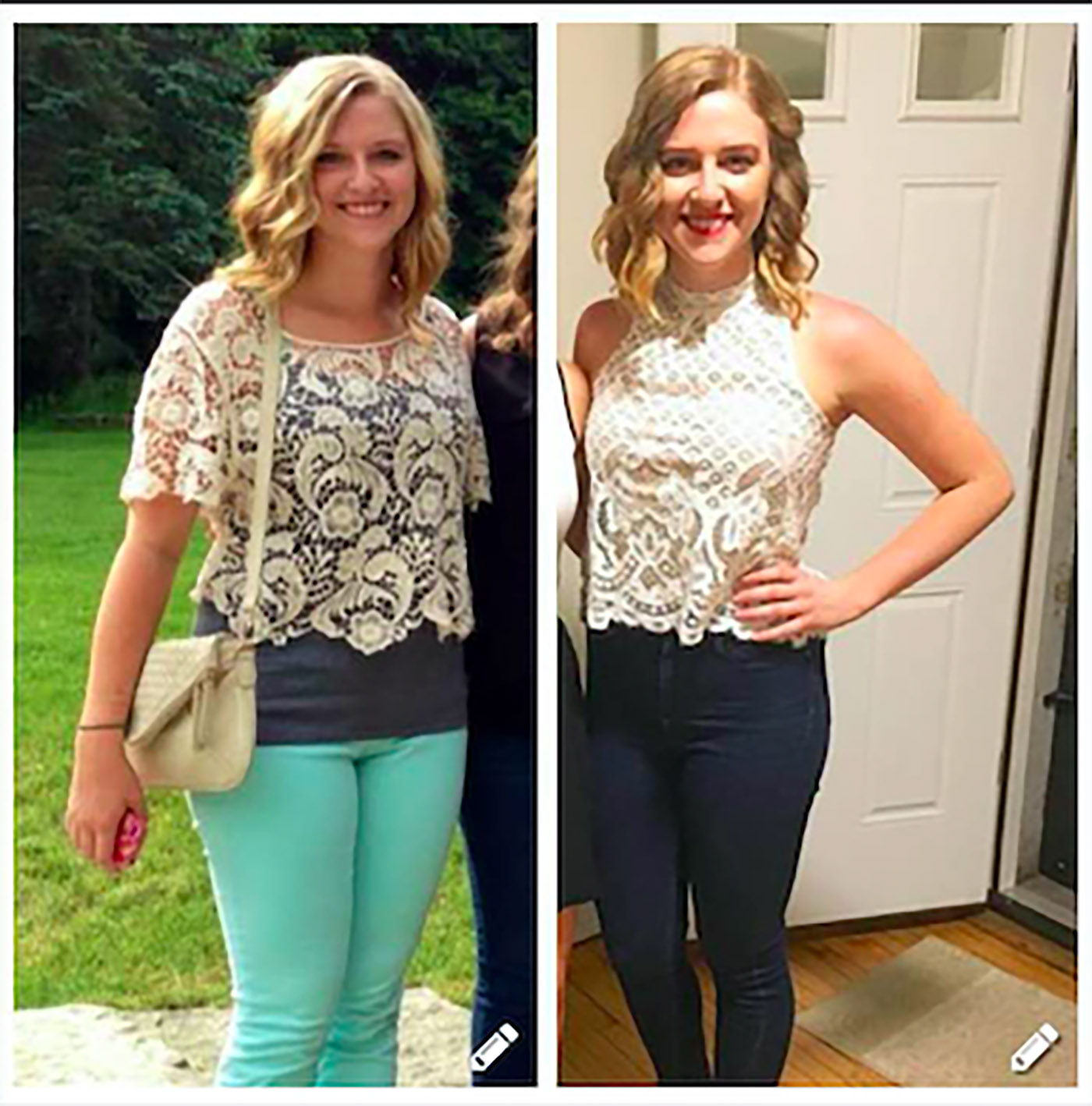 I joined the community in hopes of learning a few tips and tricks, but I got so much more. Today I have many close, like-minded friends who help to hold me accountable for my workouts as well as regular brunch dates. The best part? I am healthier AND happier than ever. The days of feeling down after depriving myself followed by days of feeling anxious after indulging are over. My "all-or-nothing" mindset is behind me. I can confidently say that I no longer feel pressured to choose between meeting my goals and maintaining a social life, as I now am able to do both every single day.
Let us know!
Did this post help you get closer to achieving one of your goals?