Getting a Custom Fit at Nike's Pop-Up Focused on Sports Bras
Last week, fellow writer Catherine Toupin and I got to check out Nike's BraHaus, a pop-up shop with a personalized sports bra shopping experience at Nike+ Chicago. In true Nike style, it was accompanied by a workout, light snacks, a photo booth and free customized printing with a sports bra purchase.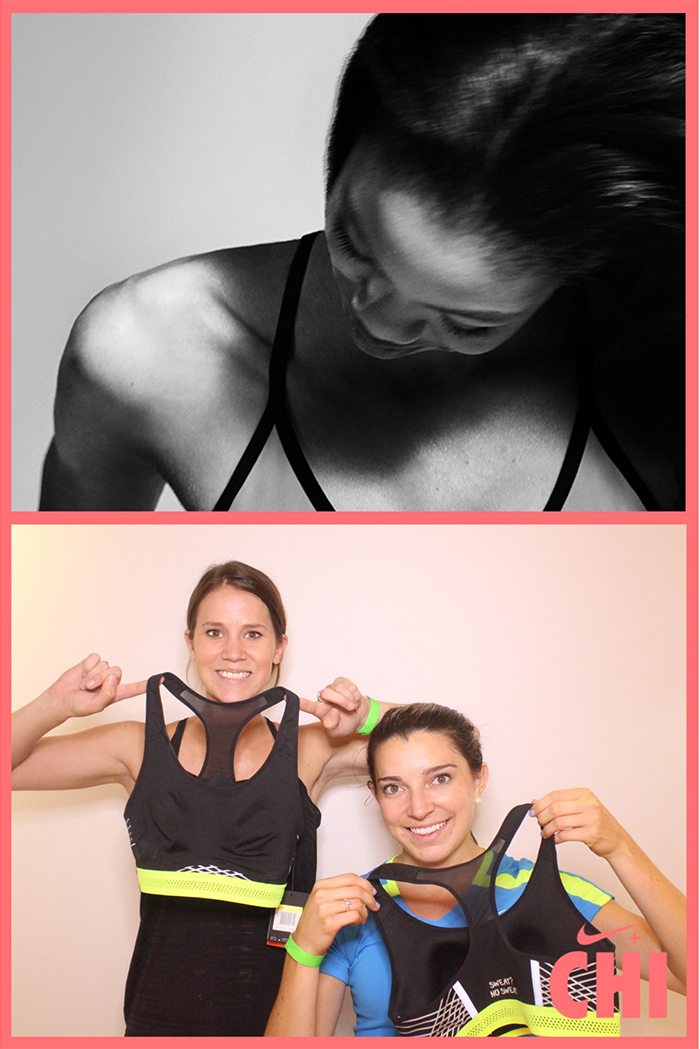 Honestly, I never thought much about my sports bras. As someone who doesn't need a lot of support, I tend to just grab them when they are on sale. When I buy normal bras, I strategically creep through the store, attempting to avoid eye contact with all of the sales associates in Victoria's Secret.
I guess I have always built bra shopping up to be some awkward and embarrassing situation, akin to the first time I sheepishly asked my mom to take me to Limited Too to buy my first bra because all the other girls at school were doing it.
At 26, I'm finally coming around to being happy with my body and confident about all of its parts, even if I am still a little awkward (a little gracelessness never hurt nobody). And, let's be honest, sports bras are not only functional – the colors and patterns make them a lot more fun to shop for than their everyday counterparts.
When we first walked into the BraHaus last week, Catherine and I immediately were welcomed by the incredibly friendly Gabriela who took our measurements. We told her about the fitness activities we participate in the most (for both of us, that meant a little variety with some HIIT classes and lots and lots of running). Medium support was the solution for us, so we each tried on the Nike Pro Hyper Classic, the Nike Pro Classic and the Nike Pro Fierce. We both loved the Nike Pro Fierce (and even got matching colors) because who doesn't love #twinning. We were sold on its lower cut below our arms, which was important to both of us as runners.
"When I run I hate having that under-arm chafe, which is usually caused by a bra or shirt that is cut too high. We tried on a couple different versions of bras, and I actually noticed the ones with higher support for more aerobic activity were cut lower on the sides to minimize any discomfort. Surprise to no one: Nike knows their stuff," Catherine noted.
If you missed the BraHaus event but want to find the bra that is right for you and the activities you do most, check out the Bra Fit Finder on Nike's website. Nike offers a thorough variety of light support, medium support and high support bras to fit the sizing and functionality you need.
The BraHaus event was a great success. It took a lot of the awkwardness and embarrassment out of bra buying – I don't think I blushed once (though sources have yet to confirm or deny this).
"The combination of social and retail made it inviting and I left feeling a lot more positive and excited about my new bra than I would have just going into the store. Being small-chested I'm not a huge bra person," Catherine said. "I sinfully still have sports bras that are from freshman year of college, but after this event I realized that the choice of bra is just as important as what shirt or bottoms are for certain activities."
And guess what? After being measured, I learned that I've been wearing the wrong size bra THIS. WHOLE. TIME.
I'm not even kidding; I wish I was. I've always bought medium in Nike for everything. But when I was discussing how I primarily work out (running) and what type of bra I need (medium support), it turns out the small is actually the better fit for me. And it was! After testing out my new Nike Pro Fierce bra on a run, I can confirm that it provided the perfect amount of support and I was chafe-free (an issue I sometimes encounter with looser sports bras). I guess this is an excuse to buy more sports bras, right?
I also found something else out – and this is important, so pay attention. I'll give you a moment to grab a pen and a piece of paper because you're going to want to write this down.
When you shop at Nike Chicago, not only can you get a personalized experience through your very own stylist in the near future (think: Trunk Club-esque one-on-one styling), but you can currently go in to get measured and get any tailoring you need done – fo' free.
Before the BraHaus event, I was wondering how "customized" one can get with a sports bra – after all, aren't sports bras only in the typical XS/S/M/L/XL sizing? As it turns out, if there's a change you want to make to one of the bras (e.g., moving fabric down to avoid chafing or taking in fabric because you are in-between sizes), tailoring is available and complimentary. Better yet, products are usually hemmed or altered within 48 hours and delivered within one day.
"I'm already imagining the tanks I'm going to purchase and get shortened so people know I'm wearing pants when I'm running," Catherine joked.
Let us know!
Did this post help you get closer to achieving one of your goals?