Eight Reasons to Run a Relay Race
Before this past weekend, the last time I ran a relay race was probably in an elementary school Field Day event. I was not a fast child. My legs were (are) pretty short, and I was built for comfort more than speed.
Twenty-ish years later, and I still don't consider myself the fastest kid in town (but I'm working on it). However, I've completely overcome my relay-related trauma, and that's thanks to running my first long-distance relay race: the "Mother of All Relays," Hood to Coast. Inspired by life events to start a fundraising team for the Providence Cancer Center, I was able to recruit 11 of my friends to join team "Doin' Hood to Coast Things With My Friends" for an epic two day, 200 mile adventure through Oregon.
Because it would take twenty blog posts to actually recap the race events, I thought I'd avoid that novel (you're welcome). Instead, with this life experience under my belt, here are eight reasons every runner should try a long distance relay race:
1. It makes running a team sport
Sure, you can escape the solitary nature of running by running with friends or connecting with other runners online. But at the end of the day, it's you that gets across that finish line.
Not so with relay races. The camaraderie of team sports is alive and well with distance relay races. From teammates honking and waving as your van drives past you to seeing them cheering you on as you approach or leave exchanges, the entire race smells like team spirit. Literally. You really start to smell between your second and third legs.
2. It's manageable…
Three legs, with each leg lasting anywhere from 3 to 8 miles. Totally doable, especially if you've trained for it with several 4-6 mile runs (and a couple two-a-days). For most runners on our team, they never had to run for longer than an hour at a time. It's possible! It's achievable! It's…
3. It's still pretty frickin' hard.
Sure, there's the running (and the hills. And the fact that I wanted to pass as many people as possible to get my "kills" up). But oddly enough, it's the pre- and post-running activities that are just as difficult. Fueling yourself from a moving vehicle isn't as convenient as eating a Clif Bar in my kitchen in the morning, and recovery drinks from GU are a lot trickier to mix in the back of a van.
Plus, once you're done running, you rarely have time for an actual cool down and foam roll; instead, it's straight to the next exchange to meet the next runner, which means your muscles don't get the proper recovery that you need after a tough run.
Mix that in with running on a different terrain than you're used to (LOL hills), and you're setting yourself up for some serious lock-knee walking after your final leg (Bible, I had a harder time walking after my final leg than I did the day of my first marathon).
Oh, and then there's that whole non-sleeping thing. I slept three hours during the entire 30+ hour race, not to mention not sleeping the night before due to nerves.
For runners who have conquered a few race distances already and are looking for the next obstacle to overcome, a relay race is the perfect way to test your abilities. I never would have thought that my legs could run 18+ hilly miles, fast, on basically no sleep, but now that I know they can, I'm kind of amazed.
4. Team bonding
There are some moments that can only happen when you're stuck in a van with five other human beings for 30 hours. I think of those moments as the intangibles – the moments that you won't necessarily remember 20 years from now, but that are hilarious and bonding at the moment. Whether it's blasting Justin Bieber's new song on repeat dozens of times in a row or making a late night McDonald's run before your second leg, you live through hundreds of stupid, hilarious, great moments that give you an unshakable bond with everyone in your van.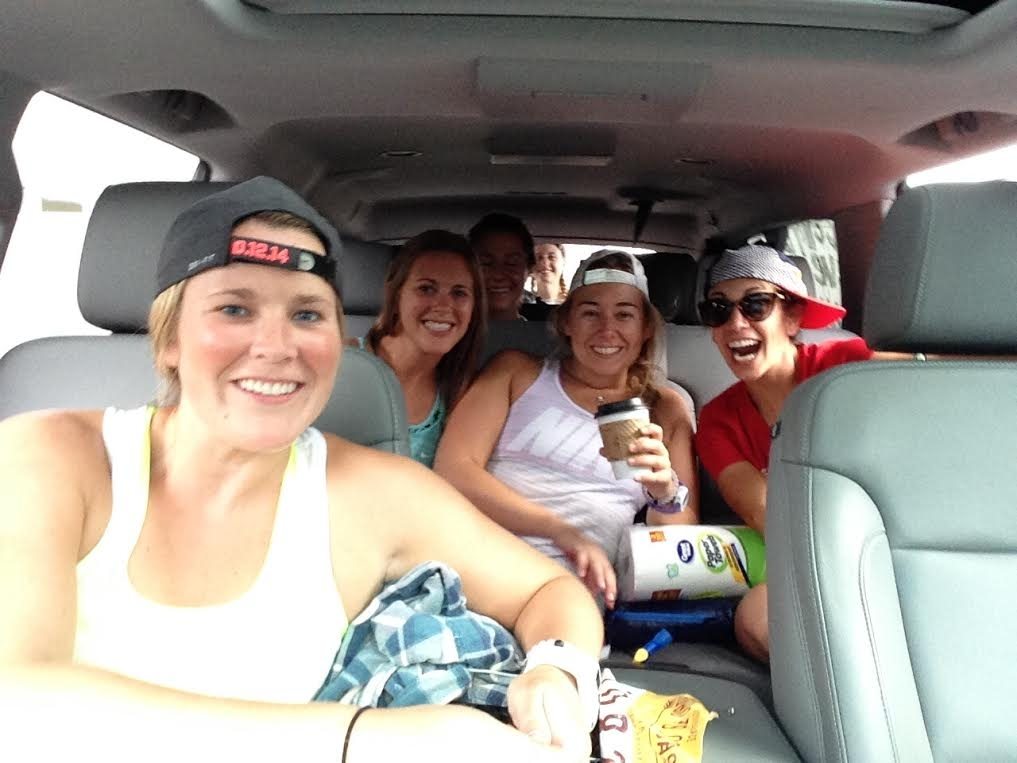 5. Seeing a new part of the country
Relay races are the perfect excuse for a destination run-cation to a new area of the country. While half marathons and other races might be easier logistically (after all, you only have to coordinate for yourself running for two hours, instead of 12 people running for 32 hours), relay races are awesome because you get to see more of your surrounding terrain from actually running and driving between exchanges. In fact, some of the best views I saw during my race came as I drove our van up to Mount Hood, and then again as I drove us from Seaside back to Oregon along an incredibly scenic, pine tree-lined highway.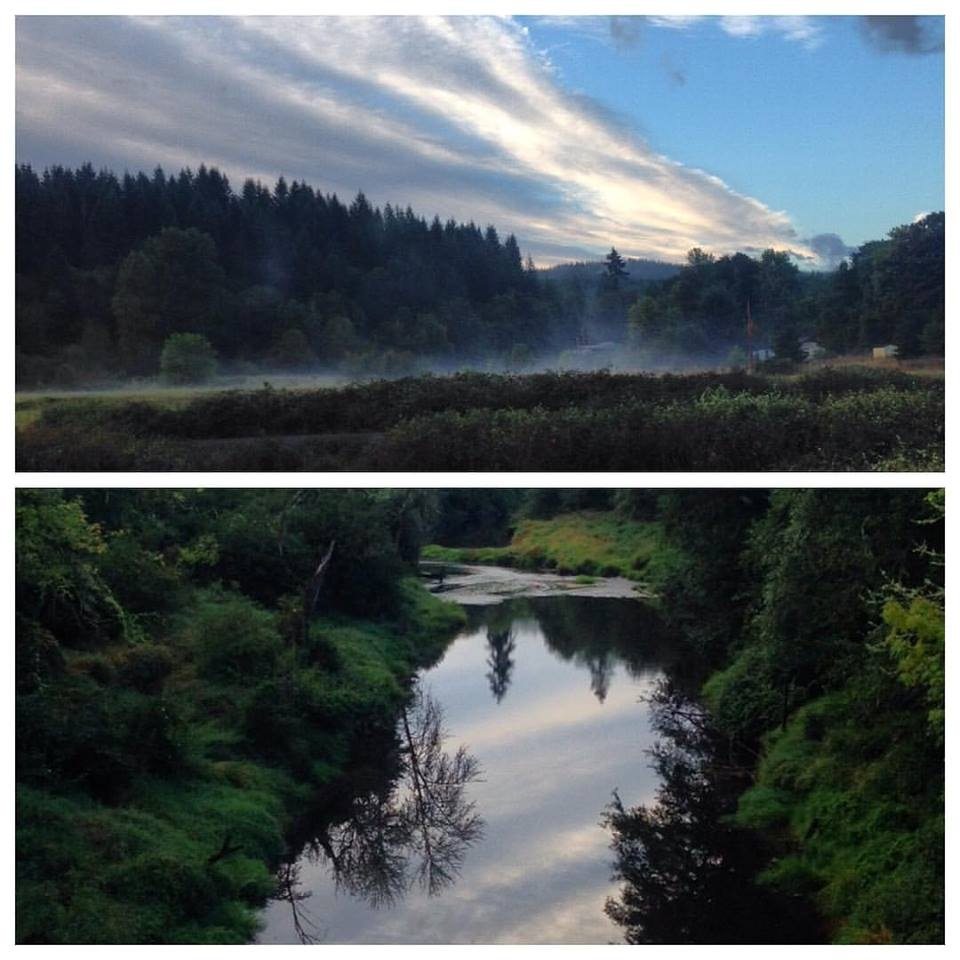 6. Being inspired by other runners
One of the things that surprised me most about Hood to Coast was that my team (all athletic women in our 20s) was kind of the minority in terms of demographics. I saw runners who were walking. I saw runners literally twice my age. I saw teams of men and women who had obviously been doing this together for years. The running community was in full force at Hood to Coast, and it made me remember why I love that community and the inspiration it provides in the first place.
On a lighter note, we met some hilarious teams during our 200 miles. The MuuMuu Crew ran completely in – you guessed it – muumuus. There was a van with an inflatable t-rex on its rear bumper. There was a team at the finish line dressed as dinosaurs (not completely sure if these two instances were related). Everywhere you looked, you saw runners who weren't necessarily running Hood to Coast for a course PR, or to get as many kills as possible – they were running for fun, and in doing so, they helped me reinvigorate my love of running.
7. Conquering fears
Running at night isn't my favorite thing to do. And while I've done it before, running in the rain certainly isn't my preference. I can say with near 100 percent certainty that every other member of my team feels the same way.
However, almost every runner on a relay has to run overnight at some point, and this year's edition of Hood to Coast saw the worst weather in 20 years (think 70 mph winds at the coast and a cancelled finish line). Sure, it wasn't ideal. In fact, it was pretty much the opposite of ideal. But you know what? We did it, and we're tougher for having survived it. Honestly, I'm more proud of overcoming those obstacles and running three separate times than I am for running two marathons.
8. You'll never do anything else like it
All this week, whenever people have asked me about the race, my go-to answer has been "It was the coolest thing I've ever done, and I've never done anything like it." It's a completely unique experience that doesn't come around very often. In Chicago, there's a 5K or half marathon every weekend from March til November; there's only one relay race that passes through Chicago during that same time.
Distance relay races are exhausting. They're frustrating, they're a headache, and they make you really really sore sometimes – but in the end, they're all worth it.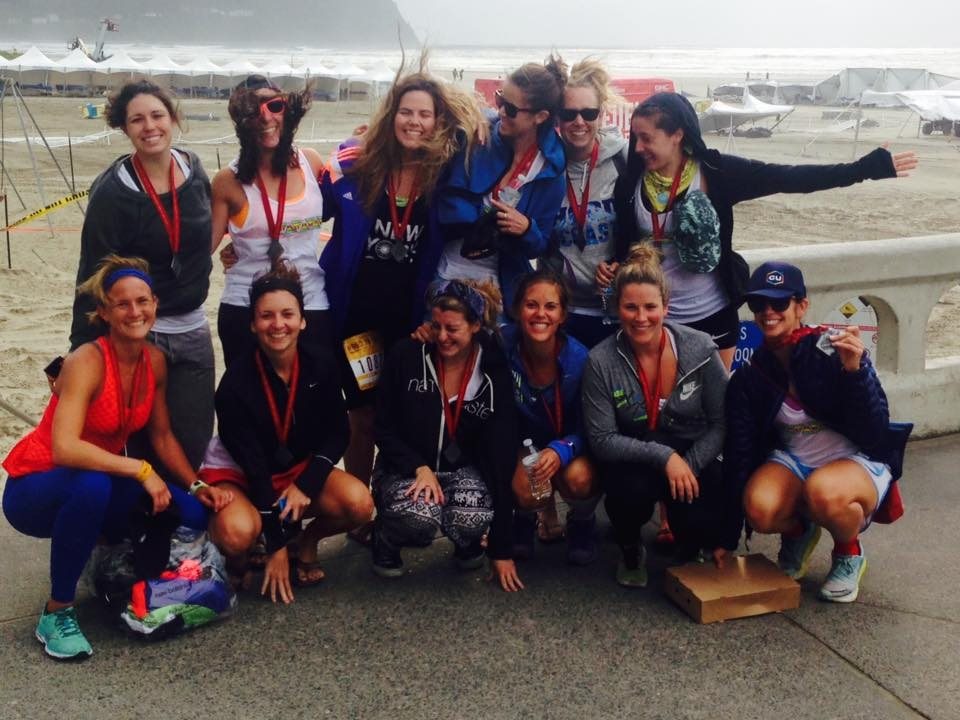 Anyone else done a relay race like Hood to Coast? Any suggestions on what our next one should be? Let me know in the comments!