Cold Weather Running Tips
For many Chicagoans, last week's frigid weather was enough to give us PTSD-style flashbacks to last year's Polar Vortex. True, it was nowhere near cold enough that I was legitimately concerned about hypothermia every time I went outside, but it was still a nasty little wake-up call that oh hey, winter is coming.
While I'm still enjoying my time off from a regular running schedule post-marathon, every now and then I get an itch in my legs that only a run will satisfy. But when it gets to be "Instagram photo of the local temperature" cold, you've got to be smart about how you run, when you run, and especially what you run in. Here are the most important cold weather running tips so that you can break a safe sweat while stretching your legs this winter: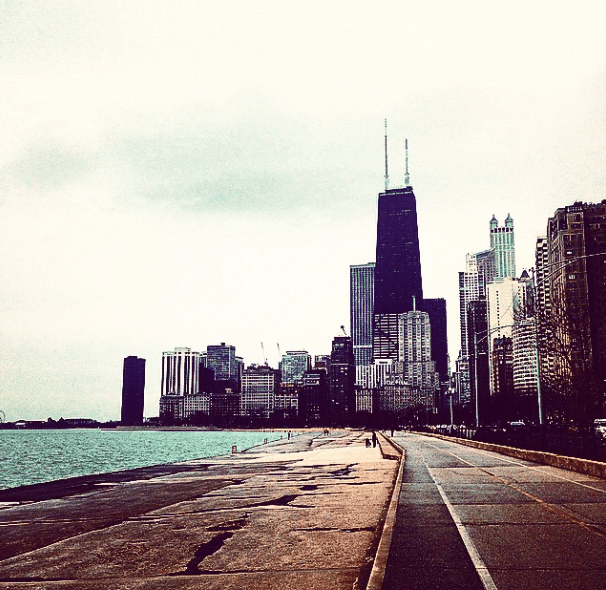 Dress in sweat-wicking layers. Several thin layers will trap air between them, which will keep you warmer; plus, you'll be able to move easier. The sweat-wicking fabrics will prevent you from catching a chill during your run. No cotton, people.
That said, don't overdress. Remember, once you get started running, it generally feels 15-20 degrees warmer than it actually is. I wear shorts and tall socks down to about 32 degrees with a long-sleeved shirt on top, and I'll wear just one layer of Nike's Hyperwarm tights down to about 15 degrees. As a side note, I swear by Hyperwarm in the winter- it's amazing quality for an incredibly reasonable price, and I wear the loud-patterned leggings as regular pants all the time in the winter.
Gloves, earband or beanie, and shoes without mesh in case you run through slush. Check, check, check.
Warm up inside. Instead of waiting to get warm while you're actually running, warm up indoors with some dynamic movements like high knees, lunges, squats, stairs, etc. Warming up is especially important during the winter because the cold makes it more likely that your muscles will tighten up and even tear.
Shine bright. Make sure you can be easily seen with reflective gear or a headlamp. Personally, a Flash Jacket is pretty high on my Christmas wish list this year.
Start your run going against the wind. Running into the wind on your way back- when you're sweaty and exhausted- can increase your risk of injury and catching a chill. Try running into the wind for ten minutes, then with it for five and repeat that throughout your run. I also tend to run downtown more in the winter, avoiding the lakefront path (which is often icy anyway) in favor of the protection that buildings give me from the wind. Protect your face from the wind and cold by smearing BodyGlide, Vaseline or Aquaphor on your cheeks.
Be constantly vigilant for ice. One nasty spill can sideline you for the winter, so keep your eyes down and pay attention to where you're putting your feet, especially when you're turning a corner.
Run short loops instead of one long out and back. That way, in case of an emergency or injury, you'll be closer to home.
Check yourself for signs of frostbite. Your fingers, ears, nose, and toes are especially vulnerable, so during your run, constantly check in with yourself. It's normal for your skin to feel numb during the first few minutes of a run, but if the numbness persists or you notice a cold, hard, pale patch of skin, you may have frostbite. Find warmth immediately and seek emergency care if it lasts. You may think that frostbite is one of those "Oh, that'll never happen to me" things, but true life, one of my best friends in Chicago got frostbite last year just walking from the Blue Line to the Metra and nearly had to have one of her toes amputated. Frostbite is real.
Carry cash, ID, and phone on you. Again, no one likes assuming an emergency is going to happen, but it's always better to be prepared.
Measure your run by time rather than miles. Winter miles tend to be more about maintenance than speed, so instead of setting a mileage goal for your run, set your timer for when you'll turn back. If you absolutely need to get a longer run in and you can't run during the middle of the day when it's warmer and lighter, run twice instead – half in the morning and half in the evening.
Change as soon as you get finished. Your body temperature will drop as soon as you stop running, so change your clothes completely once you're done, and jump in a hot shower if you can. If not, at least change your clothes wherever you are, and put on a dry hat (if your hair is wet) and socks.
Find an accountability group. During the winter, it's easier than ever to find ways to talk yourself out of a run. Nip that in the bud by rededicating yourself to a running group and treat your run-dezvous like meetings that you absolutely cannot miss! May I suggest the Crew here in Chicago?
Don't be stupid. If the temperature is below zero or the windchill is -20, call off your outdoor run in favor of an indoor equipment-free workout or some intervals on the treadmill. Bragging about being a winter warrior is cool until you get frostbite.
As terrifying as winter can be, I have to say, there's something about running in cold weather that I really do enjoy – the quiet, the feeling of rosy cheeks, the fact that you're part of the one percent exercising outside. Be safe, be smart and be a winter warrior.
Any other tips for running in the cold weather? How do you people training for spring marathons (cough, Boston) do it in Chicago?