Marathon Monday: Marathon Training Apps
Marathon training isn't natural, but there are apps on iPhone and Android to help make marathon training a more natural part of your life. Running in itself is a instinctual activity, but we humans have gone and made it much more complicated than it needs to be by starting races, worrying about what's on our feet, obsessing over what we eat before/during/after a run, and more. Technology plays a huge part in dressing up your runs, from mapping out the routes you run to choosing the perfect Spotify playlist to jam to.
As the saying goes, if you can't beat em, join em – that is, you might as well make the most of what technology has given you and use these digital tools to train for your marathon. Here are my favorite marathon training apps to make running my first marathon a lot more enjoyable:
1. Spotify
I'm not what you would call "hip" when it comes to music. Case in point, my "Recently Added" playlist in iTunes has songs that I downloaded last July. Yup. One year ago. I'm cringing at myself, don't worry.
So naturally, I've been late to the game with Spotify, a music-streaming service that delivers nearly every song you can think of* to your desktop for free. The free mobile app also does this, but with two limitations: 1) you hear ads, which kills my vibe during runs, and 2) you can't choose the order in which you hear the songs on your playlist. For this reason, I made the grown-up decision to actually PAY for my music. A premium Spotify subscription costs $9.99 per month. This also gets me the advantage of being able to download playlists to listen to "offline," a.k.a. when my phone is in airplane mode because I need to save battery (my ability to be a grown-up only gets me so far, people).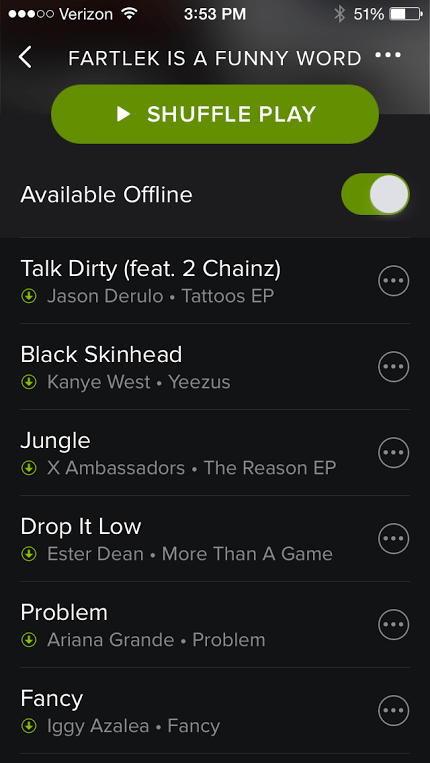 You can also follow your friends' playlists (like me! You really don't want to miss my "Fartlek is a Funny Word" playlist), and a lot of gyms also put out playlists (I'm a big fan of Crosstown Fitness's mixes). Plus, as the long runs start to get longer, you don't want to be burdened by constantly downloading new songs, curating the playlist in iTunes, and then uploading everything to your phone. Too many steps. I'm bored just typing the process out. Do yourself a favor and cut out two beers a month from your bar budget to download Spotify Premium.
*My one incredibly huge beef with Spotify is that they don't have the "Space Jam" theme song by Quad City DJ's which is just a travesty.
As previously stated, I love having a plan. That's why I'm in love with the Nike+ Running App. Using the "Coach" feature, I was able to put in the date of the marathon and it came up with a customized plan based on my level of running. I can review my training plan for the day, for the week, or for the entire duration until race day, and the app also gives me specific workouts. For example, today I did a seven miles run with a one mile warmup, five miles of fartleks (that word will never not be funny) and a one mile cool down. I like being told what to do, I guess.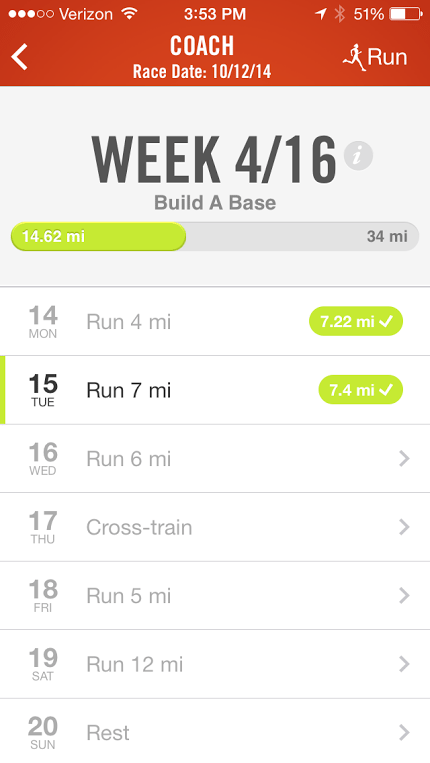 In addition to the normal running app bells and whistles like pace tracking, GPS for your routes, and logging the miles on your shoes, I also love this app's integration with social media – you can post straight to Facebook, Twitter, Tumblr, and Instgram, and the posts look beautiful.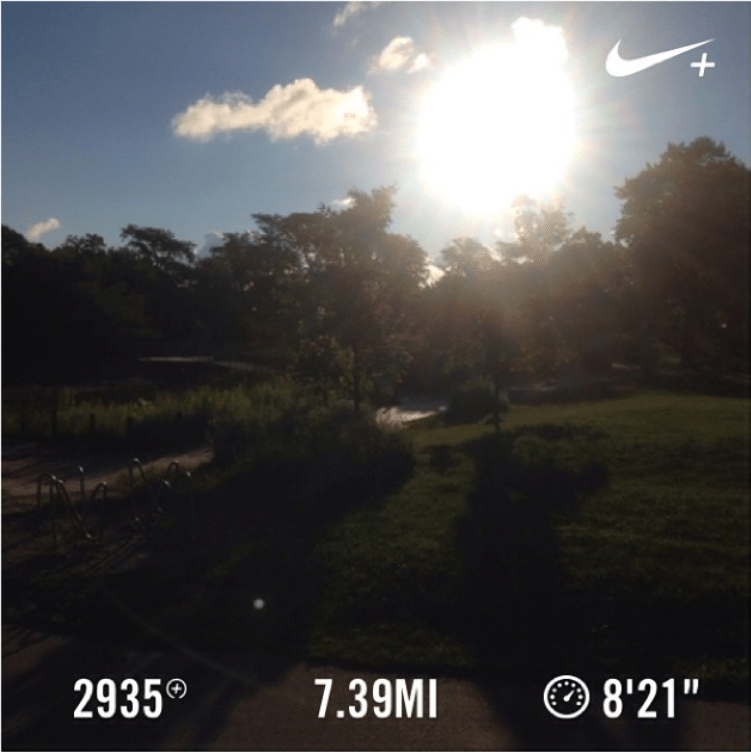 My only complaint is that for some reason, the Nike+ app isn't integrated with Spotify, so you either have to rely on the playlists from your iTunes library or use the clunky go-around method of starting your Spotify playlist, then opening your Nike+ app and start a run, selecting "no music."
P.S. Want to be friends on Nike+? Add me @KristenMGeil!
3. MyFitnessPal
When it comes to marathon training, running is only part of the equation- you also have to be conscious of what you're putting into your body. As the mileage gets higher, you'll need to make sure you're refueling with the right amount of protein and carbs so that you're able to maintain your weight and muscle.
Enter MyFitnessPal, which has a comprehensive list of various foods and drinks and their calorie counts. You can estimate how many calories you burned during a run, then adjust your food plan for the day accordingly.
4. MapMyRun
One of the biggest challenges of marathon training is avoiding burnout and boredom, especially when it comes to your running routes. Sure, we all love the lakefront path, but sometimes you just need a break. With MapMyRun, you can easily plan out new routes while still ensuring that you're hitting the mileage you need to hit. Chicago has 77 neighborhoods- why restrict yourself to running the same places over and over again?
Am I missing any good apps? What do you guys use?