Fly at Flywheel Gold Coast

Class title: Fly 45 (45 minutes of spin class)
Studio: Flywheel, 710 North State Street
Class Focus: Cardio with intense, leg-busting intervals. There's one 5 minute arm section, but even throughout that, no one stops pedaling. It alternates between speed and resistance. You'll feel it.
Cost per class: $25
Money saving offers:
Bring a friend to the 7 am or 7:30 pm class and both take the class for free (offer was in an email July 22, 2012)
Classes can be purchased in packages to bring the cost down to as low as $20 and memberships are available for $160/month, which brings classes down to $15 a pop if you go 3 times/week
Who should take the class: Anyone seeking a tough cardio workout that builds lower body strength, looking to compete or just searching for a class that will fly by (seriously, pun intended).
The Fab Fit take:
The price of this class seems steep compared to other spinning studios, but the bells and whistles are out in full force. When you arrive, your spin shoes are waiting for you in a cubby with the same number as the bike you signed up for. There is a two-man team helping with bike setup. Each bike has a monitor with torque, RPMs, "power," and speed.  My favorite piece of tech: if you opt-in, you can compete via a digital leaderboard with other class goers within your gender. Here's a tip: use an AIM screenname (remember those?) if you plan to opt into the leaderboard. I was the only one in the class that used my full first name and last name, stalkers beware, I know how to punch. I'm competitive and the leaderboard kept me working harder to kick Nanner225's butt. (She beat me, but I still beat the puker and the rest of class).
Generally, I wouldn't start with the tech, but it truly is Flywheel's leg up on other options. When class is over, you can view your results online and track your progress. It's like Foursquare for my heart.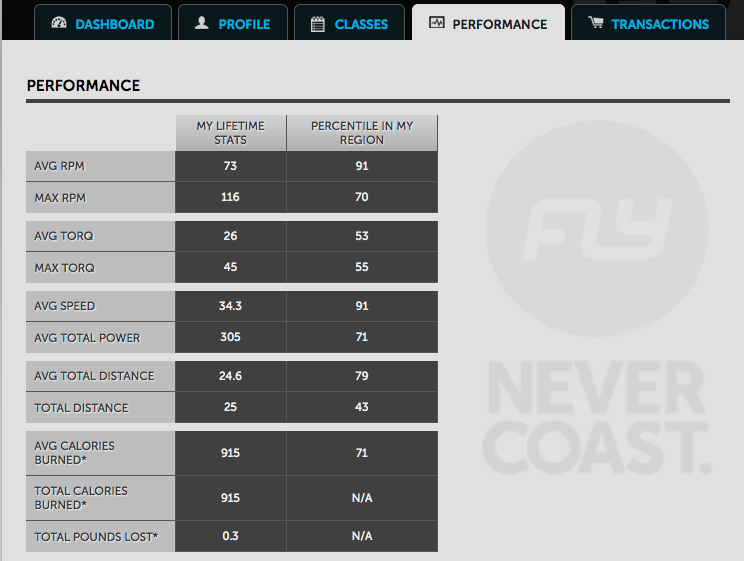 Get ready for some superlatives: 1. This was one of the best spin classes I've taken. 2. The instructor was the most muscular woman I have ever seen in my life – she did the class from beginning to end and I think the class before it as well. She was incredibly motivating and moved the class along so I was never left wondering how much time was left.
In the 8 years I've taken spin classes, I've never clipped into the bike with spin shoes. I didn't notice a huge difference, but I did find it easier to pull up on the pedals.
Full disclosure: I almost threw up. The girl on the bike next to me did throw up.
The verdict: Regardless of the price, I would take this class again, just for the competition and rush of it.
Let us know!
Did this post help you get closer to achieving one of your goals?