The Best Mocktails to Try This Holiday Season
It's that time of year again when the cocktails are flowing. But what if you're sober, pregnant, the designated driver, or simply have an early morning meeting? That doesn't mean you shouldn't be able to enjoy a festive libation or two. If you're hosting a party, it's also important to consider all of your guests and be able to offer them a fun alternative to alcohol.
Here are the best holiday mocktail recipes to try this season, along with a healthier low ABV alternative ideal for those guests who need to wake up for that 7:00 am indoor cycling class. These Christmas drink recipes nonalcoholic-style are so good, you won't even miss the booze.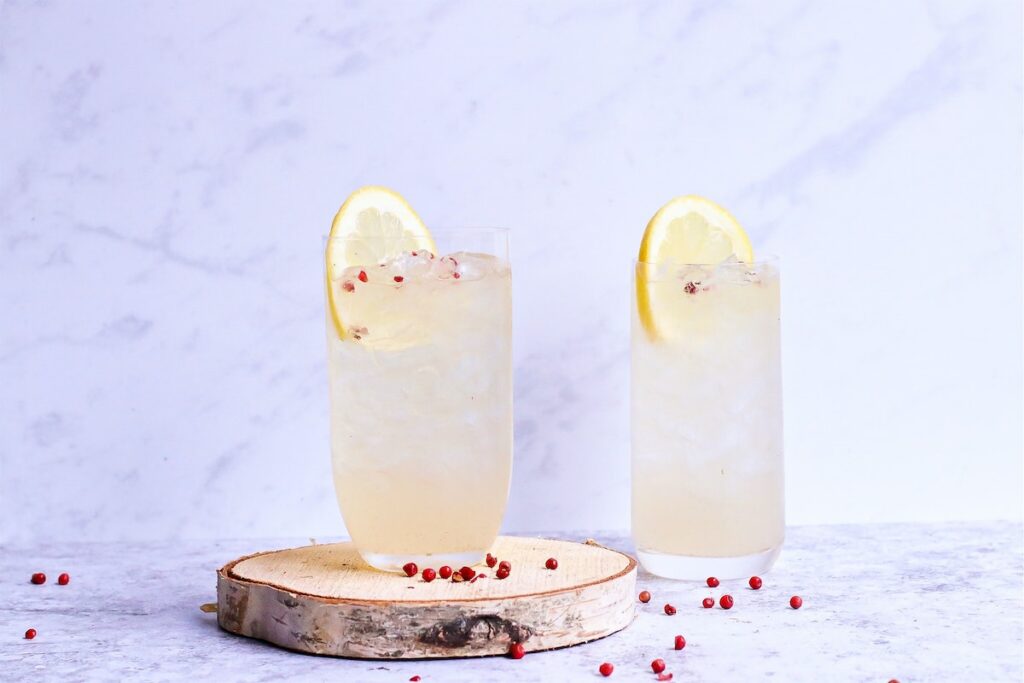 Wine mocktails
Fre Rosé Strawberry Smash
Fre is a brand of delicious alcohol-removed wine — and frankly the most convenient to buy because it's one of the few that's readily available at many major supermarkets and drugstores. If you've never seen it in the wine aisle, look on a lower shelf. It tastes great, is inexpensive, and is available in a range of varietals including red, white, rosé, and sparkling flavors.
Want to make a sweet mocktail? Why not try a Fre Rose Strawberry Smash?
Ingredients:
1 cup Fre Alcohol-Removed Rosé
5-6 strawberries
Juice of half a lemon
Honey
Freeze-dried strawberries
Directions:
Pulse freeze-dried strawberries in a food processor or blender until a fine powder is formed. In a cocktail shaker or large glass, muddle strawberries. Add lemon juice and stir.
Pour Fre Alcohol-Removed Rosé over the strawberry mixture and stir again. Rim two cocktail glasses by dipping in a plate of honey and then the freeze-dried strawberry powder. Add ice to the glasses. Strain the Fre Alcohol-Removed Rosé and strawberry mixture into the prepared glass. Garnish with a strawberry and serve!
Gruvi Hot Toddy
Gruvi is another brand of delicious nonalcoholic wine. It can be used to make a drink that's reminiscent of a Hot Toddy, which is a delightful treat — especially in the colder winter months.
Ingredients:
2 oz. Gruvi Alcohol-Free Dry Secco
8 oz. hot water
1 chamomile tea bag
1 oz. lavender simple syrup
.5 oz. lemon juice
Lavender simple syrup ingredients:
3 tablespoons dried culinary lavender
1 cup sugar
1 cup water
Directions:
To make the lavender simple syrup, add all of the ingredients together in a small sauce pan and stir occasionally. Once it comes to a soft boil, remove from heat and discard the lavender.
To make the mocktail, add the tea bag to the hot water and let it steep for a few minutes. Remove tea the bag and mix in Dry Secco, lavender simple syrup, and lemon juice. Garnish with lemon slices. Enjoy warm!
Classic mocktails
Dry Botanical Bubbly Cucumber Basil Collins
The aptly-named Dry Botanical Bubbly is a great alternative to soda because it isn't sweet. So even without being mixed, this beverage feels far more like drinking alcohol — particularly the Spiced Pear and Cucumber flavors. It comes in several other unique flavors including Lavender, Vanilla, and Ranier Cheery. It's easy to say cheers this season with a refreshing Cucumber Basil Collins.
Ingredients:
2 oz. lime juice
2–3 dashes bitters (optional)
Basil leaves
6 oz. Dry Cucumber Botanical Bubbly
Directions:
In a shaker, mix lime juice, bitters, and torn basil leaves. Add ice. Shake until cold and the basil is bruised. Pour Dry Cucumber Botanical Bubbly over ice into a Collins glass, then add the lime and basil mix. Garnish with a lime wheel, basil leaf, and a slice of cucumber.
Abstinence Spirits Nonalcoholic Manhattan
If you like the true taste of spirits but don't want to get drunk, opt for Abstinece Spirits. While this brand's offerings can be mixed with soda water or enjoyed over ice, it's also great for making a nonalcoholic Manhattan.
Ingredients:
1.5 oz. Abstinence Cape Spice
1 oz. Abstinence Epilogue X
0.5 oz. vermouth or nonalcoholic vermouth alternative
2 dashes orange bitters
Orange twist
Note: Both vermouth and bitters traditionally have alcohol, making this a low ABV cocktail. Make sure to find nonalcoholic alternatives if you're looking for a completely alcohol-free drink.
Directions:
Add Cape Spice, Epilogue X, sweet vermouth, and bitters to a mixing glass with ice and stir until well-chilled. Strain into a chilled coupe and garnish with an orange twist.
Figlia Out of Office
Figlia is a nonalcoholic aperitivo with a unique mission beyond satisfying the taste buds. The brand was founded by 27-year-old Lily Geiger, who lost her father to alcoholism at age 20. Figlia doesn't intentionally try to mimic an alcoholic spirit, which could be a trigger for those in recovery. It can be enjoyed on the rocks or mixed in a mocktail such as the Out of Office.
Ingredients:
5 oz. lemon juice
.5 oz. mint agave syrup
.5 oz. blood orange juice
1.5 oz. quality tonic
1.5 oz. Figlia
Mint agave syrup ingredients:
1/4 cup light agave
1/4 cup hot water
10 mint leaves
Directions:
Create the mint agave syrup by mixing the ingredients. Stir to combine and steep for five minutes. Strain out the mint leaves.
To make the mocktail, pour lemon juice, blood orange juice, tonic, and Figlia into a tall glass and fill with ice. Garnish with mint. Mint agave syrup can be refrigerated for up to one week.
Mocktails for the busy
Throwing a party is a lot of work — and if you're short on time to make mocktails or don't want to buy lots of ingredients, pre-mixed mocktails get the job done.
Cocktail Bomb Shop
Want to make a mocktail with essentially zero effort? The Cocktail Bomb Shop offers a variety of the easiest and most enjoyable ways to make mocktails. Think of bath bombs but for your drink. Just drop a bomb into sparkling water. That's it. You can also add alcohol if you'd like to. The brand recently launched a Holiday Variety Pack, which includes delicious flavors such as Santa's Secret Cocktail, Frosted Cranberry, and Holiday Mule.
Nope
Say "yes" to Nope. Quite possibly the easiest mocktail to make, just open up a can and you're good to go. With unique flavors including Raspberry Lime Ginger Beer (think a fruity mule), Strawberry Basil Smash, and Mango Margarita with Jalapeno, Nope brings a fun tropical twist to any holiday party.
Low ABV alternative
Sometimes you want a cocktail but not a hangover. Enter low ABV (alcohol by volume) drinks, which have been trending lately because they can help you enjoy a little bit of a buzz without a full hangover.
Mujen Bloody Mary
Mujen is a type of shochu, which is the most popular type of spirit in Japan. Delicious and smooth, it also won't get you hungover. Mujen Ai Lite has a light and crisp flavor. A great alternative to vodka, it has less alcohol while also being carb-free, sugar-free, and gluten-free. Want to indulge in a Bloody Mary? Why not try a Bloody Mujen Ai by Christiaan Rollich and Ash Miyasaki?
Ingredients:
2 oz. Mujen Ai
4 oz. Bloody Mary mix
Garnish: Celery
Glass: Tom Collins
Directions:
Build in glass. Add all ingredients and stir with ice. Finish with celery or garnishes of your choice.