How to Make Your Neighbor Your New Best Friend
When I reflect on my childhood, I feel like my early years were idyllic. Evenings and summers were spent playing with the other kids in the neighborhood. If my parents had to work or be away from home, we could count on the neighbors to care for us. As cliché as it sounds, I have distinct memories of going next door to get milk and sugar when we didn't have any.
Fast-forwarding to 2022, I still, surprisingly, have had pretty great relationships with my neighbors. However, I know that I'm the exception to the rule. According to the Pew Research Center, forty percent of Americans report not knowing any of their neighbors, and only a quarter of Americans state they know the majority of the people they live by.
According to Bloomberg, the number of people who know their neighbors has been steadily falling since the late 1960s due to changes in necessity and how we socialize. We no longer need to see our neighbors.
I would argue these dynamics are beginning to shift. During the height of the pandemic, for many of us, the only people we saw were our neighbors. We may have depended on them to shop for us if we were at higher risk of illness or spend time with us if we were lonely. Instead of being the person upstairs who seems to get a lot of packages, your neighbor became your Friday night dinner plans.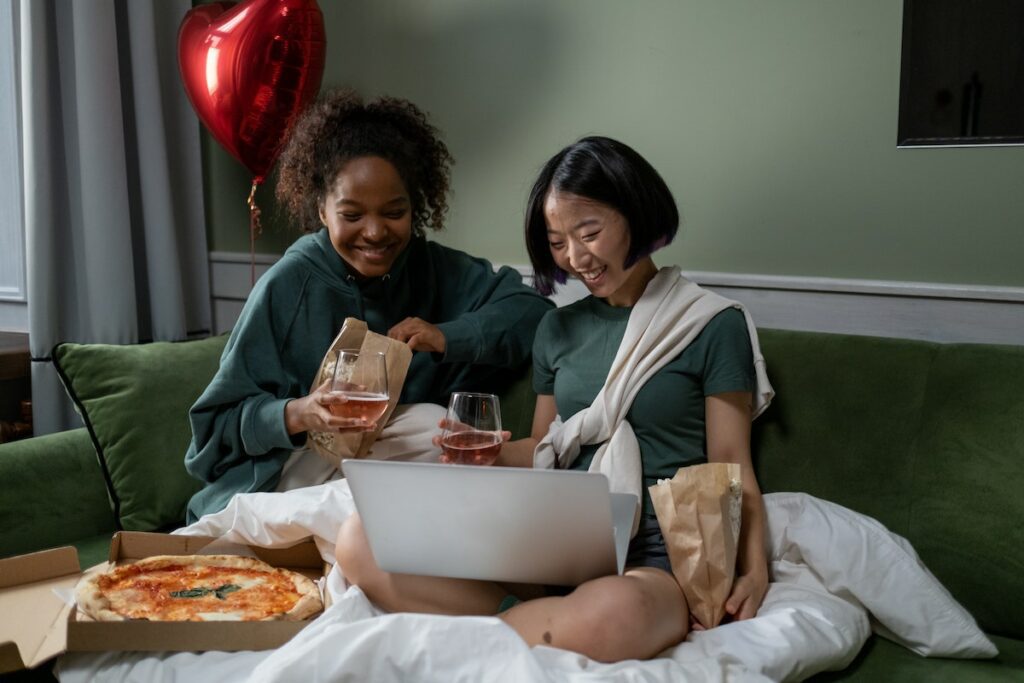 The benefits of becoming friends with your neighbors
Now that many of our social lives have returned to normal, I still hear chatter about befriending those who are in our neighborhoods. I'm not surprised as there are many benefits to having a friend in the neighborhood including:
You have a new person to socialize with.
Nothing is worse than having Saturday night plans fall through last minute. If you're anything like me, the wind is released from your sails and you feel resigned to watching Grey's Anatomy for the hundredth time. However, if you're friends with your neighbors, joining their plans may be easier than finding another person across town to spend time with.
They can support your safety in the area.
Being friends with my neighbors has always helped me feel safer in my neighborhood. We keep each other informed of what has happened and make plans to keep our space safer. For example, when numerous bikes were stolen on my block, my neighbors were able to provide footage to identify the perpetrators.
They can lend you items if you lose or don't have something.
Sometimes, it's not worth it to go to the grocery store for that last ingredient for a recipe. If you don't know anyone in the neighborhood, you may have to give up cooking your meal. If you do know someone, they may be able to help you out in a pinch.
They can hold an emergency set of keys.
I've locked myself out of my apartment more times than I feel comfortable admitting to on the internet. I used to be able to pick locks to get back inside, but alas, locks are getting better and better these days. Thankfully, two different neighbors of mine have an extra set of keys and can let me into my building.
They can help maintain your home, pets, and plants when you're away.
Finding an affordable and nearby pet daycare or task rabbit can be a challenge. I have three cats and a dog so traveling used to be difficult. Thankfully, the people who live in my building are always open to support in pet care when I go out of town.
How to become friends with your neighbors
If you weren't sure about being friends with your neighbors, I'm hoping that you now feel more open-minded. But wanting to be friends with your neighbors and actually being friends with them can be a challenge. Below are some tips on how to make that relationship happen:
Join a neighborhood group on social media.
Most neighborhoods have a Facebook group or are featured on nextdoor. These sites are great places to get to know who's in your neighborhood from a distance.
Seek out neighbors that have similar interests as you.
While exploring your neighborhood, pay attention to who you see. Is there someone doing yoga in the park? Does your neighbor also have children? Who has the latest Emily Henry novel? If you see someone doing something you're interested in, don't be afraid to say hi and chat about your shared interests.
Have a housewarming party.
When moving to a new place, it's customary to invite your friends and family over to see your new space. You may as well invite your neighbors to attend as well. As an added touch, I recommend sending a paper invitation with a yummy snack. Who doesn't love food?
Put technology away.
If you're walking in your neighborhood or spending time at a local spot, try to keep your phone away. Being on technology can communicate to others that you're not interested in social interaction and block an opportunity for a new relationship.
Don't be afraid to make the first move.
As a therapist, I can confirm that most people find it nerve-wracking to say hello to a new person but want to make new friends. So, if you're in that boat, I encourage you to take a risk and introduce yourself. You may be making your new best friend!
The bottom line: At the end of the day, making friendships in adulthood can be tough. Thankfully, there are plenty of potential new friends right on your block. If you see an opportunity to build a relationship, take that first step and say hello.