This Intimacy Serum Is a Game-changer for Your Sex Life
Let's cut to the chase: To enhance ease and enjoyment, minimize discomfort, and make it easier to achieve orgasm, lubricant is as essential to sex as it gets. You need a good one.
And we would argue a good lube is a clean lube — one that you feel safe putting inside your body and one that helps you feel as comfortable as possible during your most intimate moments.
While clean lubes assure you they withhold harmful ingredients, their appeal often stops there. Cold, goopy, sticky, and ugly — that's how I'd describe the clean lube I've faithfully bought tube after tube of for years.
When I unboxed it at home, it would go straight into a drawer and out of sight. Using it was no better. Pounding on the bottle to hear a squelch that announced the arrival of a cold sticky goop hardly enhanced the mood and often took away from it.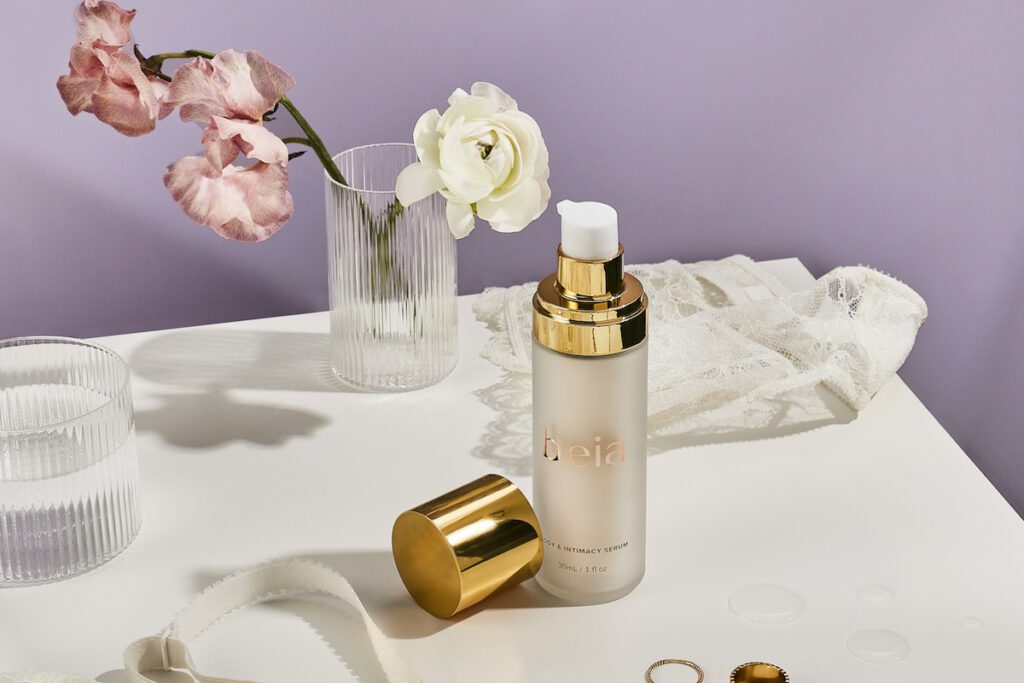 Meet the clean lube changing the sexual wellness game
So when Beia launched their new Body and Intimacy Serum, a luxe lube in a bottle that could pass for French perfume, I was instantly intrigued.
Beia's Body and Intimacy Serum is a multipurpose skin care product — it can be used as a moisturizer, massage oil, and as lubricant. You read that right — one product, three uses. The serum could be used to hydrate skin and get glowy for your date, as foreplay with a massage, and for lubrication during sex.
It's worth noting the serum isn't compatible with latex and other materials frequently used in condoms — but the possibilities for use are still endless.
Beia, which also offers a hydrating mist and personal wipes is "serious skincare for your personal pleasure" — a luxury beauty brand that formulates for your intimate concerns.
For founder Brittany Lo, meeting the intimate needs of women isn't just about solving a problem like fear of smelling down there or vaginal dryness.
"Part of the issue I find with sexual wellness, in general, is you might have clean ingredients, but they don't make you feel good," she says. "They might be fine for you, but it's not changing the experience of feeling guilty or shameful….[Beia] is really about elevating it. There's no luxury option in sexual wellness. We have it for skincare or beauty, but when it comes to intimate areas and what's going in your body — that's where we need it the most."
When I unboxed the lube, I was speechless. The difference between the plastic bottle I've stuffed in a drawer and the heavy white and gold bottle I was holding was astounding. "No one has any idea [it's a lubricant]…that was the [reason] why we invested significantly in the packaging as much as the formula," says Lo.
The luxury doesn't stop at the bottle. The serum is vegan, with a coconut oil base and ultra-hydrating quality ingredients like squalene. The serum really hydrates and feels good on the skin.
"We did 30 official submissions [of the formula], but over 100 versions to get it where it is," says Lo. The serum feels like what it is — a silky, light, luscious liquid that effortlessly glides over the skin. Simply put, you feel sexy putting it on — whether on your arms, or your partner, or your vulva.
Holding the bottle, there was no denying how embarrassed I'd been by my old clean lube. And it begged the question: If I was embarrassed by the product that was so crucial to my pleasure, how much had I withheld on prioritizing that pleasure?
Trying Beia's new clean lube for myself
Trying Beia's serum only confirmed what had been missing before — a lubricant that made me feel attractive and enhanced my experience. It was something I was excited to reach for. The end result? More fun, more advocating for myself, and more pleasure.
"Beauty is a 360 approach. If you look beautiful but you don't feel [right], you're never going to actually feel your most beautiful," says Lo. "For me, your sexual well-being is a huge component to your overall beauty…My hope is that women don't feel guilty seeking the pleasure they deserve."
Trust me. With this clean lube on your nightstand, you'll feel more empowered to seek that pleasure than ever before.