10 Cleansing Wipes That'll Keep You Fresh Down There
Let's be real: It's not always convenient to hop into the shower after a sweaty workout or a long flight. Thankfully, there's an easy way to get rid of any mess and odors down there if you feel like you're in need of some refreshing.
Cleansing wipes (also known as feminine wipes or personal wipes) are quick and convenient. Plus, they're specifically designed to freshen up your vulva after workouts, travel, or sex. 
You can also use them to clean up leakage when you have your period. Some wipes can be even used all over your body so you can refresh your pits and other areas too. (Just note: Most cleansing wipes can't be flushed, so be sure to dispose of them in the trash if needed.)
Brittany Lo, founder of Beia, a clean beauty and sexual wellness brand, recently launched a product in this category. She wanted to offer customers cleansing wipes with skin care benefits in chic packaging they could display on their nightstands without embarrassment. 
When searching for the best cleansing wipes for you, Lo suggests paying attention to the ingredient list. You should steer clear of fragrance and alcohol since those can be irritating and drying to sensitive areas, she says. Instead, look for ingredients that are hydrating and soothing, like aloe vera.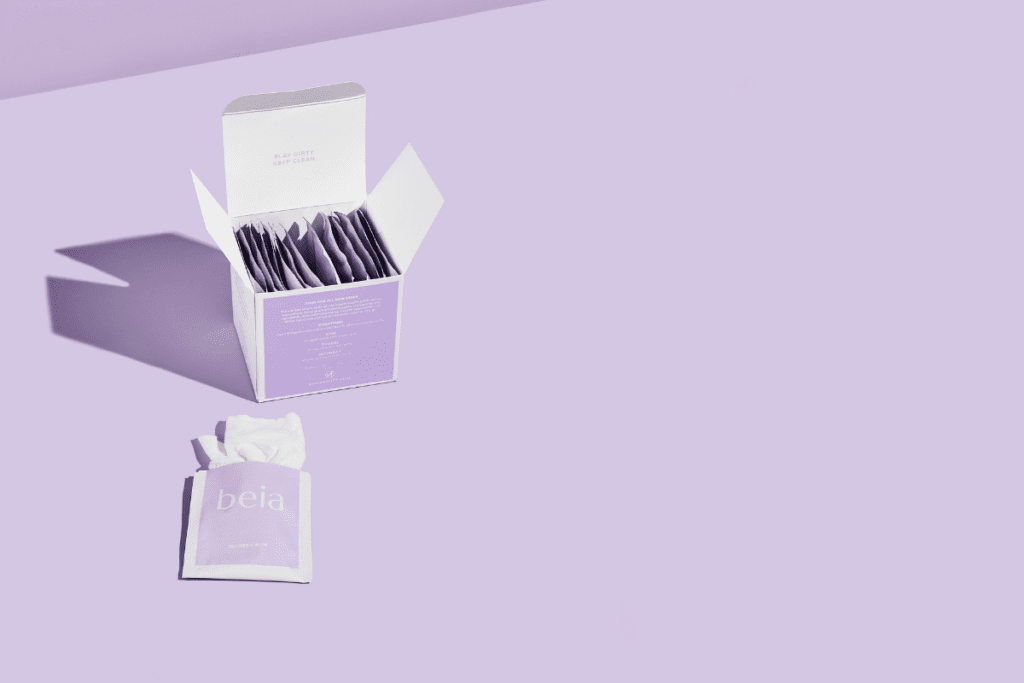 Best cleansing wipes for feminine hygiene
Ready for a post-workout, post-travel, or post-sex refresh? Here are the 10 best cleansing wipes to have on hand for when you don't have time to shower.
Beia Refresh Wipes ($18 for 15, beiabeauty.com): Formulated with aloe vera, hyaluronic acid, green tea, and tea tree water, these whole-body wipes help nix odors and balance your pH without causing any irritation. They're dermatologist-tested, fragrance-free, and perfect for use anytime, anywhere you need a little rejuvenating. 
Lola Cleansing Wipes ($11 for 12, mylola.com): These all-natural wipes are made from bamboo viscose and are hypoallergenic, meaning they're safe for sensitive skin. You can use them from head to toe, including your intimate areas, to clean up after sex, at the gym, or on your period. 
The Honey Pot Company Sensitive Wipes ($10 for 30, urbanoutfitters.com): For those who are sensitive down there, turn your attention to these wipes. They contain soothing and healing herbs to calm itchiness and reduce inflammation. They're free of harsh ingredients and do a great job of combatting odor without any synthetic fragrances. 
Cora Body Cloths ($12 for 18, cora.com): Get an all-over clean with these cleansing wipes that contain aloe, coconut oil, and chamomile water. They're super-soft, non-drying, and come individually wrapped for convenience. Bonus: Cora donates period products to people in need with every purchase. 
Attn: Grace Organic Flushable Wipes ($7 for 60, attngrace.com): These wipes are biodegradable and safe to flush. They've been dermatologist-tested and contain soothing aloe vera and moisturizing coconut oil to leave you feeling fresh (not irritated or inflamed) down below. 
SweetSpot Labs Gentle Soothing Full Body Wipes ($7 for 30, amazon.com): Thanks to a blend of calming ingredients like aloe vera and cucumber extract, these unscented wipes are a nice choice to cleanse the sensitive vulva area. They even contain a plant-based derivative of hyaluronic acid for an extra dose of hydration. 
Goodwipes Cleansing Wipes for Down There ($9.49 for 30, amazon.com): These alcohol-free, plant-based wipes are biodegradable so you can flush them. They gently get rid of unwanted odor and bacteria, and they can be used to clean up during your period (or after pooping!) as well as to freshen up after a workout or sex. 
Rael Natural Feminine Wipes ($7.59 for 20, amazon.com): Perfect for periods, these gentle wipes are formulated with a slew of soothing botanical ingredients to keep you happy down there. They're safe for all skin types and menstrual conditions. 
Love Wellness Mini Do It All Wipes ($3.74 for 15, ulta.com): This mini pack of wipes was made for travel since they take up such little space in your bag. The wipes are soft, gentle, and made with good-for-your-skin ingredients like organic coconut oil, organic aloe vera, and organic chamomile extract. 
Cottonelle Flushable Wipes ($3.19 for 42, target.com): You can get quality cleansing wipes for an affordable price right at the drugstore. This bargain option gets rave reviews. They make you feel super-clean no matter the reason you use them, without any irritation. The tub is even refillable.