A Beginner's Guide to Canning
You've already mastered the art of homemade jams and jellies (oh, you so fancy), but now you're ready for a new hobby. Enter canning.

Whether you're looking for a new hobby or are sticking to a budget, canning your own foods can be a budget-friendly pastime. Here's a beginner's guide to safe canning just in time for canning season.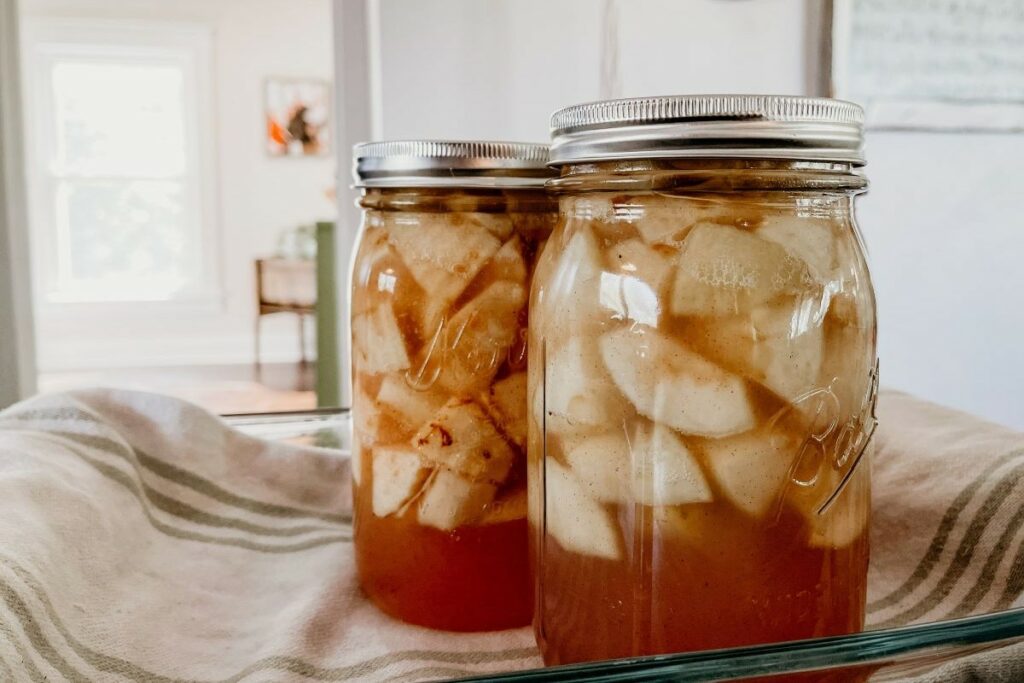 What is canning?
Canning is a nifty little technique that's been used for centuries. It's the act of preserving food in jars and helps us enjoy food all year-round.
Canning is the perfect way to extend the life of all of your favorite farmers market finds through the fall and winter seasons when farm fresh produce is especially scarce.

Canning allows home cooks to create their own batches of shelf-stable food during the growing and harvest seasons so they can avoid paying a premium price for canned foods that are shipped in from far away locations. 
When you think about it, canning is really good for your budget and the environment. It's a win-win!
Safe canning
When it comes to canning, the most important factor to consider is making sure you're practicing safe canning. When working with fresh foods, naturally occurring bacteria is inherent, and unfortunately, it can spoil a perfectly good batch of preserves when they're not canned properly.

There are two popular canning methods: water-bath canning and pressure canning. Water-bath canning is when you submerge a filled canning jar in boiling water for a set amount of time.

Bacteria that can spoil food are killed at 212 degrees Fahrenheit (100 degrees Celsius), which is the boiling point for any water bath canning. On the other hand, pressure canners heat canning jars to much higher temperatures.

Most common preserves like jams, jellies, and pickles can be canned in a water bath. The naturally low pH levels of fruits and vinegar make them safe for a water bath. A low pH in foods means higher acid, and higher acid naturally inhibits environments that are susceptible to botulism, a poisonous bacteria that is common in spoiled food.

However, if you plan on canning low-acid foods like beans, meat, and vegetables without vinegar, you'll be dealing with naturally higher pH levels. That means lower acid levels and the potential for more bacteria to breed. (Yuck!)

This is why pressure canners are recommended for the safe preservation of these types of foods (think beans, meats, and vegetables without vinegar) as the higher temperatures (240 degrees Fahrenheit, to be exact) kill any bacteria far better than any boiling water ever could.

Although bacteria and spoilage should be a genuine concern, if you carefully follow canning instructions and recipes as prescribed, you should be just fine. But always err on the side of caution and use common sense, people!
A guide to canning
Now that you know the general rules for safe canning, you'll need to stock up on canning supplies. This includes canning jars, a canning pot or a pressure canner (depending on your canning method of choice), and canning tongs.

There are a variety of canning jars to choose from, but Stephanie Gravalese, the founder of Slow Living Kitchen, recommends wide-mouth jars because they're easier to clean, fill, and are less likely to break. 
Always remember to thoroughly clean your canning jars before using them. Sterilization is critical to the proper preservation of the canned goods you'll be jarring up.
You may also want to invest in a canning funnel to help with filling your canning jars and a thermometer for canning jelly, pickles, and other preserves.
Check your local second-hand shop for these supplies or check out your local community stores. Worst case scenario, place an online order at Amazon.

Next, you'll want to select a recipe. If you're a canning novice, water-bathing is a great place to start due to the relative ease of the process and the number of recipes available.

Start with basic recipes like compotes, conserves, and jams — but if you can't decide what to can first, consider what's available to you and in season. 
Whether it's fresh fare from a CSA, the local community farmers market, or your very own backyard garden, choose foods you're particularly fond of and that you enjoy eating all year-round.
If you really like something and want to go to town with canning it (holiday gifts, anyone? ) buy food in bulk and at the height of the season so you have an arsenal of canning ingredients to work with for the canning season. Selecting foods at the height of the season can result in a pure, unmistakable flavor for your canned goods.
Cue canning season
Preserving some of your favorite seasonal foods is a delicious endeavor, but it's also economical, environmentally friendly, and practical. Forget cuffing season, cue canning season — because you're so ready to get your Martha Stewart on!