Can You Really Have Good Hair Days While Swimming?
Swimming might be great for your body, but it can be terrible for your hair — especially if you color it. 
"I always explain to my color clients that damaging chemicals can alter your color," says Chad Kenyon, celebrity colorist and Olaplex ambassador. "Blondes are especially more susceptible to hair turning green." 
It turns out that regardless of whether you swim at the beach or pool, your hair can take a major beating if you don't take the proper precautions.
"Chlorinated water, like what is found in pools, can make your hair dry and weak, which can cause breakage," explains Kenyon.
Chlorine can also mess with your color big time. "Chlorine oxidizes, causing color-treated hair to fade or lighten," says James Claytor, Madison Reed brand educator. 
Prefer the ocean? Salt isn't much better. "Saltwater is damaging because it dries out your hair and scalp, and it strips it of all its water, leaving it rough and dehydrated," says Kenyon. "This lack of moisture for your hair leads to split ends breakage."
But swimmers don't necessarily need to be doomed to bad hair days, as long as they keep a few things in mind.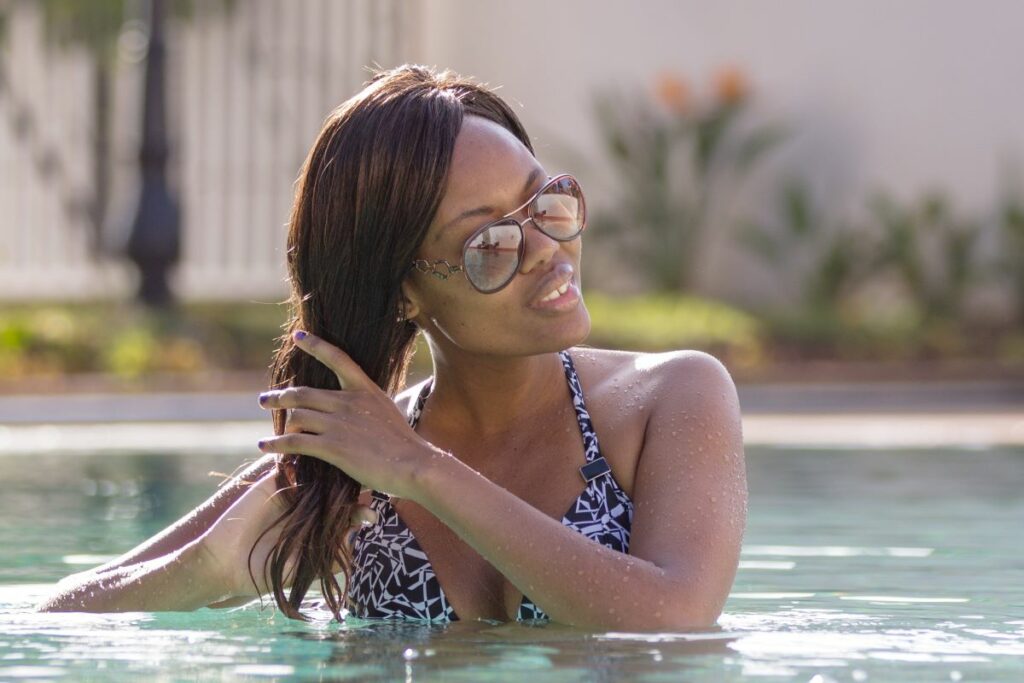 How to protect your hair while swimming
1. Wear a swim turban
Bathing caps are a great way to prevent damage to your hair because they keep water from permeating. But let's be honest, unless you're doing laps in your own backyard pool where no one can see you, they're not exactly something most of us want to wear out in public. 
Enter the swim turban, a genius innovation from You Go Natural. It's essentially a swim cap with an attached turban. It comes in several fun colorways so you can feel super chic wearing it. Then enjoy swimming without worrying about your hair. 
While these turbans were designed for natural hair, anyone with any hair type can and should wear one when swimming. Better yet, they're comfortable and not too difficult to put on.
2. Pre-soak and condition your hair
If you have color-treated or damaged hair, it's best to prevent damage before it starts. "Always pre-soak your hair with clean tap water before getting into a pool so your hair absorbs that water and not the chlorine water," says Christina Giarizzo of Voel Hair.
Then, Kenyon recommends layering a moisturizing mask such as Olaplex No.8 Intense Moisture Mask onto the hair, especially if you're a frequent swimmer or have hair that's more prone to chlorine damage. 
"Applying a deep conditioning mask or leave-in conditioner on your hair can act as a protective layer to prevent chlorine and other pool chemicals from being absorbed into your hair," he says. After that, he suggests wrapping your hair in a bun or ponytail or wearing a swim cap for protection.
If you're looking for a less expensive option or packaging that's more travel-friendly, Claytor suggests trying Madison Reed's Pro Boost Treatment in Hydrate or Seal in place of a conditioner. 
"Pro Boost Treatment in Hydrate is full of nourishing monoi oil which forms a protective moisture barrier, while Pro Boost Treatment in Seal is packed with prickly pear seed oil and macadamia oil to nourish hair with Vitamin B-5 to protect against color fading," he says.
While you're probably used to putting sunscreen on your body before swimming, you might forget your hair and scalp need some SPF too. Using hair sunscreen is essential if you're not wearing a swim turban.
"My favorite is the Sunscreen Scalp Spray SPF 30 by Sun Bum because it is water resistant for up to 80 minutes," says Giarizzo.  
3. Shower ASAP after a swim
When you get out of the pool or ocean, hit the shower ASAP. "It's best to rinse your hair immediately after getting out of the pool," Giarizzo says. "Don't let your hair sit, especially overnight."
After swimming, Kenyon recommends cleansing with a clarifying shampoo, such as Olaplex No.4C Bond Maintenance Clarifying Shampoo, to gently remove damaging impurities without stripping the hair of moisture. 
"This shampoo can be used two to four times a month or as needed in place of regular shampoo," he says. "It will remove damaging impurities, chlorine, excess oil, and product buildup without stripping or drying the hair."
Swimming is also particularly hard on blonde hair. If your color is starting to look brassy or turns green (yikes!), Giarizzo suggests using Malibu C Hard Water Wellness Hair Remedy. 
4. Maintain a regular hair care routine
Even when taking precautions before and after swimming, it's still crucial to take steps to regularly maintain your hair.
Try to avoid doing too many things to damage your hair when you aren't swimming, such as frying your hair with a curling or flat iron if you're not going anywhere special. 
"Treat the hair weekly with Olaplex No.0 Intensive Bond Building Hair Treatment and No.3 Hair Perfector to repair and strengthen the hair from damage inflicted by chlorine, suggests Kenyon. "Using treatments one to two times per week (as well as treatments in the salon) and maintaining the repair with Olaplex cleansers, conditioners, and stylers will keep hair healthy and strong even when swimming regularly." 
5. Take special care if you have extensions
Hair extensions are more popular than ever — but unfortunately, they're not exactly compatible with swimming.
That said, Giarizzo offers a few safeguards that can help keep your extensions in good condition, such as putting them in a braid to keep them in place and prevent knotting. Then follow the same precautions you would with regular hair.