The 7 Best Ways to Protect Your Hair From Chlorine
Swimming is one of our all-time favorite workouts. It strengthens and tones your entire body while being low impact and restorative. Plus, it's one of the most meditative sports out there and does a great job of relieving stress. That's why so many of us at aSweatLife have added weekly swim classes to our routines this season.
While there's a lot to love about swimming, there is a downside: All that time spent in a chlorinated pool can do a serious number on your hair.
"Chlorine affects hair by stripping it of its natural oils, making it dry and more susceptible to split ends and breakage," explains Lauren Arbulu, colorist at Gem House Salon in Brooklyn, New York. "It can also cause discoloration."
When it comes to discoloration specifically, "it's not so much the chlorine itself that affects hair color but the way the chemicals in the chlorine interact with the chemicals in our hair whether it's dyed or virgin," says Arbulu.
This can cause hair to turn green, especially if it's on the lighter side, says Arbulu, who spent much of her childhood on a swim team and can speak from experience. But chlorine can also discolor dark hair. "Darker hair will more likely become duller or a more mossy tone than blue-green," adds Arbulu.
She's even seen hair extensions turn a pinky salmon color from chlorine. "This was due to the chemical processing and coloring that the extensions had prior to being installed," she says.
So what can you do to prevent chlorine damage and discoloration from wrecking your hair while you swim? Arbulu shares her best advice: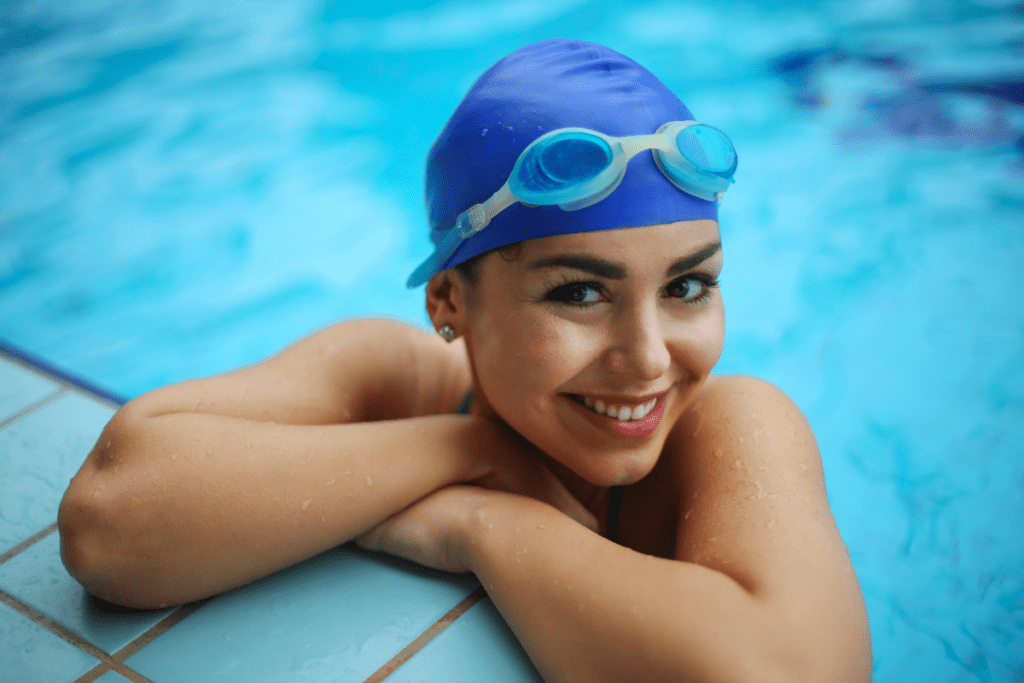 How to protect your hair from chlorine
1. Apply a hair serum before jumping in the pool.
Protecting your hair from chlorine starts prior to you hitting the water. "The best way to prevent chlorine damage is to wet hair thoroughly in the shower and add a little serum before you enter the pool," says Arbulu. She likes Kevin Murphy Young Again, a leave-in oil treatment that helps mitigate damage.
2. Wear a swim cap.
Arbulu says this is a must for protecting your hair from chlorine. So after you've applied your serum, slip on a swim cap. A swim cap not only shields your hair from chlorine damage, it also helps keep your hair away from your face and the pool so you can see more clearly and maintain pool cleanliness. Speedo Unisex Adult Swim Cap is an affordable option that even works for long hair. (We've rounded up a list of all the gear you need for a successful swim.)
3. Wash and condition ASAP after swimming.
Once you leave the pool, head straight to the shower. Arbulu says it's ideal to wash your hair with a moisturizing shampoo and conditioner immediately after swimming. We're fans of Refreshments Oh My Moisture Shampoo and Conditioner, which smooth, soften, and detangle hair thanks to the combo of jojoba, coconut, and sunflower seed oils in the formula.
4. Get regular trims and conditioning treatments.
How you treat your hair outside of the pool is just as important. "The more your hair is damaged, the more likely it is you will get damage from chlorine, " notes Arbulu, "so don't forget to get regular trims and conditioning treatments."
5. Be smart at pool parties.
Say you're going to be soaking up some time at your friend's pool and you don't necessarily want to wear a swim cap. We get it. There are still steps you can take to prevent chlorine damage. Bring a spray bottle filled with water and a few pumps of your favorite conditioner with you. Shake it up and spray your hair down with it before you get in the pool, suggests Arbulu. She also recommends this before going into the ocean. "Our hair acts like a sponge — and if it's completely wet before entering the pool then there is not enough room for the chlorinated water to get inside the strands and cause damage," she says.
6. Take steps to repair existing damage and discoloration.
"If the damage is already done — don't stress we've all been there — luckily, there are ways to repair it," says Arbulu. She loves the Malibu C Swimmers Hair Remedy to remove unwanted green hues. "It removes chlorine,minerals, and salts from your hair and can be done at home once or twice a week," she says.
If your hair is on the brittler side, then Arbulu suggests trying Malibu C Miracle Repair Wellness Hair Reconstructor. "It restores strength, shine, and volume and can also be done at home once or twice a week," she says.
7. Be gentle with chlorine-damaged hair.
Finally, when you're getting your hair back in shape after damage, be gentle with it, advises Arbulu. She recommends using a heat protector like Kevin Murphy Leave in Repair before blow-drying and using heat tools and combing your hair gently starting from the bottom up.