Behind the Scenes at Alo Moves
Step into any studio or gym and you're bound to see someone wearing Alo. From yoga wear to outfits for Pilates, barre, boxing, and more, the brand has an outfit for every fitness endeavor. But Alo is more than just a clothing company; it has become a true lifestyle brand. Nothing demonstrates this more than its online fitness platform, Alo Moves. 
"Alo's mission is to bring mind-body wellness to the world, and we are always finding ways to inspire people to live healthier lives. We started with yoga and athleisure and have since evolved into a 360-degree lifestyle brand— expanding into categories that make sense for our brand and mission, such as beauty, yoga equipment, accessories, and the online streaming platform Alo Moves," says Danny Harris, Co-CEO and Cofounder. "Though yoga is an integral part of our brand ethos, we will continue ​​expanding and growing into new categories that align with Alo and offer what our customers are looking for."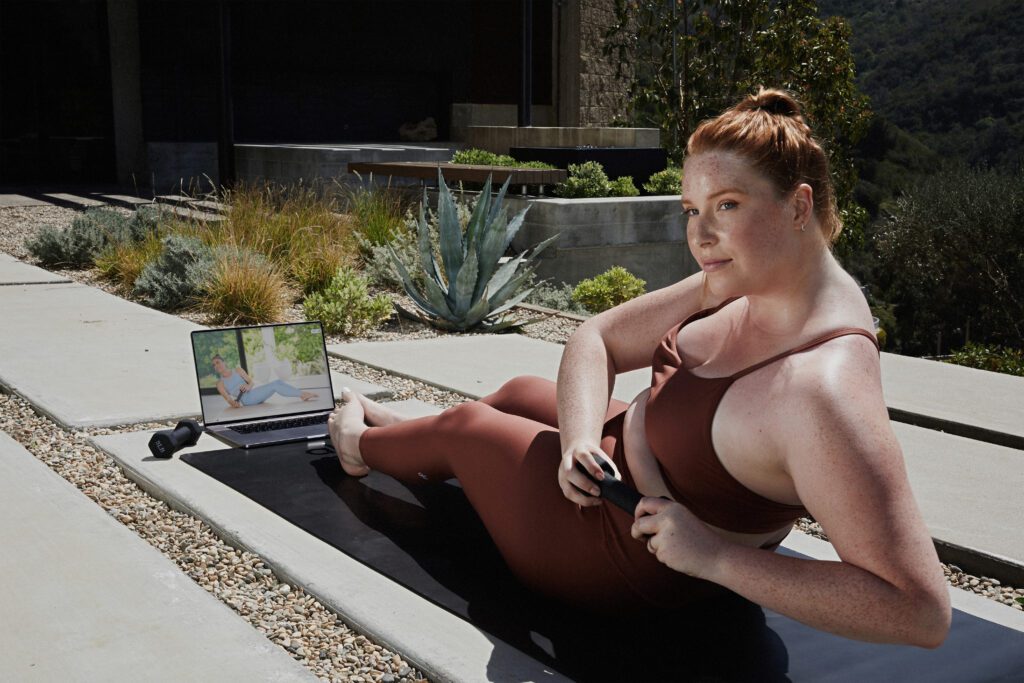 What makes the Alo Moves app different
Launched in 2018, the platform has more than 3000 classes. Classes range from five minutes to 75 minutes and twelve different styles of workouts. "We always want to provide our community fresh content from their favorite instructors, so we launch 100 new classes a month," explains Natasha Trindall, General Manager, Alo Moves.
Trindall tells me that 80 percent of Alo's content consists of yoga, barre, mat Pilates, and fitness because that is what the community likes best. However, she also reveals the rest of the content is somewhat more experimental.
"We test and innovate with the other 20 percent of the content we release. Some examples of the latter include reformer Pilates, daily affirmations, visual meditations from award-winning filmmaker Olivia Wyatt, sound baths for the bath, and we are launching face yoga on July 15th, 2022 in time for National Clean Beauty Day."  
The constant stream of unique content keeps things interesting and prevents users from getting bored with the app, which can be a problem with many online fitness platforms. This also means users can subscribe exclusively to Alo Moves, instead of paying for different apps. For the savvy shopper, that means enough money left over to buy a pair or two of leggings. 
Alo Moves is also suitable for all levels, including more advanced. During the advanced classes I've tried, I definitely feel the same burn I feel taking in-person classes, which generally hasn't been my experience with other streaming platforms.
Another thing that's unique is that while some classes require a lot of equipment, others require virtually none. For example, there are both Pilates mat and reformer classes. While most people don't have reformers at home, new moms or people who live in rural areas may want to purchase one, making this app a better alternative to in-person classes. But most of the essential equipment is pretty standard: a mat, weights, a ball, bands, and blocks.
Because yoga is vital to the brand's identity, Alo always strives to be original in this space.
"We just launched our immersive yoga retreat series with instructor Josh Kramer, which was filmed in the jungles of Costa Rica. These types of series aren't just about the workouts, but each is treated as a holistic and visual experience including breathwork, intention-setting, and balance workshops," says Trindall. "These unique offerings give members a true retreat experience that's accessible from anywhere and helps support their individual wellness journeys. Because we are pioneering in our core modality, this content resonates with our base and gets the strongest views."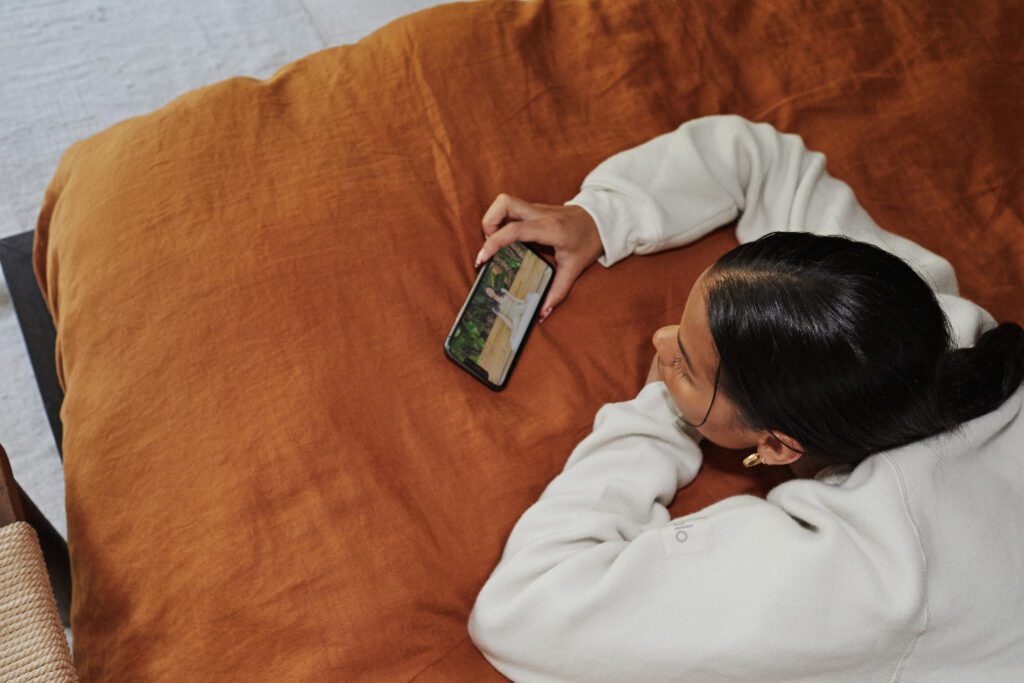 How the Alo Moves app utilizes social media in their content creation
Social media also plays a large role in Alo's content creation strategy.
"Our members are fundamental to what makes Alo Moves special, so we constantly read feedback on our community and social pages. This helps us gain insight into what they like or dislike and guides us when ideating new modalities and programs," says Trindall.
They also use platforms like Roblox and TikTok to get feedback from a younger demographic. Sure, that demographic might not currently subscribe, but they may want to in the not-so-distant future.
"Still, these innovative platforms expose them to our brand and offerings. Overall, our phenomenal content team is at the forefront of this space. They come to the table every week with exciting, pioneering ideas for the app."
The instructors
However, the heart of every class is always the instructor. Alo uses a three-pronged approach to find the right ones. Most importantly, Trindall tells me, they need to live the Alo lifestyle. "They should inspire their social media followers and students with movement and meditation practice."
Alo also looks for instructors who are not just experts, but innovative in their fields and bring that knowledge to what they teach. They also need to be interesting to watch because engagement is key.
"They need something extra special about them that transcends the workout," explains Trindall. "That intangible quality, whether their energy or personality, is something we're always looking for. They should draw you in and offer something truly unique."
The future Of Alo Moves
The pandemic has undeniably changed the wellness landscape. Alo Moves has evolved to accommodate this shift, especially with the addition of the mindfulness section that includes daily five-minute meditations and affirmations. Self-care has undeniably become part of the brand.
"As a brand, we are leaning more into self-care with sound bath for the bath, face yoga, and body gua sha," says Trindall. "We want to complement the lifestyle of our members and be there for whatever self-care means to them, whether that be a 75-minute yoga class, five-minute meditation, or a relaxing bath."