What the Heck is Potato Milk?
Non-dairy milk alternatives are growing in popularity, and every year there seems to be something new we can "milk."
First, it started with soy milk, then almond milk and other kinds of nut milk soon followed. Shortly thereafter we swayed into seed milk and oat milk. If these options still are not enough for you and your search continues for yet another dairy-free or plant-based milk, look no further because you are in luck.
The health and wellness world has really done it this time. Drum roll please, I present to you…potato milk. (Pause for reaction).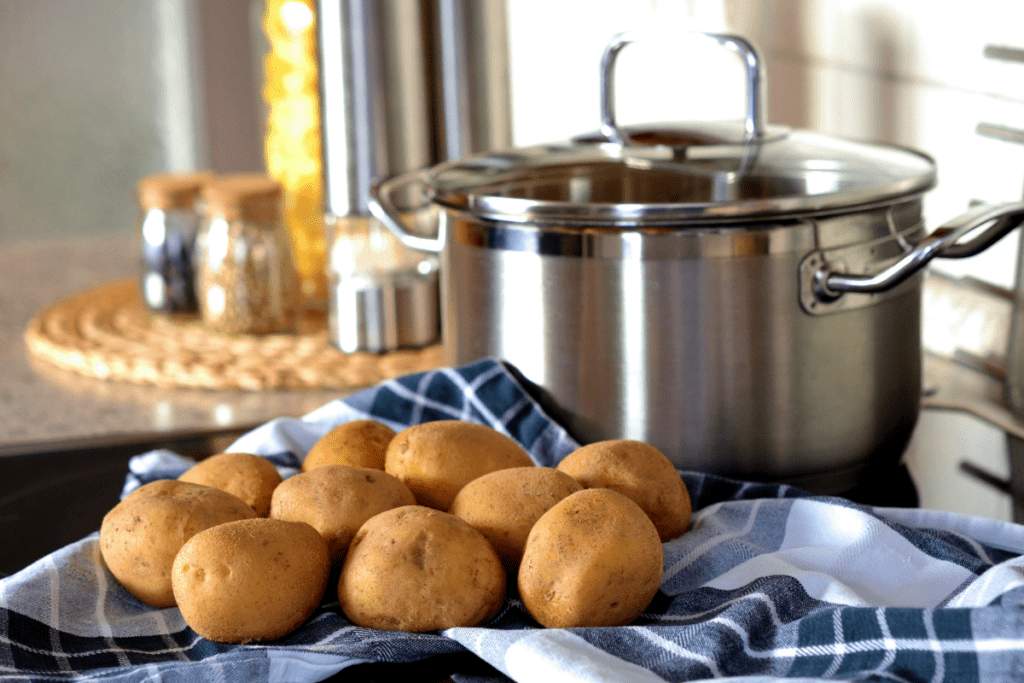 What is potato milk?
Potatoes can be enjoyed in a variety of delicious forms: Baked, fried, hashed, mashed, you name it and potatoes are pretty much delicious any way you slice or dice them. But milk? Even this one would make the most passionate potato lover pause.
It is a real thing though. Wendy Lord, registered dietitian, and consultant for Sensible Digs says, "Potato milk is the latest plant-based dairy alternative. Reportedly, it has a rich, creamy texture and is free from most common allergens, including gluten, lactose, nuts, and soy."
Potato milk is literally sprouting up (you see what I did there) in the UK and is bound to arrive stateside soon. DUG, a Swedish-based company is harnessing the "power of potatoes" and has launched the world's first potato milk.
That's right, DUG has developed a dairy-free, plant-based milk alternative using potatoes. It's now available in three varieties, (barista, original, and unsweetened). DUG is currently only offered in the UK. But if you want to try it sooner rather than later, here is how you can make your very own homemade potato milk at home.
How to make potato milk at home
According to FOOD 52, making potato milk is relatively easy and the good news is you only need a handful of ingredients, many of which you probably already have stocked in your kitchen.
Ingredients:
1 medium potato (about 9 ounces)

, washed and peeled
Pinch of salt
3-4 cups of water (Use less water for a creamier texture and more water for a thinner texture)
2-4 tablespoons additional flavorings (almonds, natural sweetener, vanilla)
Instructions:
First, boil a peeled potato in 3 cups of hot water and a pinch of salt. Boil the potato until it is soft, but not too soft that it falls apart.
Using a mesh strainer or slotted spoon, take out the potato. Reserve the water the potato was cooked in.
Add enough warm water to the water used for boiling to equal roughly 4 cups of water.
If you want to include additional flavorings, now is the time. Ideas include almonds, natural sweeteners, or vanilla. Get creative! This is your culinary masterpiece.
Add the boiled potato and the potato water to a blender and blend on high for approximately 5 minutes.
Strain the potato mixture through a cheesecloth, but keep the liquid. That's your homemade potato milk!
You can even use this same method with sweet potatoes if you prefer something a tad bit sweeter. Refrigerate homemade potato milk for up to 3-4 days.
Potato milk uses
Potato milk can be used like any other dairy-free milk alternative. Add some to a bowl of cereal, pour in a splash to handcrafted coffee and lattes. You can even include it in your homemade smoothies or as an ingredient in any baking or cooking recipe. The possibilities are endless.
Potato milk benefits
Before you go blending up all of the potatoes in your kitchen pantry, you may be wondering if it is even worth it. Surprisingly, there are some health benefits to potato milk when compared to classic cow's milk.

100ml of potato milk vs. 100ml of cow's milk
39 Calories vs. 63 Calories
3g Fat vs. 3.3g Fat
1.3g Protein vs. 3.4g Protein
1.3g Carbohydrate vs. 5.1g Carbohydrate
Potato milk is low in calories and contains almost no saturated fats, which is an important factor to consider if you have high cholesterol, notes Lord.
"Potatoes are a naturally good source of iron, magnesium, phosphorus, potassium, and vitamin C" shares Lord.
She continues. "If you have multiple allergies, potato milk is the least likely of all milk to be a problem for you. It is free from all of the most common allergens, including the four biggest ones: gluten, lactose, nuts, and soy."
Lord also mentions that potato milk is usually fortified with pea protein as "potatoes contain very little protein and various essential vitamins and minerals that you would typically find in milk, including calcium and vitamin D."
However, Lord shares one of the most significant selling points of potato milk – it has a much smaller environmental footprint than other milk, including almond milk, cow's milk, and oat milk. So if you want to go green, consider using potato milk.
The next time you run out of nuts, seeds, oats, and any other plant-based alternative you can get your hands on, grab some potatoes and whip up your very own batch of homemade potato milk. (If anyone tries this, please report back.)