How to Make Your Own Oat Milk at Home
I swear, you can make milk from almost anything nowadays. Almonds, cashews, coconuts—heck, there are even some seeds that can be morphed into milk. It's no surprise, then, that oat milk is having a moment.

If you find yourself asking, "Well that's a great idea, but how do you even milk oats?" Don't worry, we've got you. Here is everything you need to know about how to make oat milk at home.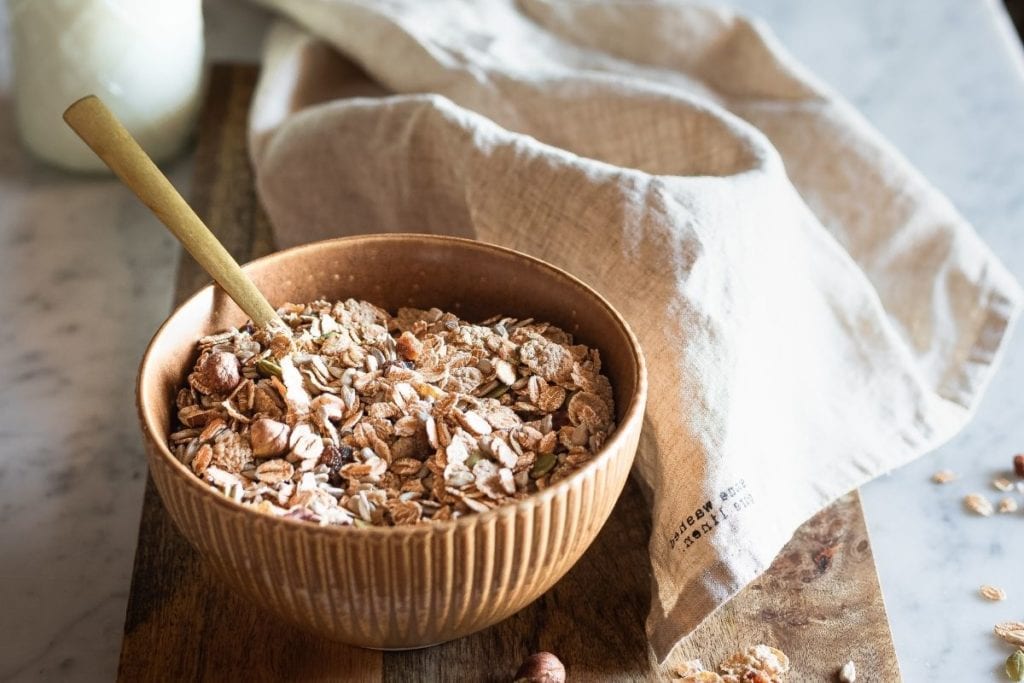 What is oat milk?
Oat milk is a plant-based milk that can be used in the same way as dairy milk or other non-dairy milk alternatives. Perfect for vegans, it's also free from the top eight allergens as it is dairy-free, nut-free and soy-free.

Oats are naturally gluten-free, but they're often processed in factories that contain wheat products, so cross-contamination is possible. Therefore, if you have celiac disease or a gluten intolerance, purchase gluten-free oats just to be certain.
Oat milk benefits
Compared to dairy and other homemade nut milks, oat milk is low in calories and fat, especially saturated fat. Naturally cholesterol-free, the no-nuts milk contains some fiber, protein and minerals like magnesium, phosphorus and thiamine. 
Dr. Sandra El Hajj, a health professional specializing in Preventive and Global Health, notes that oat milk contains high levels of beta-glucans that protect [the] heart. "It is rich in calcium, potassium, iron, and vitamins A and D."
Nutritionally speaking, oat milk doesn't compare to the calcium, protein and vitamins found in traditional dairy, which is why many commercial versions contain fortified calcium and Vitamin D. The downside, though, is many of these brands also include additives and sugars, which should be avoided. The best way to sidestep these unwanted ingredients is to make your own at home.
How to make oat milk at home
Unlike homemade nut milks, oat milk does not require any soaking. Plus, the base ingredients are less expensive than nut milks. Here's an easy way to make your own oat milk.
Ingredients:
1 cup of rolled oats (Gluten-free if necessary)
3 cups filtered water
Pinch of salt (Optional)
Splash of vanilla extract (Optional) *Only use vanilla extract if you plan on using your milk for something sweet like baking recipes or smoothies.
Instructions:
Blend all ingredients together in a blender until they are thoroughly mixed and well combined, usually about 20-30 seconds.
Strain mixture through a cheesecloth, fine mesh strainer or nut milk bag and reserve the remaining liquid in a jar or sustainable container.
Store in the refrigerator for 3-5 days. Shake well before using.
Tips for how to make oat milk at home
Chef Devan Cameron has a few general tips to keep in mind:
Add cold water. "Cold water is important because the oats will start to swell if they are heated and this can make your milk a little slimy. To prevent this, use cold water with a few ice cubes to keep down the temperature."
Choose a sweetener. This step is completely optional, but if you prefer a slightly sweeter batch, Cameron recommends using agave, brown sugar, dates, maple syrup or regular sugar.
Opt for a high powered blender. "The better the blender, the smoother the milk. A cheap blender can still make oat milk, but the end result will be less strong and possibly grainy. I'd recommend using a high-powered blender such as a Vitamix."
Use a nut milk bag. Although you can use a variety of options to strain oat milk, Cameron opts for a nut milk bag over any other option. "These fine mesh strainers are perfect for making any nut milk as they are super fine and remove any graininess from the finished milk. You can buy a few of them on Amazon and they're usually reusable and dishwasher safe."
Oat milk uses
Oat milk is incredibly versatile and has a mild flavor and smooth texture making it an excellent addition to almost any recipe. Use it like you would dairy milk or other plant-based milks. Add a splash to a cup of coffee, include it in overnight oats to create a creamier consistency or pour over a bowl of cereal. Unsweetened versions of oat milk can also be used to create savory dishes and sauces.
If you cannot consume dairy, nuts or soy, oat milk may be a great plant-based alternative for you to try. On the other hand, if you are looking for something fun and new to try out at home, DIY your own version with this super simple recipe for homemade oat milk. Cheers!