The Benefits of Working Out in a Mask
By now, most of the world has adjusted to wearing masks as part of everyday life. It's become second nature to grab that small piece of fabric as you rush out the door to run errands or grab dinner.
Wearing a mask really isn't bothersome during these activities. However, when it comes to exercising, face coverings become a nuisance for many people. Two years into the pandemic, people are still reluctant to go to the gym – but not necessarily because they don't feel safe. In a lot of cases, it's because they don't want to work out with a mask.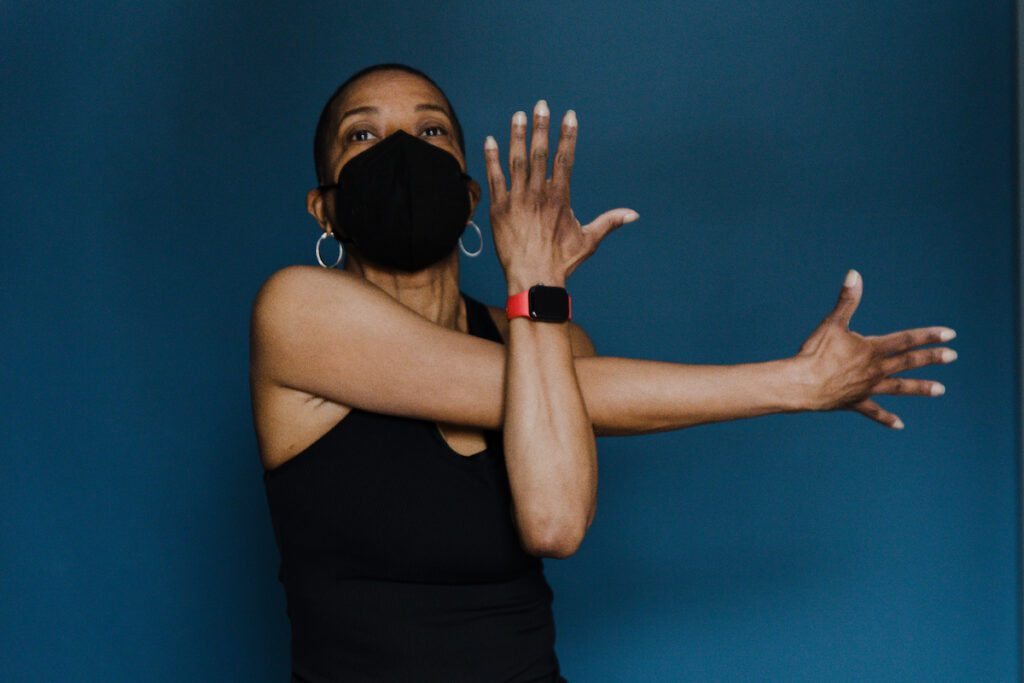 The benefits of working out in a mask
If you can get over the slight obstruction of your airway and find a mask that doesn't accumulate sweat, working out in a mask can actually pack some great benefits.
"Training with a mask basically creates a low oxygen environment," said Steve Stonehouse, NASM-CPT, USATF Certified Run Coach and Director of Education for STRIDE Fitness. "This training can also be referred to as 'hypoxic training.' You're forcing your body to adapt to that low oxygen environment and become more efficient. This adaptation can improve red blood cell counts, which ultimately improve your ability to transport more oxygen."
Stonehouse adds that research has shown intervals of exposure to low oxygen environments are the most effective way to yield this favorable adaptation. In other words, masked workouts can improve your body's ability to transport oxygen.
Another benefit of exercising in a mask, especially for those who love group fitness, is a decreased chance of illness. And that doesn't only apply to COVID-19. TBH, the gym is naturally a germy place. If group classes pack the room, catching a bug is not unlikely.
"Since teaching regularly in my mask, not only have I been protected from COVID, but I also haven't caught the number of nagging colds and sore throats I usually do during the fall and winter," said Matt Vitacco, instructor for Fitness Formula Clubs in Chicago.
Fewer days under the weather means fewer workouts that have to be skipped so you can stay on top of your fitness goals.
How to start working out in a mask
However, HIIT in a mask may sound daunting to the general public. Plus, many physicians don't recommend going straight to the toughest workout possible in a mask.
"Rather than jumping straight to vigorous activities while wearing a mask, start slowly and gradually build up," Vivek Cherian, an internal medicine physician affiliated with the University of Maryland Medical System, told Healthline in an interview last year.
Eventually, your body will adapt. Then, you'll be able to perform more intense exercises similar to what you were doing pre-pandemic.
When I returned to the gym in late summer of 2020, I started with forms of exercise that didn't spike my heart rate too high, such as weight training and light jogging. Classes like Les Mills BODYPUMP and spinning for 30 minutes were feasible in a mask and gave my body a chance to acclimate. Within a couple months, I was back to teaching high-intensity classes like kickboxing and Les Mills BODYATTACK with a face covering.
Mask recommendations for the gym
I'm a fitness instructor who has taught all kinds of classes in a mask. Below are my top picks to wear at the gym:
Reebok's masks fit snugly across the face, but are light and breathable so you can still maximize your workout. I wear a Reebok mask during almost every fitness class I teach. They don't get in the way of my headset, and they're thin enough that the microphone still picks up my voice clearly.
This mask is a little bit more cumbersome, so I don't typically teach in it. However, it's great if you are a regular gym-goer that doesn't have to worry about a mic. The sturdy design creates a little space between your mouth and the mask. It's very breathable and doesn't get soggy with sweat.
Disposable Surgical Masks
Yes, the masks that mostly everyone has been wearing since day one of the pandemic! Even after all of the fancy fitness masks I've tried, these hold up as a solid option for working out. They're especially great if you aren't doing a lot of cardio. If your workout is longer than 30 minutes, bring two so you can swap out your sweaty one partway through. The best part – you don't have to wash it when you're done.