How To Clean AirPods, Gym Bags, and Other Workout Gear
Eat clean, train dirty. Isn't that how the saying goes? We are advocates for a good sweat, even if that means we're going to get a little gross. Unfortunately, we also know that we can't actually "leave it all on the field"—because germs and grime sticks with us, thanks to our must-have workout accessories, like AirPods, gym bags, and the bacterial paradise more commonly known as a water bottle. As Alexis Rose would say… "Ewwww!"
But wait, there's good news, too! There are simple cleaning techniques for all your favorites, often only requiring the use of household items that you already own. By learning a few simple cleaning methods, you can set out to workout knowing your only workout buddies are the friends you invited along on your run.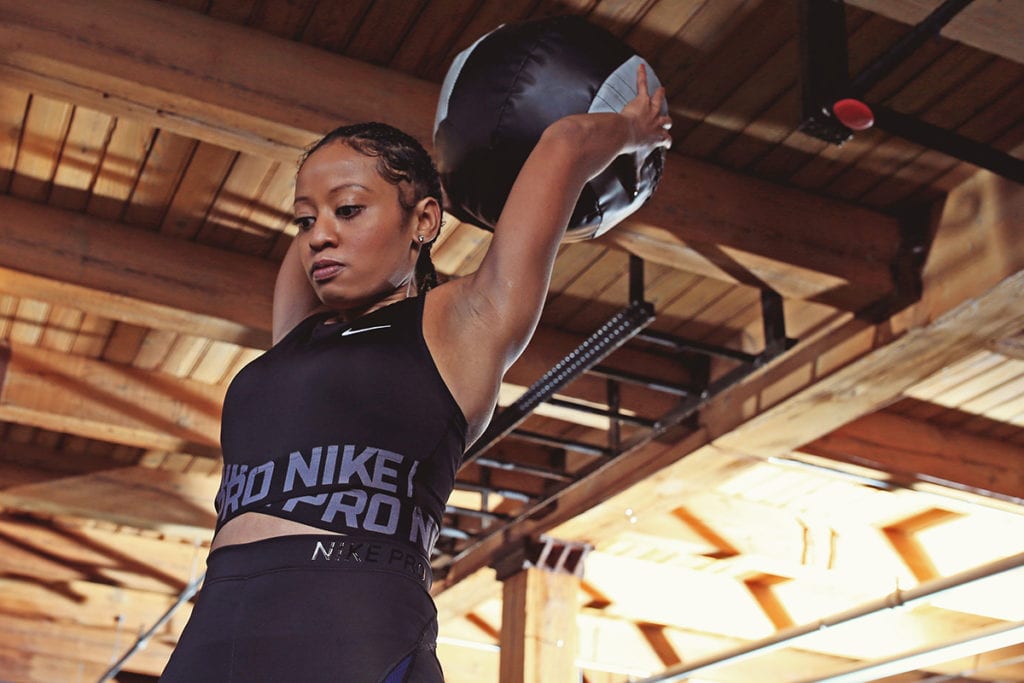 How to Clean Your AirPods or AirPods Pro
First off, proceed with caution. First generation AirPods are not waterproof or water resistant, so you should be very careful as you clean your accessories. The Pro version is water resistant, but not waterproof, so care is still required. According to Apple, you can use a dry cotton swab to clean the speaker mesh and microphone, but don't bring anything sharp near your AirPods.
For the rest of the Pod, you should use a dry, lint-free cloth. If you have stains that you need to remove, you can use a damp cloth, but be careful to keep moisture away from the speaker and microphone openings. You can clean the case the same way. Make sure to let the AirPods dry completely before you return them to the case.
How to Clean Your Water Bottle
'No need to clean my water bottle every day, it's just water!' This sentiment, albeit common, is entirely false. Reusable water bottles are good friends to our planet, but best friends with bacteria. Research has shown that bacterial contamination is present in water bottles more often than not after a gym goer drinks from it. This information means that you should be washing your water bottle after each use.
Camelbak recommends disassembling the water bottle and either washing it by hand with warm, soapy, water, or putting it on the top rack of the dishwasher. Keep in mind that not all bottles are dishwasher safe, and to consult the instructions from your manufacturer. S'well bottles, for example, are hand wash only and should be set out to dry, upside down with the lid off.
How to Clean Your Gym Bag
Your gym bag can be kept clean between both preventative and deep clean measures. To keep your bag from getting overly nasty, you should keep wet bags or packing cubes on hand to separate your dirty clothes and shoes from your clean clothes and other belongings. You can also use antibacterial wipes to give your bag a surface clean, inside and out, which will take care of most of the daily grime.
To give your bag a deep clean, start by emptying all the compartments. Read the tag to determine if you can use the washing machine or if you'll need to wash by hand. Many canvas bags are fine to go in the washing machine, and are generally washed separately, in cold water, and inside out, with all zippers open. Whether you wash by hand or in the machine, you'll want your bag to air dry—hot water or hair can cause it to shrink and deform. 
How to Clean Your Running Shoes
Clean sneaks look great, and we're pretty sure they make you run faster, too. Nike recommends starting with a dry brush – even an old toothbrush – to remove dirt and debris.
Next, you can DIY a cleaning solution with a small amount of laundry detergent and warm water. Use this solution to spot clean your laces and soles. After you've cleaned, pat dry with a clean cloth, and let your shoes fully air dry.
How to Clean Your Heart Rate Monitor
You work hard, but your heart rate monitor works harder. If you use a chest strap, after every workout, you should detach your heart rate monitor from its strap and run the strap under warm water and hang it to dry. Polar recommends also washing with soap and water every fifth workout. If you're a Fitbit or Apple Watch user, you should be regularly cleaning your band, the methods for which vary by material. Avoid soaking any bands or using soap, and make sure to let dry completely before you put it back on.