Why Comfort TV Is Actually Good For Your Mental Health
After a long day of work, sometimes all you want to do is go home, lie down on the couch, and turn on an episode of your favorite mindless TV show. You can watch it, but if you zone out and miss a few plot points, no big deal. Sound familiar?
If so, you're not alone. The past two years have seen a rise in interest in comfort TV, or shows you can watch (and rewatch) when you need to feel solace and relief. And according to experts, this style of television can have a positive impact on your mental health.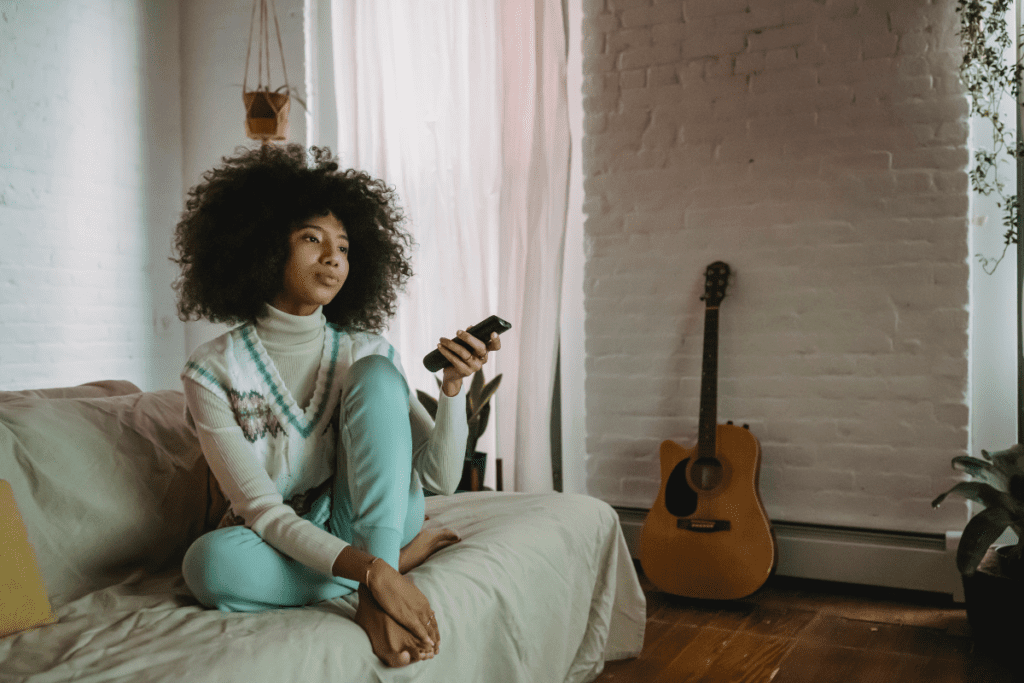 Here's where "comfort TV" gets its name
"Comfort TV shows are like healthy connections that remind individuals of less stressful times," said Pareen Sehat, a registered clinical counselor and certified mental health professional at Well Beings Counselling in Vancouver. "The repetitive and relational nature of programs such as Friends and The Office provides individuals with a means to escape their own daily stresses and feel relaxed."
Dr. Ernesto Lira de la Rosa, a psychologist and Hope for Depression Research Foundation media advisor, agreed, noting that such shows bring us happiness "because we are familiar with the content and characters."
Moreover, it's no surprise we're interested in this phenomenon right now. "Watching comfort TV provides us with an opportunity to recharge, which is becoming increasingly important as we continue to navigate a global pandemic," added Lira de la Rosa.
What happens to your brain during comfort TV
Diving a bit deeper, he explained what calming TV shows do for the human brain, especially during difficult times. When we're stressed, multiple areas of our brain are impacted: the prefrontal cortex ("which helps us with decision making and attention"), the hippocampus (which "is responsible for the formation of memories and learning"), and the amygdala ("a structure that processes sensory data, as well as fearful and threatening stimuli").
Stress' effect on these parts of the brain "can lead us to feeling drained, overwhelmed, and on edge," Lira de la Rosa said. Watching comfort TV shows can do the opposite of what these stressors do: They allow us to recharge and reset.
In fact, relaxing television can also "release serotonin, which stabilizes mood, promotes emotional well-being, and leads to an overall sense of happiness," Sehat noted.
The best comfort TV to watch right now
Evidently, comfort TV isn't altogether a bad thing. The next time you just want to flop on the couch and relax with a show, go for it. And if you're in the market for a few new show suggestions, our ambassadors have got you covered. Here are some of their top comfort TV recommendations, in alphabetical order:
Anne With An E
Arrested Development
The Baby-Sitter's Club
The Bachelor and The Bachelorette (Sarah Kelly wrote an article on why reality TV is good for your mental health.)
Friends
The Golden Girls
How I Met Your Mother
The Hallmark Channel (any movies or shows)
Happy Endings
Insecure
Love is Blind
Making It
The Mindy Project
The Office
Parks and Recreation
Reba
Queer Eye
Schitt's Creek
Scrubs
Seinfeld
Ted Lasso
Too Hot to Handle
Veep
Did we miss any? Share your favorite comfort shows with us in the comments!