Here's What It's Like to Get PRK Surgery
I've been a fitness fanatic for years, but I've always struggled with the burden of wearing glasses and contacts. I absolutely love hot yoga, but I always leave with sweat burning my eyes and my contacts drying out. Last month, I finally caved and invested in vision correction surgery. I may be down about $5k, but it's one of the best decisions that I've made in my adult life. Here's why.
My struggle with eye care
I first got glasses in middle school, when the blurriness was getting in the way of staying balanced during ballet. During my sophomore year, I started wearing contacts every day when I joined the varsity baseball team. I was a right fielder (but usually on the bench) and sometimes saw two baseballs in the air until it was too late. Because I was off and on health insurance, I didn't have regular eye appointments to check my prescription. The blurriness and headaches became something I had to live with.
For the last few years pre-pandemic, I was traveling often and usually exhausted from balancing work and school. I was constantly rubbing my eyes and complaining about dry eyes. As someone who still had inconsistent health insurance, eye care was expensive. I was buying travel sizes of contact lens solution on a weekly basis, rubbing my eyes when contacts got dry, usually forgetting my glasses, and getting headaches from eye strain.
Working out has always been my safe space — a time where I can zone out from my worries and focus on being in my body and the present moment. Dry and itchy eyes coupled with headaches definitely did not help with that mindfulness in my workouts.
Finally, I was ready to stop dealing with these issues on a daily basis. I kept entertaining the idea of vision correction surgery until I couldn't resist any longer. Of course I was nervous going into surgery. My anxiety kept imagining a worst case scenario where my vision would get worse because of a medical mistake. In reality, every single person that I met who had LASIK surgery raved about how it changed their life. After saving up for years and finally getting on a stable health insurance plan, I was ready.
What is PRK surgery?
First, Dr. Jonathan Kruh of Vision NYC explains that custom LASIK is "a painless treatment that reshapes the cornea, correcting common eye conditions such as nearsightedness, farsightedness and astigmatism." However, there is also another option for people who might have a slightly thinner cornea. 
Photorefractive keratectomy (PRK) is a type of refractive surgery, and Dr. Kruh adds that, "PRK was actually the first type of laser vision surgery and is the predecessor from which LASIK was created."
In the 20-minute procedure, the ophthalmologist removes the outer layer of cells on the cornea, called the epithelium. The ophthalmologist then reshapes your cornea using a laser that's been programmed with measurements for your eye. The most uncomfortable thing was having to put this device on the eyes to tape back your eyelashes and keep the eyes open, almost like a plastic claw. 
But then it's over, and everything is blurry! The surgery requires a few check ups in the months that follow. There's some pain, but I was prepared with the right prescriptions and eye drops to alleviate that. In my experience, sleeping through it was the best!
What's the difference between LASIK and PRK surgery?
Dr. Kruh says, "What makes PRK different from LASIK is in how the cornea is prepared. During PRK eye surgery, a thin layer of corneal tissue (epithelium) on the surface of the eye is gently removed. This exposes the cornea to be reshaped by the laser. The laser application to reshape the cornea is just the same as with LASIK. After the procedure, a contact lens will be placed on the eye to protect the eye during epithelial regeneration."
If you have dry eyes or thin corneas, PRK may be a better refractive surgery option for you. LASIK is not recommended if you have these preexisting conditions. Also, if you have a very active lifestyle or job, PRK may be a better option, since PRK doesn't involve cutting a flap in your cornea like LASIK and similar surgeries do. If you are highly active, you could accidentally dislodge a corneal flap, causing problems. PRK is also generally a few hundred dollars cheaper than LASIK (but call eye centers near you to get the most accurate price quotes).
However, LASIK does have a quicker recovery process — some people even go back to work the next day! People who get LASIK also experience less discomfort during healing and less risk of infection and inflammation. Talk to your eye doctor about what's best for you and see what they recommend before deciding.
Before deciding which option to go with, Dr. Kruh recommends consulting with a professional.
"A good starting point when choosing an eye surgeon is to talk with an eye professional that you know and trust," he advises. "One of the best resources is talking to your friends and family members who have had the procedure performed.  Oftentimes, firsthand experiences can offer good information and a starting point on where to get the surgery performed. In the end, talking with your eye surgeon about your questions and concerns about LASIK or PRK will best help you to make the right decision when trying to decide about having laser vision correction." 
Recovering from PRK
I had a strict eye drop regiment, and I also took five days off work since everything was so blurry. The blurriness lasts for a while post surgery, but recovers with time. Dry eyes also happened a lot, but eye drops are a lifesaver with this!
What was my favorite part of the whole process? The surgery goggles. I actually sported these to a few New York Fashion Week events because I had FOMO but couldn't risk getting any dust in my eyes.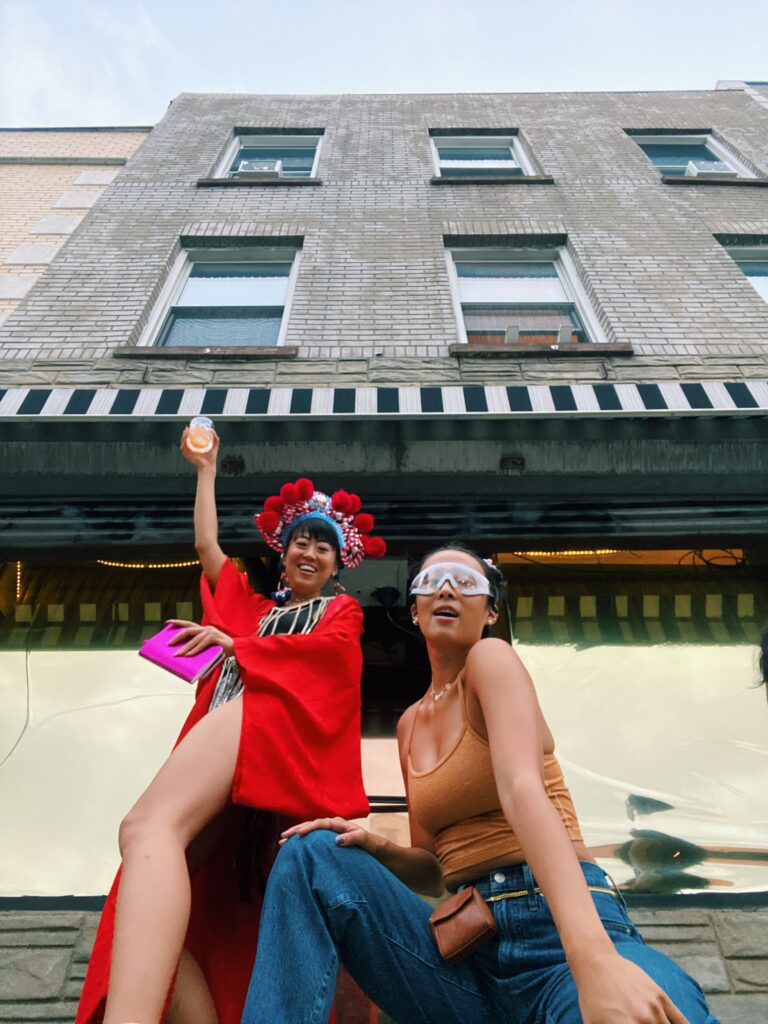 I have another check up in a couple months, but I'm already feeling so happy about the decision!As my vision has gotten better in the weeks post-surgery surgery, I've been finding even deeper moments of calm and revitalizing energy in my workouts. Every single day, I can have little moments of peace through my workout. Taking one more task off my check list in my morning and night routine makes life a little better.