How to Make Your Own Granola
Granola is great. It can be enjoyed for breakfast, a snack and it stores beautifully in reusable glass jars making it the perfect holiday gift. Pair it with plant-based milk, nut butter, or yogurt. Come to think about it, there really is no wrong way to enjoy granola.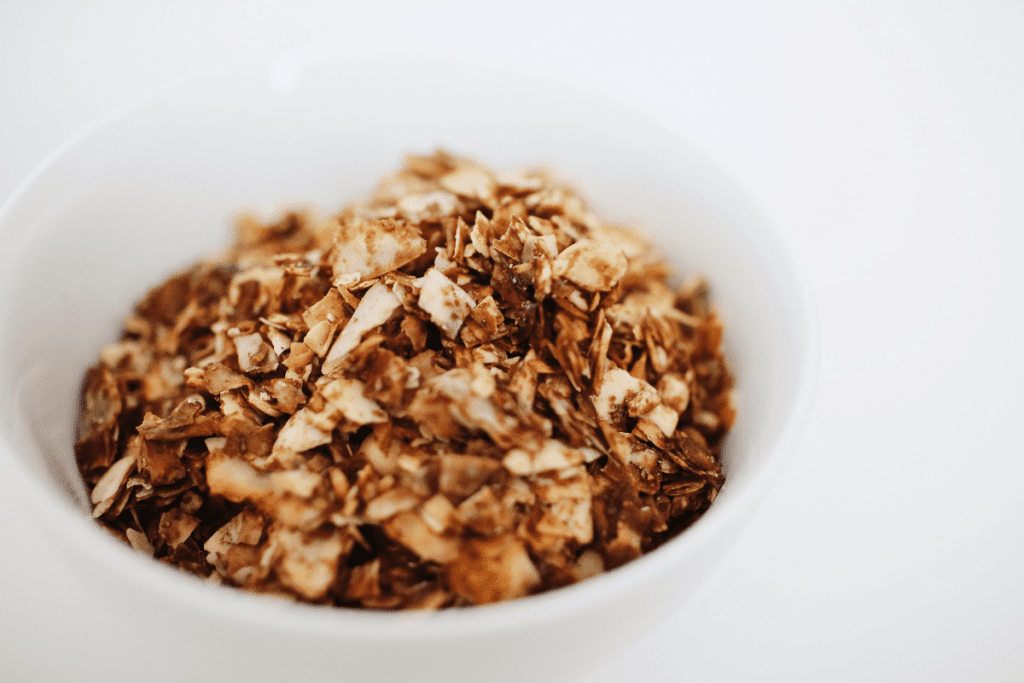 Since store-bought granolas can be laden with artificial ingredients, refined grains, and sugar, skip these overpriced options and make a batch of handcrafted granola instead. Here is how to make granola. Plus, enjoy some of the best granola recipes we could find.
How to make granola
Step #1: Gather ingredients
When learning how to make granola, the first thing to do is to gather some basic ingredients that you probably already have in your kitchen pantry. (Score!) This will be a combination of dried fruit, nuts, oats, and a natural sweetener. Oh, and fun extras! We can't forget those.
Ashley Nader, a registered dietitian in the Charlotte, North Carolina area, recommends including ingredients that increase granola's nutritional value.
"When making your own granola, we can increase the nutritional value by adding ingredients high in fiber and omega-3 fatty acids, promoting overall health. Some of the health-promoting ingredients include, but are not limited to: chia seeds, flaxseed meal, hemp seeds, walnuts, and whole rolled oats. Some good alternatives to refined sugar that can naturally sweeten your granola are dried fruit, honey, and flavorful spices like cinnamon, nutmeg, and pure vanilla extract."

For better digestibility, you can also activate the nuts and seeds, by soaking or sprouting them overnight.
Step #2: Make granola
After you have gathered ingredients, it's time to make it and bake it. Alex Mastin, the CEO, and Founder of Home Grounds, shares the basics for how to make granola.
First, "preheat the oven to 350 degrees Fahrenheit and line a baking sheet with parchment paper.
Mix all of the dry ingredients in a separate bowl or directly mix them together with all of the wet ingredients until they are all evenly coated.
Next, pour the granola mixture onto a baking tray and bake for 20 minutes or until the top layer is a crispy and golden brown in color."
If you are someone who crushes on crunchy granola, Alex Shytsman, recipe developer, food writer, photographer, and creator of The New Baguette, says, "There are two keys to creating those crunchy clusters of granola we all love. First, do not stir the granola while it is baking; if you do, you will break up the granola chunks. Secondly, let the granola cool completely before storing, which can take up to an hour. The granola crisps up and forms chunks as it cools."
You could also include a binder. Nader, shares some of her granola-making insight. "The key to those delicious chunks we see in store-bought granola is to use a good binder," like flaxseed meal mixed with warm water for vegans, or flaxseed meal mixed with egg whites for vegetarians.
Alison Corey from Keeping the Peas agrees. "If you want granola that has large chunks, you are going to need to use an ingredient that will bind the oats together, and toast them nicely."
"Unfortunately," she continues, "that usually means adding a great deal of maple syrup and oil. To get those nice chunks without the use of oil, substituting nut butter will help bind the ingredients together. Nut butter is a better choice than oil as it has a higher nutritional value, rich in protein, vitamins, and nutrients."

Once the granola has fully cooled include any additional mix-ins, like chocolate chips, to save them from possibly melting.
Best granola recipes
Now that you have the answer to how to make granola, check out some of our favorite handcrafted granola recipes. (You're welcome).
The next time you finish that bag of granola, do not add it to your weekly grocery list. Instead, make your own granola with these best granola recipes that are delicious and super simple to make. Happy granola baking, making, and eating everyone!