We Asked Trainers and Fit Pros to Share Their Pandemic Experience With Us. Here's What They Said.
Around 2017, I realized that several people I knew were either pursuing or planned to pursue some sort of fitness certification—whether it was Yoga Teacher Training or NASM personal training or ACE group fitness (or a combination). Becoming a trainer was all the rage in my little corner of Chicago, and over time, I watched as many of these friends started part-time work at various gyms and studios. Some kept it to a side hustle, some used it for free access to classes at a gym they truly loved, and some were so inspired they made the leap to full-time fitness.
Being a trainer or a fitness professional is, on the surface, a glamorous job. You wear cute matching sets (without hard waistbands!) for work. You get amazing photos of you taken on the reg. You spend your time fiddling with playlists, chatting with clients, building programming, and if you're lucky, #influencing with brand partners. The number one comment I got during my brief stint with group fitness training? "You're so lucky to get paid to be fit!"
All this was on my mind as I read over our 2021 State of Fitness results last week. In my mind, 2016-2020 (my own estimate) was a golden age for fitness and thus, fitness professionals. New studios and gyms were opening up regularly, and it seemed an easy career pivot for anyone burnt out by corporate America. The always-educational FITT Insider newsletter backs up my gut feeling. In 2019, US gym/studio revenue reached a record $35B, with 62M members and 41K facilities.
Now, a pandemic later, the stats are sobering. In that same FITT newsletter, they state that in 2020, industry revenue plummeted 58% to $15B, with 22% of US gyms/studios permanently closing as of July 2021. Are things on the upswing? Maybe—you'll have to read our results to find out. We also highly recommend this op-ed by Ashley Rockwood of Free Mvmt Shop, where she makes the case that small studios WILL survive.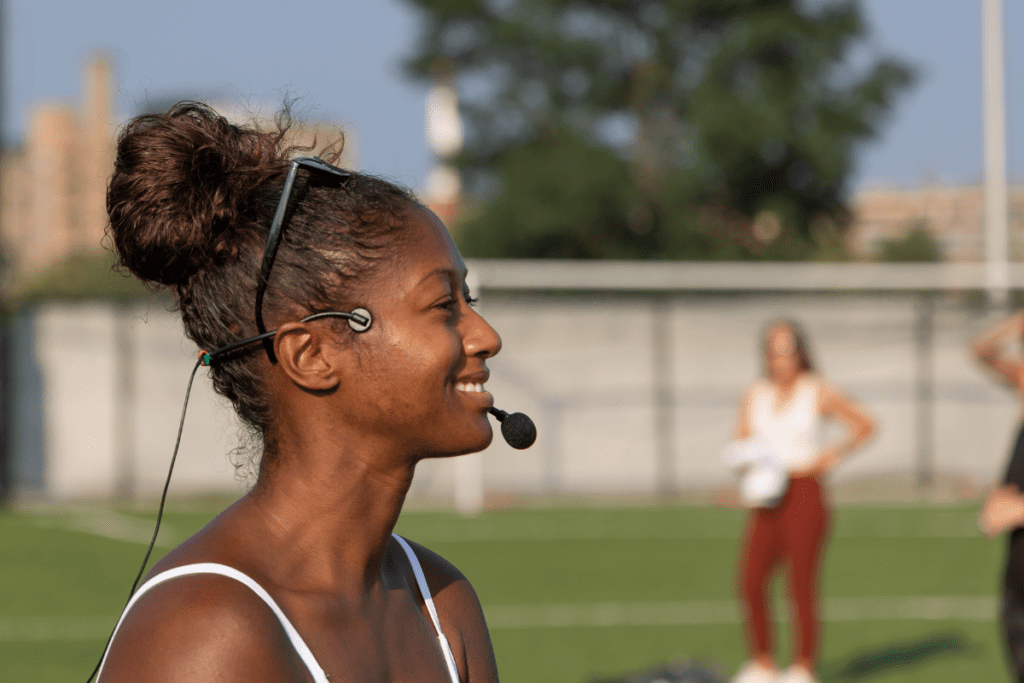 We can repeat the stats to you, but we thought it would be more impactful to share fitpros' experiences first-hand. In this 2021 State of Fitness, we asked fitness professionals (including trainers, gym owners, studio managers, etc) to share what their experience has been like since February 2020. Here's what they said.
Many fit pros ended up leaving the industry—and found more joy in working out for fun.
I'll raise my hand as one of them. When gyms started opening back up, I decided that my side hustle wasn't worth the risk of getting sick (and I was privileged to have that option, thanks to a full-time job). Now, I don't think I'd go back anytime soon. It's relaxing to be able to walk into a studio and just focus on me, rather than on other people's experiences. We saw that in many answers:
"I used to teach as a side hustle but the studio energy went down so much it was no longer enjoyable or very profitable. Now i just enjoy working out at home."

"I quit teaching. I was asked to come back last summer but honestly, keeping fitness as me time and not a side hustle is so CALMING I couldn't bring myself to do it."
Other professionals (both part time and full time) left for different reasons:
"I'm a yoga teacher. I was laid off from March-June 2020 and chose to leave my gym in oct 2020 due to lack of communication from the manager about many things, including Covid protocols and updates. Honestly, it's only now that I'm vaccinated that I feel comfortable entertaining the idea of really pursuing teaching again."
Of course, many trainers and fit pros stayed in the industry. Many cited a love of interacting with clients and the fulfillment of those relationships.
I teach on the side and I didn't realize how meaningful it was to me until it was taken away in March 2020. Since returning to the studio last July, I feel like I've grown exponentially as an instructor and as a human being. Group fitness gave me the camaraderie and togetherness I was craving and missing as a result of working from home. As an extrovert, I thrive on social interactions and not having group fitness as an outlet for teaching or taking class was really tough. In November when group fitness shut down again in Chicago I was super bummed. I won't take it for granted ever again.
I'm a trainer on the side and for the first 6 months post pandemic I didn't work in fitness. Our gym opened an outdoor space in the fall so I began teaching again, though with very limited capacity. I'm now teaching both in studio and virtually which is a nice combination and is flexible as I'm personally traveling a lot. It's been a lot of changes to maneuver over the last year for our gym. It's also been a bit hard to keep up with the intro to virtual life and building a brand/setting up tech needed to be competitive in the virtual space.
Pivot. Pivot. Pivot! 2020 is when people in fitness wanted to stay into fitness or go to a different field. If you stayed, you adjusted. If not you moved on.
Our analysis: Just like it was for so many office workers, the pandemic was a chance for fitness pros to reset and reevaluate their career priorities. Many made the choice to step back from training as a way to combat burnout and reclaim some of their "me" time.
The switch to virtual fitness was an adjustment, but some studios and individuals have seen success
With the right branding and community engagement, virtual fitness has been an immense success for some brands. Moxie, a trainer marketplace created amid the pandemic, claims to be empowering trainers to make 6 figures on its platform. 
"Lots of learning! Learning new tools & formats to level up the experience for my students."

"I pivoted the majority of my business to virtual which has actually had a positive impact and growth for my business"

"My business improved, no more rent cost or driving expenses. Kept almost all my clients and went online."

"It's been real. I owned two fitness studios and closed one last August due to Covid. I am still at limited capacity but by July 1st should be back to normal. I started doing livestream and outdoor classes during the pandemic. And still do. It will continue indefinitely at this point. Clients are only returning once full vaccinated so it's been a slow but steady stream of returning clients. Some new clients are coming in as well but not as it was in the past. Building new clientele is my #1 goal right now. It's kind of like starting over!"
Our analysis: When COVID hit, fit pros had to commit to virtual in order to survive. Many found excitement and reinvigoration in learning new skills (and increased their earnings potential, too).
The flexibility that clients want is tough for small studios to provide
And those demands are evident in the way you're showing up. 25% of fitness consumers told us that they're doing a virtual fitness with a personal trainer or group class via Zoom at least once a week in our latest survey, 32% worked out at least once a week in a boutique fitness studio or gym with a trainer, and 26% worked out at least once in an outdoor fitness class. With that in mind, a studio would need three separate offerings to keep their clients happy – virtual, outdoor and indoor.
"I'm not a studio owner but I'm a fitness instructor at a small studio and teaching virtually was really difficult for a long time. We still have clients who aren't comfortable coming back in person but are expecting the same level of service as in spring 2020 – it's tough because now our focus has shifted to servicing those in person and can't dedicate as much time/resources to those who want to be virtual"

"It's been frustrating and difficult. We were forced to shut down for 8 months. For 8 months we made no money and our land lords want all rent from all 8 months we were closed. In June when mask mandates were lifted things have started to get back to normal but it will be a struggle for awhile."
Our analysis: You may think that the high-end products in the bathrooms or the shiny Instagram presence mean that your favorite local studio is rolling in profits. You'd probably be wrong. When gyms were forced to close during COVID, many had to lay off instructors and office personnel. That made it an even bigger lift to shift to virtual fitness, and it even made it harder to transition back to in-person. There's only so many people a business can afford to hire when profits are down so significantly—but customers expected a bigger amount of flexibility *and* the same premium experience they had been used to pre-pandemic.
Teaching is way more difficult right now, both virtually and IRL
A major piece of coaching is energy – how you read your clients' energy to create an experience and help to push limits. Nothing about virtual makes that easy. And the expectation has changed. Fitness is now looked to as a mental health outlet, a piece from Bloomberg explained, but that's a lot to expect from professionals who aren't trained as therapists. 
"People enjoyed the virtual for a while but many are getting zoom fatigue. They like the virtual options on occasion but it's great to offer both the live in person and live virtual. Some ppl like the prerecorded but it lacks a lot of community interaction and opportunities to make new friends and meet ppl."

"Classes are so hit or miss with people signing up. It's hard to know what it takes to be successful."

"I am a Zumba Instructor and I had to get a bit more tech savvy to teach live classes online, but the energy from my students and sense of community is difficult to replicate online. It has drawn some students who normally wouldn't attend a group fitness class, so that is good. I feed off the energy of my class and love in person classes…but see an option to teach online when weather is a hindrance or to use as an additional day to teach a class."
Changing regulations, mask mandates, closures and capacity restrictions have been a constant for gyms and studios operating in person. That often leads to confused clients, so not only do trainers have to worry about you safely executing an exercise, but also whether your nose and mouth are covered and if you're remembering to hydrate and if their programming is too challenging to do in a mask.
"It has been hard to teach to students I can't see either at all or in totality. And demo-ing an entire class while instructing during a Zoom could really take it out of me. It is SO good to be back in space where I can see the students to give them individualized guidance, and where I can set an appropriate environment to complement the class (such as music/volume/lighting/temperature) for a yoga practice. Also it is nice to be able to utilize nonverbal communication – facial expressions and gestures as another way to communicate with students."

"It has been chaotic and many ups and downs. I'm an instructor and my class schedule has changed at least 3 or 4 times since Feb 2020. I have had to adjust to many new processes at the gym and ensure members understand as well. I had to get used to teaching spin and HIIT classes with a mic AND a mask (which meant pretty much zero water intake during class). In my experience though, as difficult as it was, the members made it worth it. Most people had so much energy, were happy and grateful to be at the gym and followed all protocols."

"Wearing a mask while teaching and requiring people who come into our studios with a mask hasn't been too mind blowing; however, class sizes diminishing has made it challenging to find the "energy" that used to be. We also rented out equipment and streamed virtual classes / live classes for those who did not feel comfortable coming in the studio."
But, there's hope
"There have been a lot of ups and downs. It is very exciting to see people still coming back with a new excitement for a shared fitness experience. Many people have said that they didn't have the same motivation at home. The structure of leaving the house to workout takes more effort, but I have heard that it's the extra push needed to work hard."
"It has been a wild but fun ride. We have been fortunate to have loyal supporters that followed us virtually, followed us when we could only offer outdoor workouts – even in dead of winter."
"People still really want a place to go outside of their homes for their workouts, even if it's not every day."
"It's been great to see studios slowly start to fill back up, and I have hope that it will look like the pre-2020 days before too long again soon."