How to Take a Road Trip With Your Dog
Summer is synonymous with road trips and by now, you are probably a pro. You know how to stay active during a road trip. You have all of the essentials packed including a cooler filled with road trip snacks. But, maybe you find yourself wondering how to road trip with a dog. Grab man's best friend and buckle up because here is how to road trip with a dog.
How to road trip with a dog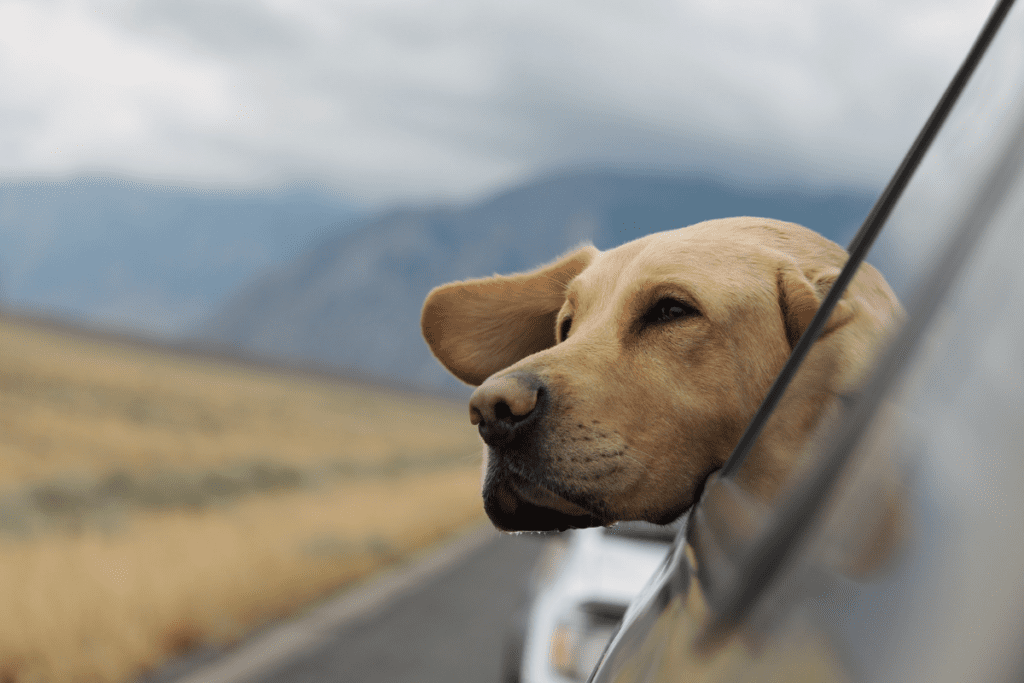 Buckle up and go for a practice drive
If you plan on taking a longer road trip this summer with your eco-friendly fido, buckle up and go for a practice drive before you officially hit the open road. If your road trip is going to last multiple hours or even days, practice with a shorter drive first. Whether it's a nearby weekend getaway or a couple of hours to a state park, practice with your pup to see how they react in the car. That way, you can better prepare for a long road trip later on.
Get some safety gear
When we hop in the car, we automatically buckle up—the same rule applies to our pets. Dogs should not be loose in the car. (I seriously had no idea). As babies, the safest place for your dog is in the backseat in a carrier that can be strapped to the seat with a seatbelt or other anchor. The carrier should be large enough for your dog to lie down, stand up, and turn around comfortably. You can also use a car hammock. Whatever you select, read reviews to know your option has been tested and is approved for pet safety.
Pack for your pooch
You have an entire suitcase dedicated to shoes, so did you honestly think you can get away packing just the bare minimum for your furry friend? Yeah, I didn't think so. Here are some items to pack when you are planning how to road trip with a dog:
Collapsible food and water bowls
Contact information for your primary veterinarian 
Copy of your pets' medical records and recent immunizations
Leash for walks
Medications
Recent photos of your pet
Regular pet food
Toys
Waste bags and a scooper if necessary
Water
Zach Reed, Founder of GreatDaneCare.com, recommends packing extra food. "Bring two days of extra food on your trip. This ensures you're never scrambling to find the same food in a new location if you run out! The same also applies to any medications they may be taking." 
When packing your pets' toys, include some new ones for novelty and a couple of classics you know they love. If you forget to write down your vet's information and need a vet on the road? No problem! You can locate one through the American Animal Hospital Association.
Johnna Devereax, CPN (Clinical Pet Nutritionist), also recommends taking a few recent photos of your pup. "Print some out in the off chance you lose your pup and your phone." If you are worried about your furry friend running off, Daniel Caughill, Co-Founder of The Dog Tale, recommends investing in a GPS collar.
"When dogs get loose, they can usually find their way home, but not if you're in the middle of a road trip. Get a GPS collar (or a trackable tag you can add to their existing collar), so you can quickly recover your dog if they run off in a strange place. This is a good idea even if your dog is microchipped. Only shelters have the equipment necessary to read a chip, and it could take days for your dog to land in a shelter – if at all."
Plan for rest stops
Everybody poops, including your dog, so schedule rest stops. Dogs usually need to go to the bathroom every 4-6 hours. But if your dog is dehydrated and drinking more water during your road trip, you may need to make more frequent stops. All the more reason for you, and them, to stretch your legs! Plus, you can both enjoy exploring new sights along the way as you embark on your road trip adventure together.
Stopping for a longer overnight stay somewhere? Reed recommends doing your research first. "Before booking hotels or overnight lodging, double-check that the location does not have any size or breed restrictions. While more hotels are pet-friendly these days, many still have restrictions that could put an unwanted kink in your otherwise flawless travel plans."
Research dog beaches, dog-friendly trails, and local dog parks
Research dog beaches, dog-friendly trails, and local dog parks for you and your dog to check out. BringFido can help you locate dog beaches and dog parks, while GoPetFriendly has suggestions you can do with your dog during your road trip. 
Diana Ludwiczak, NYC-based dog trainer says, "This will pay off big time, as it will keep them from being restless on long drives." If you plan on traveling cross country, plan a visit to local forests and national parks, but make sure they are dog-friendly before booking any official reservations.
If you are planning any outdoor adventures with man's best friend, Sadie Cornelius of Canine Journal recommends keeping it clean with car seat protectors and paw cleaner. "There is nothing worse than taking your dog on a fun-filled wilderness adventure, only to realize (after the fact) that your filthy, smelly and soggy pup ruined your car seats. Car seat protectors are an easy way to cover your seats, so they stay clean and odor-free. We also suggest keeping wipes or a portable dog paw cleaner available in your glove box or trunk for easy clean-up on the go."
If you are wondering exactly how to road trip with a dog, use these tips before your next road adventure. Ahhh…the open road. Someone cue Willie Nelson!
Let us know!
Did this post help you get closer to achieving one of your goals?