I Gave Up Meat and Went Pescatarian for 50+ Days Here's What Happened
I have dabbled in almost every lifestyle imaginable: Keto, plant-based, Whole30, you name it and I have probably tried it. But there is one way of eating I have always wanted to try, but never had the guts: pescatarian.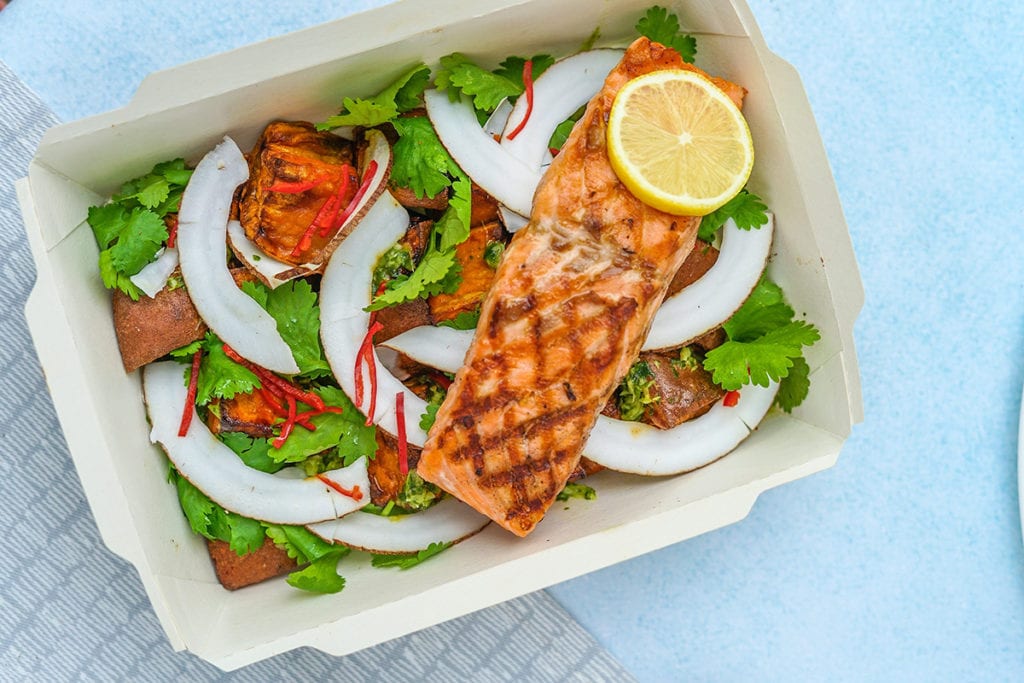 I have listened to numerous podcasts and read countless articles from people claiming that giving up animal protein was life changing. On the other hand, I have had friends give up meat and neither one of them noticed a difference. Instead, adopting a pescatarian lifestyle only reinforced their love of other foods like beef, chicken and pork.
This past February, I decided to see what all the fuss was about and finally gave up meat. Here's what happened when I gave up meat and adopted a pescatarian lifestyle for 50+ days.
What is a pescatarian diet?
I may be stating the obvious, but a pescatarian diet is the practice of adhering to a diet that incorporates seafood as the only source of meat in an otherwise all vegetarian diet. A pescatarian diet is largely plant-based and consists of eating foods like dairy, fruits, legumes, nuts, quality fats, seeds, vegetables and whole grains with seafood playing a key role as a main protein source. Pescatarians do not eat beef, chicken, lamb, pork, turkey or wild game.
Practicing a pescatarian diet
When practicing a pescatarian diet, I had some reservations, but was most concerned about not feeling satiated after meals. Although fish can be a satisfying meal, I don't experience the same type of satiety like I do when I eat other foods like beef, chicken or pork, which can all be very filling. On the contrary, I was pleasantly surprised with how satisfied and satiated I felt after my seafood-based meals.
When practicing a pescatarian lifestyle, I woke up feeling lighter and less heavy, which can happen when I eat other animal protein sources. I also noticed my portions were smaller and it didn't take as much food to fill me up. This could potentially be because I was including more vegetables in my seafood-based meals, and therefore more fiber, which helps keep you satiated.
I also noticed some serious gains in the gym BQ (before quarantine). My muscles seemed to be more visible and I had more energy for my morning workouts. Although the goal of this experiment was not to lose weight, I dropped a few pounds during this time.
Benefits of a pescatarian lifestyle
Sylvia White, RD, CDE at Quick Healthy Cook and Parenting Diabetes shares some of the benefits to adopting a pescatarian lifestyle.
"A pescatarian lifestyle is similar to the Mediterranean diet, which has proven in multiple research studies to be one of the healthiest options and prevent disease. A pescatarian diet is also high in Omega-3's, especially EPA and DHA."
Melanie Betz MS, RD, CSR, CSG, LDN also touts the benefits of a pescatarian diet. "This diet is in line with recommendations to reduce risk of heart disease, Alzheimer's and other age-related cognitive decline and is a great choice for many other health conditions including kidney disease and diabetes."
How to be a pescatarian
If you are wondering how to be a pescatarian, it's easier than you think. Simply stock your kitchen with an array of whole foods like those listed above and do some research on seafood based recipes.
It's also important to get to know your seafood. Larger fish like ahi tuna, king mackerel and swordfish tend to have higher levels of mercury and pollutants in their systems as these chemicals and foreign substances tend to accumulate and build up over time. Eating smaller seafood like anchovies, sardines and scallops are typically safer choices for both you and the environment. Organizations like Monterey Bay Aquarium have created the Seafood Watch list where consumers can access consumer guides, find sustainable recipes and become a conscious consumer. You can even access their Seafood Watch App so you can research your purchases before making them.
I have been practicing a pescatarian lifestyle since February and have been enjoying it more than I ever anticipated, so for now, I will still be focusing on seafood as my main source of protein. But when I decide to enjoy animal protein again, I will be mindful with how I reintroduce meat back into my diet.