5 Superb Summer Salads That Fit the Bill All Summer Long
I don't know about you, but all throughout the summer, I get a craving for salads. Who wants to be tied to a hot stovetop when sunshine and street fests are calling? Pick up some produce at your local farmers' market, whip up a dressing and dig in.
Pro tip: I like to chop and assemble everything on Sunday so I have prepared meals all week. Some of these recipes do call for oven or stove time, but then you're set for several days. These salads keep well in the fridge – just add the avocado right before eating/serving so it doesn't go bad.
Cobb Salad
Get your protein fix with this healthy take on a traditional Cobb salad. Serves one.
Ingredients and Directions
Assemble and serve:
Kale or mixed greens
1-2 slices of turkey bacon
½ cup of artichoke hearts
½ of an avocado
10 cherry tomatoes (I like yellow ones)
½ cup of cooked chicken (buy a rotisserie chicken to make this super easy)
Drizzle with olive oil and lemon juice
Optional: add a hardboiled egg
Aliza's Salad
My good friend Aliza shared this salad with me, and now I'm hooked. Serves one (plus extra ingredients for next time).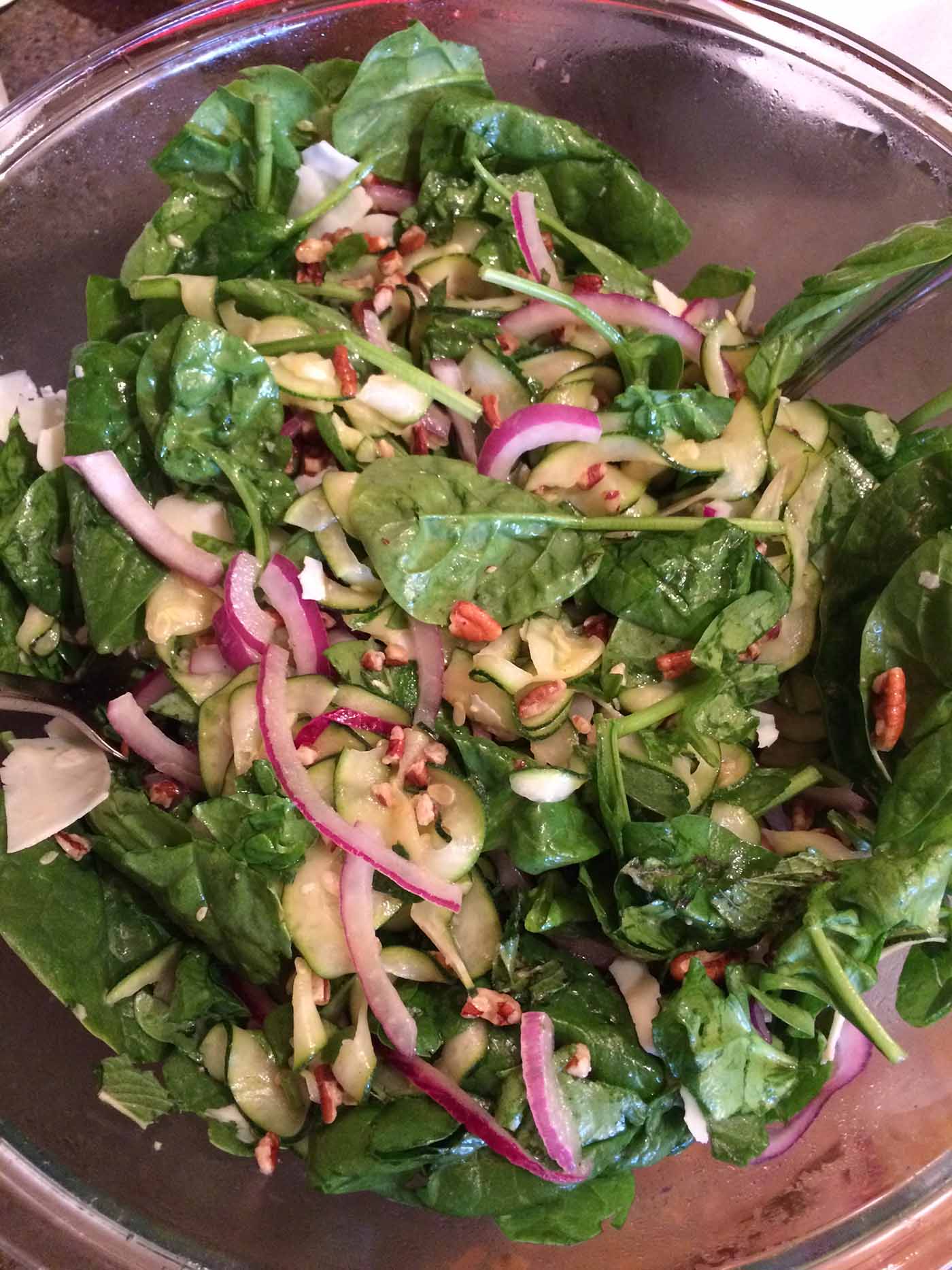 Ingredients
Spinach
Arugula
Large red onion
Can of garbanzo beans
Olive oil
Balsamic vinegar
¼ cup of marinated artichoke hearts
1/8 cup of slivered almonds
2 tbsp of sun-dried tomatoes
1 ounce of manchego cheese
Dijon mustard
Maple syrup
Directions
Preheat the oven to 450 degrees.
Roughly chop a large red onion.
On a foil-lined pan, drizzle the chopped red onion and garbanzo beans with a little bit of olive oil and a lot of balsamic vinegar. Roast for 30 minutes.
Mix together the spinach, arugula, artichoke hearts, almonds and sun-dried tomatoes. Add ½ cup of the onion and garbanzo beans mixture. Grate manchego cheese on top.
In a small bowl, mix together 1 tbsp of Dijon mustard with ½ tbsp of olive oil and ½ tbsp of maple syrup. Dress the salad and enjoy.
Updated Caesar
This is a super simple but delicious salad that's easy to modify to your preferences. Serves one.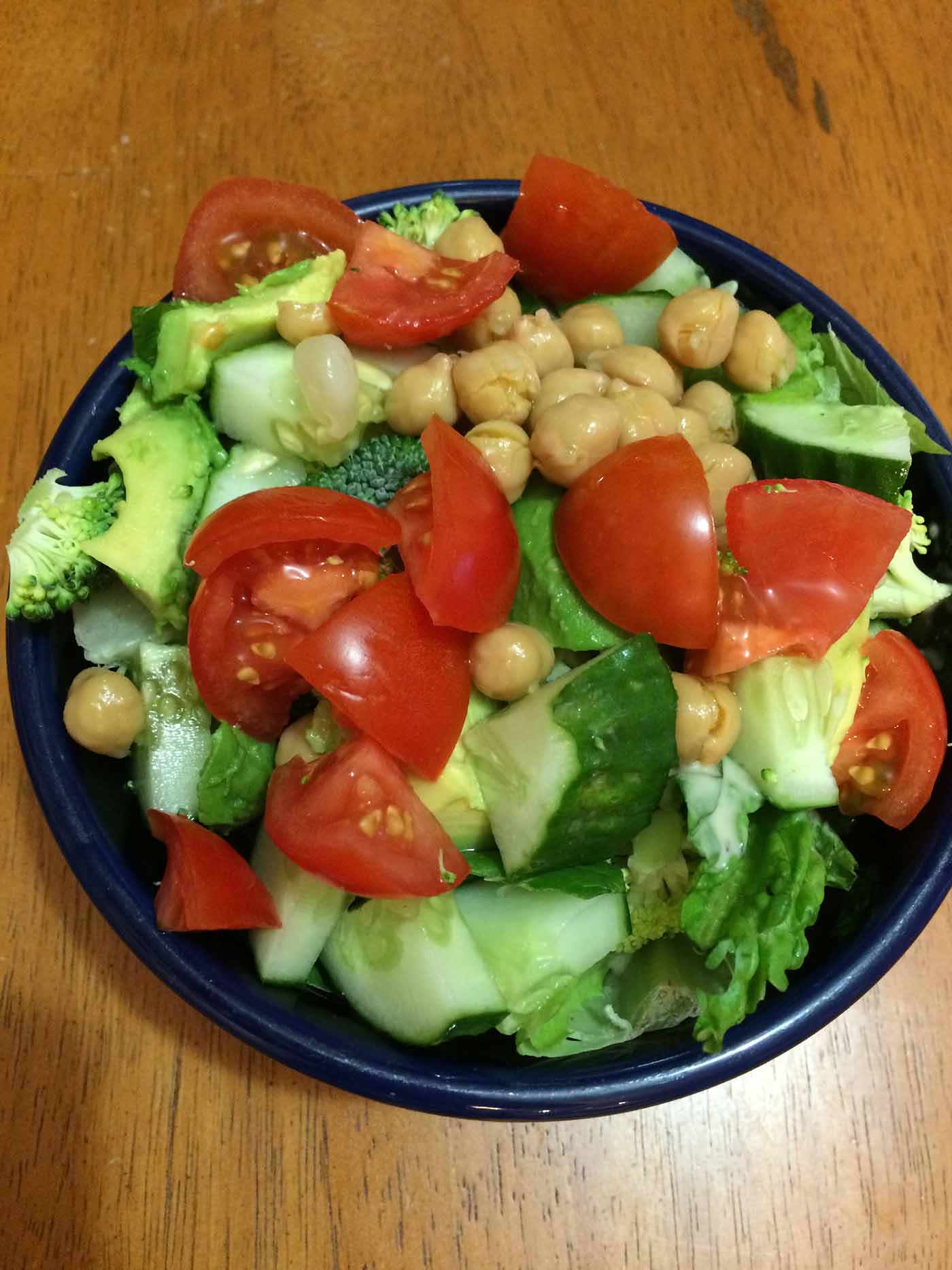 Ingredients and Directions
Assemble and serve:
Romaine lettuce
2 small tomatoes on the vine, chopped
¼ cup of garbanzo beans
10 kalamata olives
¼ cup chopped cucumber slices
½ cup broccoli florets
¼ of an avocado
Caesar dressing (I like Cardini's)
Optional: My husband always adds croutons, cheese and hardboiled eggs.
Panzanella Salad
Pair this refreshing summer salad with a crisp white wine. Perfection! Serves four.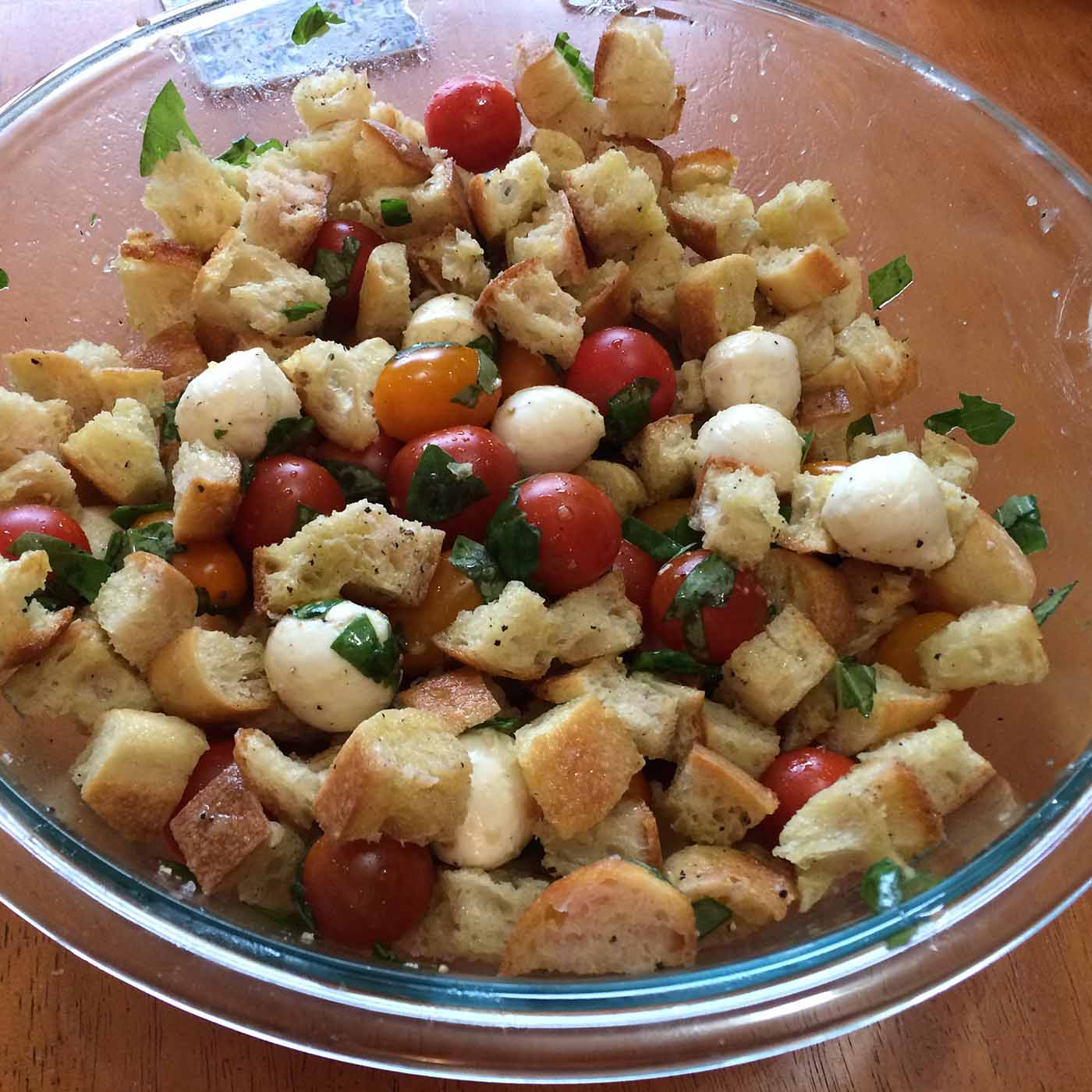 Ingredients
1 crusty loaf of bread (I like ciabatta)
½ pound red cherry tomatoes
½ pound yellow cherry tomatoes
8 ounces of small mozzarella balls (the kind that comes in liquid)
1 small container of fresh basil leaves
1 tbsp red wine vinegar
1 garlic clove, minced (or substitute dried garlic)
¼ cup extra-virgin olive oil
Directions
Cut ciabatta bread into cubes and place in a single layer on a foil-covered cookie sheet. Toast the bread in an oven at 375 degrees for a few minutes until lightly browned.
In a large bowl, whisk the vinegar and garlic together, then add the oil. Add the remaining ingredients, layering to mix things up. Top with more olive oil, salt and pepper to taste.
Let stand at room temperature for 15 minutes to allow the bread to soak up the dressing. Alternatively, store it in the fridge and eat it cold once you're ready to dig in.
Taco Salad
We ate taco salad at least once a week in my house growing up, and I always requested it for my birthday! Over the years, I've modified the recipe to make it a bit healthier. Serves two (plus extras for next time).
Ingredients
1 pound of lean ground turkey breast
1 packet of taco seasoning
Romaine lettuce
1 can of black beans, drained and rinsed
1 can of corn, drained and rinsed
Tomatoes on the vine, chopped
Guacamole
Salsa
Optional: Mexican cheese, tortilla chips
Directions
Cook the meat in a nonstick skillet over medium heat. Once the meat is cooked through, add the packet of taco seasoning. Continue cooking for several more minutes, until the meat is browned.
In two separate bowls, layer each of the following: generous handful of romaine lettuce, ½ cup of black beans, handful of chopped tomatoes, ¼ cup of corn and ½ cup of turkey meat. Top each bowl with generous spoonfuls of guacamole and salsa.
Add Mexican cheese and tortilla chips, if desired.