These Two Workouts are Revolutionizing the At-Home Fitness Industry
It's been nearly a year of amassing an arsenal of mismatched workout bands, sliders, and weights, being waitlisted for months to get those overpriced dumbbells everybody seems to have, and trying to replicate the vibe of an at-home studio with dim lighting and loud music (while annoying our neighbors in the process). At times, finding an all-in one, simple at-home fitness solution that was motivating, engaging, and delivered results seemed out of reach.
But two fitness brands, Brrrn and The Mirror, have emerged from the COVID fitness market as top platforms, both offering high-end experiences that remind us of those high-energy fitness classes we all love, but on completely opposite ends of the price spectrum. We've tried both—and here's what we think.
The BRRRN Board
Say goodbye to slider workouts that deliver more frustration, rug-burn, or floor damage than they do results. At its most basic, the Brrrn Board is a slide board, a tool used by professional athletes from football players to figure skaters, that focuses on lateral movements to deliver a cardio workout with minimal square footage. Not only does the board perform, but it slides discreetly out of sight under a bed or behind the couch and is set up in seconds (the same can't be said for an at-home bike or the pile of random dumbbells collecting dust in a corner of my office).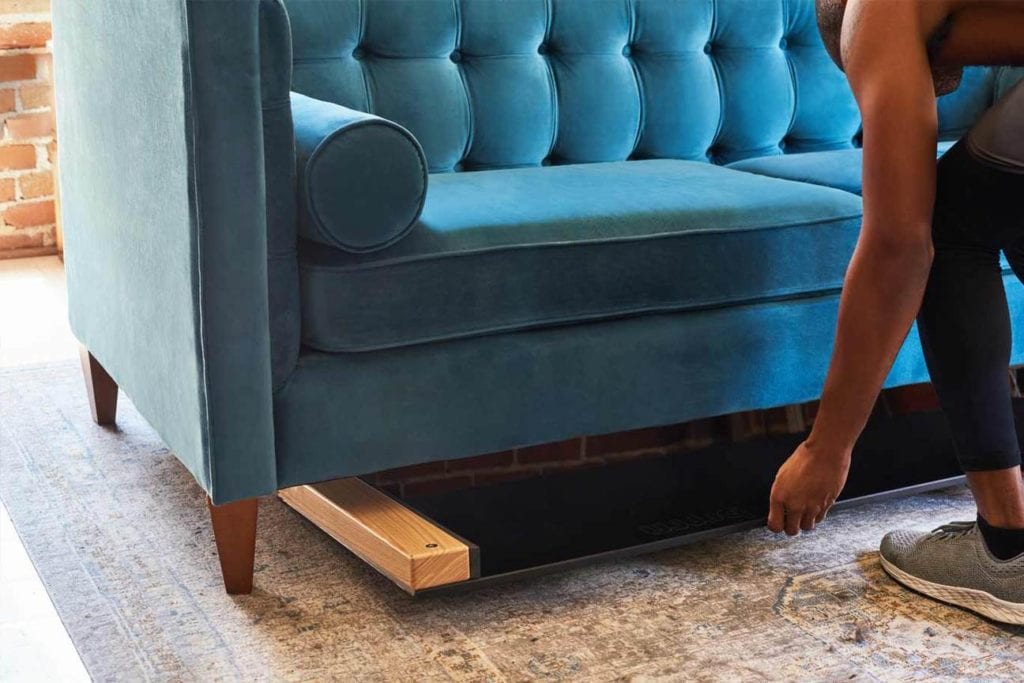 Enter Johnny and Jimmy, the founders of Brrrn, and this workout becomes more than the slideboard itself. Originally a boutique fitness studio in NYC, Brrrn pivoted from in-studio to virtual classes, utilizing their studio space as a film studio for their virtual offerings. The classes are intense, the instructors are encouraging and uplifting, and the board delivers a back-to-basics experience that is anything but basic.
Brrrn's targeted library of classes is easy to access, and weekly challenges through their community Instagram page allow you to easily stick to a plan. And you don't have to choose one or the other when it comes to strength and cardio; the amount of moves you can do on the board range from speed-skating style sliding to slow and controlled plank-pike moves that bring your abdominals to failure every time.
The interactive app allows you to control the volume of the instructor and the high-energy playlists, and offers traditional slide classes as well as Pilates-focused cardio sculpt, stretch, and recovery classes to loosen you up after a day working from home. A new "connect" class format that encourages you to connect with a friend and catch up with them during class is in the works as well, allowing you to maximize endorphins and social connection—two things we've been missing the most from group fitness.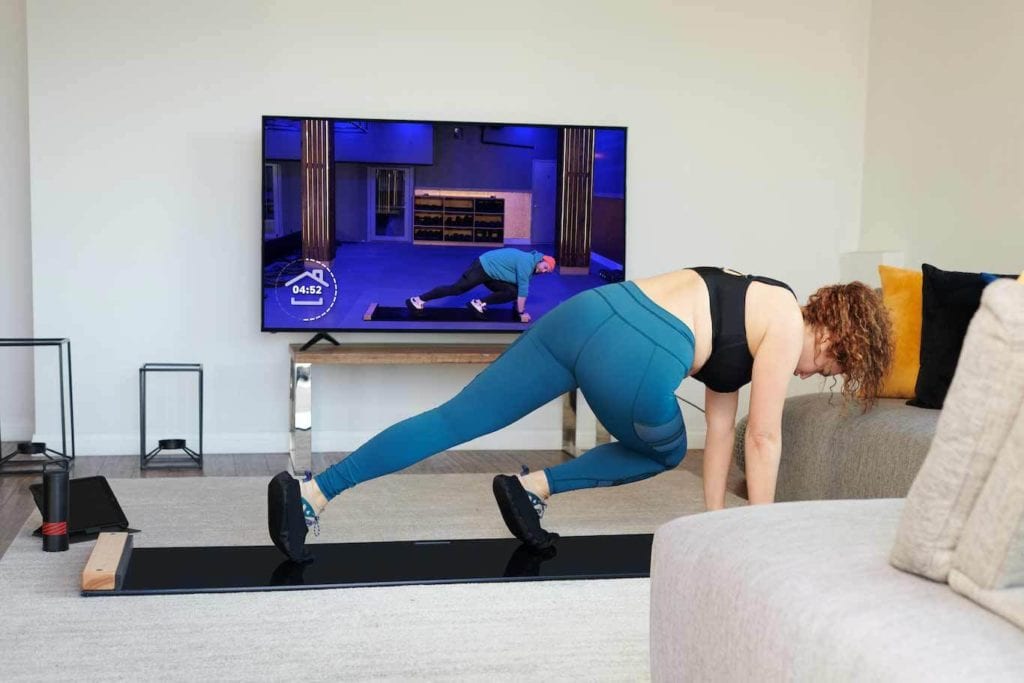 One of the clinchers for the Brrrn board is portability and cost. The board slides easily under your couch or bed, and has a cutout for you to carry it and use it indoors, outdoors, or anywhere in between. Starting at $229 at time of writing, and easily available on Amazon, the Brrrn board delivers a premium experience. The paywall on their app has been lifted until the end of February 2021, allowing access to their library of classes for a test run before dropping the cash on the board.
The Mirror
Lululemon's newest acquisition, The Mirror, brings the future of fitness into your home while taking up virtually no floorspace and disguised as furniture. Its connectivity is impressive, displaying your heart rate and calorie burn readings from your smartwatch or heart rate monitor directly to the Mirror to keep you honest with your output during cardio bursts. You can even control the tunes via Apple Music (as somebody who loves my music, this is a must-have).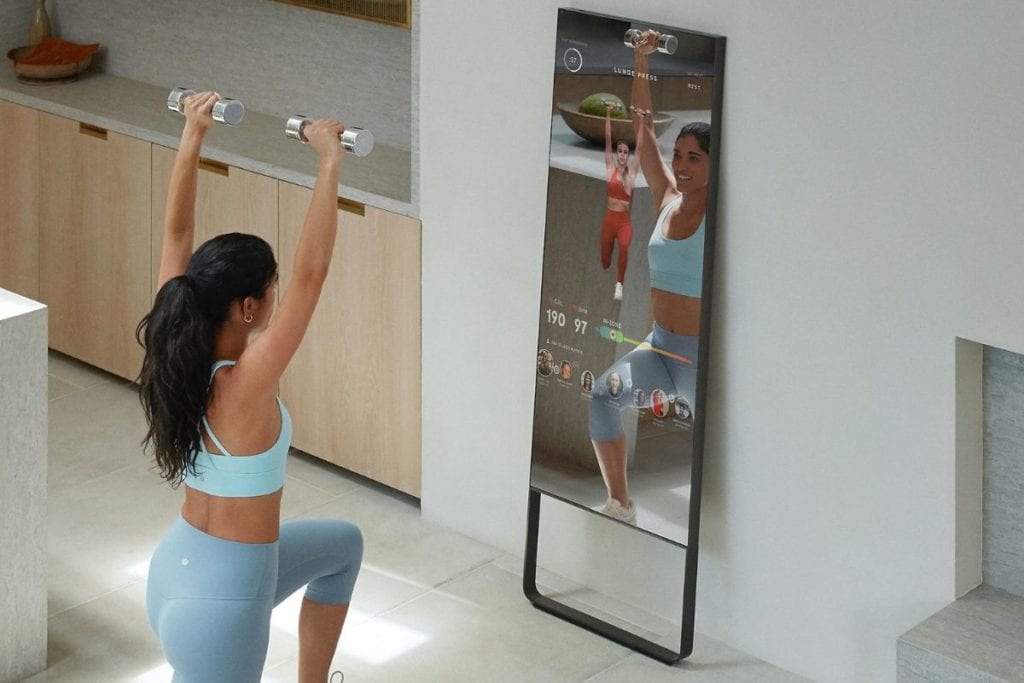 The built-in camera comes with a privacy screen for when you want to workout solo, but offers you the ability to get as close to a group fitness class as you can from your home by turning it on. Instructors can check your form in group classes, you can take a class with a friend for the accountability factor, or join a live class with a community of people ready to get their sweat on. And did we mention it's actually the perfect mirror for that post-workout #sweatyselfie?
With a robust library of hundreds of classes, including over 70 live classes per week, The Mirror has something for all fitness levels. You can filter classes by equipment required (finally putting your pile of abandoned weights and resistance bands to work), difficulty level, duration, and type, which makes the selection process streamlined and easy. The Mirror app will also track your classes taken, offer you challenges to compete in, and allow you to interact with your friends on the app. While some may shy away from the camera functionality after months of Zoom fatigue, there's something about seeing your heart rate, calorie burn, and an up-close and personal view of your instructor in real-time that makes you feel like you're living in 3021.
At $1,450 to start at time of writing, The Mirror establishes itself as a premium product in the market but offers a wide variety of uses to validate the cost. Access to personal training, live group classes, and their ever-changing library of classes runs $39 per month, with a 30-day risk-free trial to either try The Mirror in your home or download the app and take some of their classes before dropping the cash. The Mirror was first launched in 2018, and three years later, it's still providing an elevated experience for fitness fanatics everywhere, and has proven its return on investment.
The Mirror vs. The Brrrn Board
Both of these workouts are innovative, all-around solutions that not only bring an in-studio experience to your home but have staying power.
The Mirror's connectivity allows for new and emerging class formats such as tai chi, pre/post natal, and even kettlebell classes to be accessible and cater to trends in the fitness world. The Brrrn board's slide board has been used by professional athletes since the 90's, and has stood the test of time as a go-to for professionals and mere mortals alike to increase lateral stability, core strength, and cardiovascular endurance. Both workouts are designed to be easily hidden in small spaces, which is crucial for those wanting a home gym without the space for a home gym.
What it comes down to is pricing. The Brrn Board's simplicity, effectiveness, and high-end feel keep us coming back time and time again, while still offering a challenge each time. The board delivers cardio, strength, and mobility with a micro footprint. While low-tech, you can't argue with the tried-and-true science behind the slide board.
The Mirror takes high-end to the future with its interface and ability to blend into any home. However, those wanting a physical piece of equipment rather than a large screen (or wanting to seriously downsize that pile of random fitness equipment) might prefer a technology like Tonal instead. However, the video connectivity, accountability, and variety of classes to fit any taste or schedule is hard to beat for only $39 per month (a little more than a single drop in at some of our favorite spin classes).
At-home fitness is here to stay, and we're sure both of these formats will be around far into the future—which do you plan to invest in? Are you more excited about a new, shiny (and slippery) piece of equipment, or a high-tech statement piece?