How to Choose An At-Home Bike That's Right For Your Budget and Home
Looking for a way to get back in the saddle without going to your local spin studio? Now that indoor workouts becoming the only option for most, there are more plans, trainers, programs, and pieces of equipment than ever to choose from.
But before you click "Add to Cart" on that fancy at-home bike you've been eyeing, you've got a few decisions to make: "Can I afford this?" "Is this going to be gathering dust in a few months in my living room?" and "Is this going to look weird in my living room?"
Buying an at-home bike is all about finding the best fit for your workout style and goals. We break it down into three categories:
Full Package Bikes – These bikes come fully loaded with a touch screen to stream workouts. These include Peloton, Echelon and NordicTrack. Studios like SoulCycle have also joined the party and made their own bike that links seamlessly with their own studio experience.
Stationary Bikes – Just the at-home bike, without the bells and whistles, but have the same resistance settings, distance tracking, and calorie tracking as the full package.
Road Bike with a Trainer – A road-ready bike that you can ride indoors by setting up a trainer. A more true to the road cycling feel with enough resistance settings to replicate the toughest hills.
*Note: All products mentioned and linked in this story were available at the time of publication; however, pricing and availability are subject to change.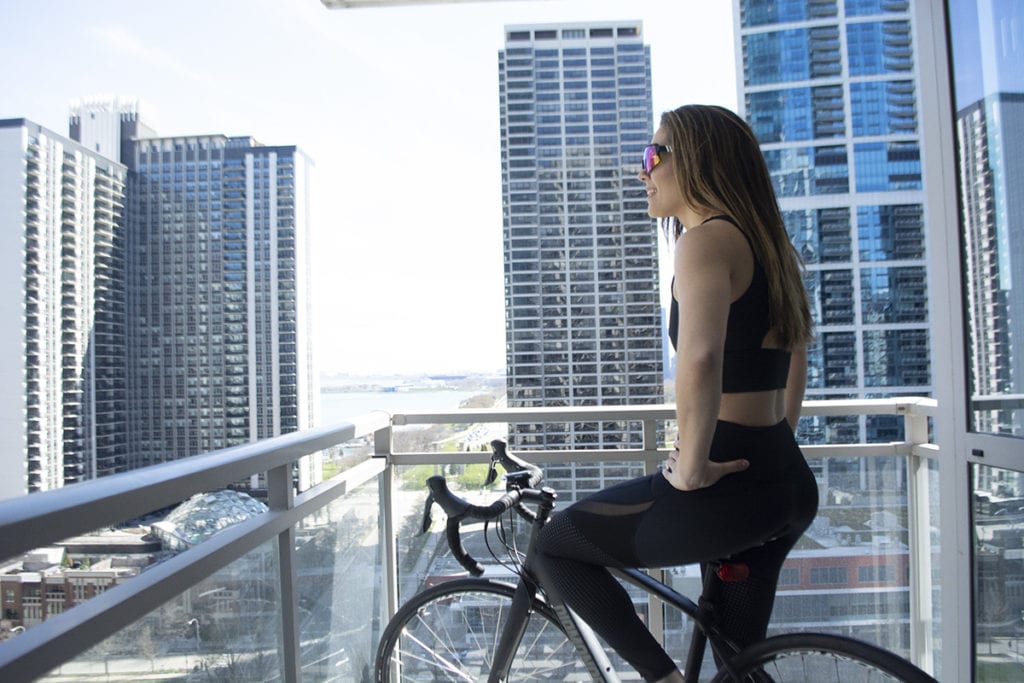 How to know if a full-package at-home bike is right for you
Of course, Peloton is one of the best-selling bikes out there. It's heavily marketed and has a near-cult following. Peloton has curated the best instructors for its app, and have designed the bike with high quality materials that might make it the sexiest piece of "furniture" in your living room (see also: this Twitter thread). All things considered, this is the top of the line model, and the price tag reflects that.
Delivery and setup
Delivery to door. Plug and play, this bike is ready to ride when you are!
What's included?
The bike, protective mat, delivery, and a warranty. Shoes, weights, and app access sold separately for an additional fee.
Experience
As close to studio experience as you can get, the bike is fully integrated with the Peloton app that gives you access to workouts on and off the bike and live workouts to challenge your friends. Instructors are top of the line if you need that extra motivation. The app tracks your rides and progress, so you can see your improvements and keep up some lively competition amongst your friends on the app.
Price
Getting one of the best bikes out there comes with a hefty price tag-the Peloton costs $2,245 total or $58/mo if you qualify for a payment plan (0% interest for a whopping 39 months). Access to the app is an additional $12.99/mo, a little less than your Netflix subscription, so expect to pay about $70/mo for the full experience. Peloton also offers floor weights and accessory packages to diversify your workouts beyond the bike, or you can purchase your own elsewhere.
At the time of writing, Peloton is currently offering a 90-day trial of their app for new users, so that can also drive down the cost.
Total cost all-in
$2,245 to $3,000+ depending on your package, app subscription, and equipment (shoes, weights, etc.)
Final thoughts
For somebody looking for the full experience of a spin class at home, the Peloton is a great option. The high price tag reflects the quality of content within the app and the concierge-like service with quick installation and name recognition of the Peloton brand.
If most of your workouts involve spin and you are a dedicated spinner, this might be the right move for you. If you see yourself using the at-home bike just a couple times a week, or want more pay-to-play fitness options in your arsenal, you might want to ask yourself if the cost is worth it. However, if you have the coin, the splurge is worth it!
How to choose a stationary spin bike
For those of us who want the same Peloton experience but just can't justify the $3,000 price tag for a piece of equipment, there's still hope. The Sunny Health Indoor Bike sold through Amazon is a great alternative for those who are looking to get an at-home bike, but prefer to look outside the Peloton app for a more customizable experience.
There are various brands out there with great reviews, and even purchasing secondhand bikes (the same ones you would use in class) from a commercial fitness store is an option. Using your own tablet instead of a built-in screen, you can work out with any app or studio offering streaming classes, or you can sneak in a quick ride while still listening in to that midday conference call.
Delivery and setup
You'll likely have to lug this bad boy into the elevator from your mailroom if you live in an apartment, and have to toss a lot of cardboard out after setup. The Sunny at-home bike ships with Amazon Prime, so expect a 3-4 day ship time. (When we last checked, it's on backorder at Amazon, but you can still have it shipped the second it's restocked) Once it's out of the box, you're ready to ride! You can purchase a protection plan for any damages for $24.99.
What's included?
The bike, caged pedals (you can buy SPD/LOOK pedals and install if you want and self-install) and a cyclometer built in to track speed, distance, and calories.
Experience
Purchasing an at-home bike gives you the opportunity to DIY your own fitness solution. This bike has spectacular reviews and has the same resistance, seat and handlebar adjustments, and general feel of a Peloton. Use your living room TV as your screen to stream free spin workouts online or choose your favorite studio to ride with virtually. This bike's water bottle holders at the front double as a tablet holder, so you can use your tablet to stream as well. You get the freedom to choose without sacrificing quality.
Price
At just $499, purchasing an at-home bike without all the bells and whistles is a great wallet-friendly way to get the same studio quality workout for less. Adding in a subscription to your favorite studio or piggy-backing off established apps like Peloton or NordicTrack are also options. Buying a stand-alone bike gives you the flexibility to add what you need rather than buy into a pre-made package.
Total cost all-in
$499. Add $40-$50 for new SPD or LOOK pedals to work with your shoes, a floor mat to protect hardwood, and you're good to go!
Final thoughts
If you're looking for that total package spin experience but the fully integrated bikes are out of your price range, this is a great option. If you're more of a renegade and prefer not to buy into the big brands, this is an equally great option. You can customize your workouts, support local studios across the country, and still take advantage of Peloton's free trial.
When to consider buying a road bike with a trainer
The beauty of purchasing a road bike instead of a stationary one is that you can take this bike anywhere! On the road, in your living room, or on your balcony (my new favorite spot to ride to take advantage of good weather days), using a trainer can let you spin in any room. A bicycle can be easily stored in a closet, bike storage room, wall mount, or tucked behind your couch, whereas a stationary bike takes up valuable real estate in your apartment or home, and is virtually impossible to tuck away unless you have a dedicated space for it. Trainers, on the other hand, can easily be taken apart and stored in a coat closet in a few seconds.
Depending on the type of trainer you choose, you can have a wireless experience for your ride. Not only that, but bike travel is an eco-friendly, low cost, and downright fun way to get around.
Delivery and setup
The bike I purchased was a Diamondback Arden 1 women's bike sold through Amazon, and it arrived in about five days. There was some setup required to assemble the bike, it took about one hour and a YouTube video for me to fully assemble and adjust my bike. Not a plug-and-play scenario, but one hour of my time in exchange for hundreds of dollars saved? I'll take it. (Plus, I now know a few bike mechanics to keep in my back pocket for when I ride outside). When you're ready to ride, simply attach the trainer to your back wheel (takes less than 60 seconds), and you're all set!
What's included?
Just the bike. Pedals are often included, but double check to make sure they match your shoe's SPD or LOOK clips, or grab caged pedals if you would rather do without specific shoes. Trainers are sold separately.
Experience
On a road bike, resistance is controlled by gears. I chose an 8-gear bike, and find that it gives me more than enough resistance to power my workouts to the next level. Using a trainer is slightly less stable than a stationary, so doing moves on the bike further activates your core and stabilizer muscles than on a spin bike. Seats on a road bike are less comfortable than a stationary, so bike shorts with padding are recommended for longer rides.
If you'd like to use a tablet, using a tripod or table to prop it on is best, but you can also get a phone mount for your handlebars and watch that way. For me, I simply put together a playlist and let the music push me in different ways on the bike. For those that need more structure to their workouts, accessing an app is just a tap away. For those that want more of a true road bike experience, there are a lot of great cycling groups around the world that post videos (for free) of their rides via GoPro camera and cue you when to go to different effort levels. You can even buy a front wheel block for about $25 that will let you turn your bike to follow along with your virtual riding group.
Price
An entry-level road bike will run you about $700, but you can find some as low as $500 or lower. A trainer will add anywhere from $100 if you purchase second hand, up to $250-$500 if you want a smart trainer to hook up with tracking apps or you want to control resistance with your phone.
This Saris trainer costs $250, with the smart option adding just $100 to the price. I chose to use a basic trainer, but add a cyclometer (a "brain" in cycling lingo) to track my speed and mileage, which can be saved and compared. A simple brain starts at around $28, and can go up if you want Bluetooth feedback to your phone. If you do go for Bluetooth, you can hook up apps like Strava or Zwift to track your rides, set up virtual races with friends, and map out rides outdoors. For calorie burn and heart rate, I just use my existing Apple watch.
Total cost all-in
For me, my bike cost $700, my partner already had a Kinetic brand fluid trainer that I borrowed (free.99) and the brain was $15.
Final thoughts
I have a small apartment with no room for a piece of equipment like a spin bike, and I wanted to get the biggest ROI on my fitness investment. I found that my workouts on my road bike/trainer were as good (if not better) than workouts I've done on a stationary bike, plus I have full control of where I work out and portability of the entire setup-my living room can go from spin studio back to living room in less than 5 minutes. Not only that, but for under $1000 and maximum versatility, it's a great value. A good road bike can last you years with regular tune-ups and can develop into a lifelong hobby and a low-cost, low-environmentally friendly way to get from point A to point B!
A high end experience doesn't have to come with a high price tag!
The most important factor in choosing an indoor spin setup is finding what works best for your lifestyle. If you don't see yourself taking your spin skills to the open road, a studio experience stationary will be the best for you. If you want to see where that bike can (actually) take you, a shiny new road bike will get you excited for the next time you can hit your local bike trail. With studios large and small innovating new ways to interact with clients, there's no shortage of classes, accountability methods, and amazing playlists to keep you motivated to get out and ride (even if you're stuck indoors).