The Best Activewear For Outdoor Workouts
Let's be honest, before the pandemic, the biggest workout wardrobe dilemma that most of us probably had was trying to find a sports bra that was equally supportive and cute. Now, in what feels like years into this era, many of us are choosing to exercise outside, whether it's group fitness classes, learning how to run, or going to socially distant walks or hikes.
[Download our free guide to winter running here!]
But as winter hits and temperatures drop, choosing what to wear when we exercise outside isn't always an easy choice. Whether it's really cold out, just a bit chilly, or you have to deal with frequent temperature changes, here's the best activewear for outdoor workouts and layering pieces perfect for outdoor fitness this season.
AGF leggings and sports bras
If there is one thing to keep in mind no matter what you choose to wear when you workout outside, it's that your leggings should be as close to your skin as possible, especially in windy climates. In addition to having a vibrant print, AGF Nova Leggings and sports bra have a really good stretch to them, so you might even want to order them one size smaller than you normally do.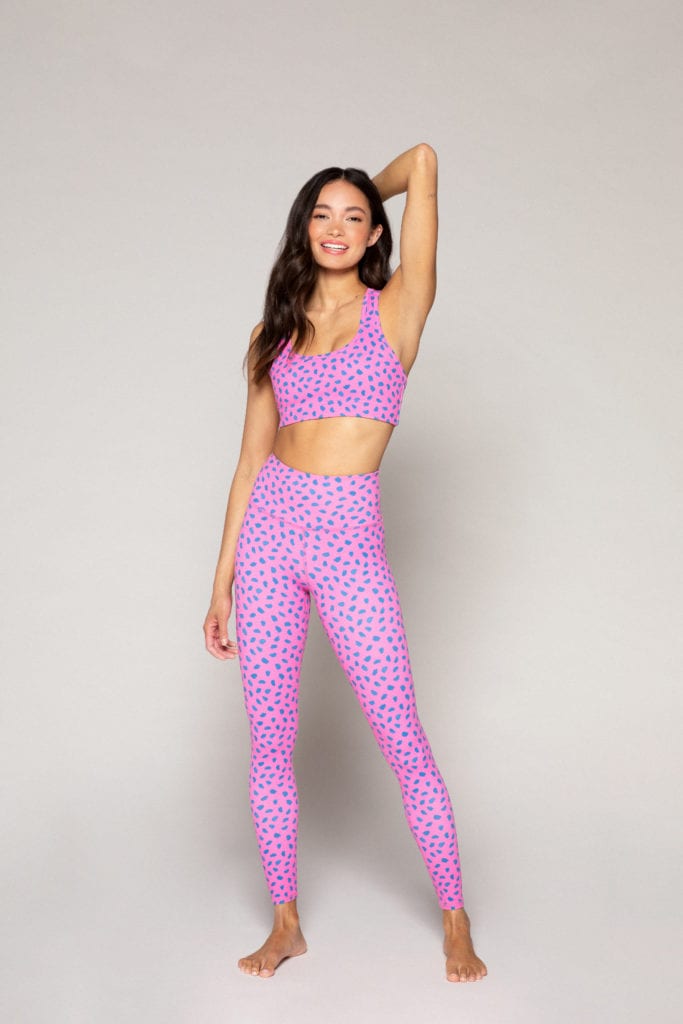 Then layer with The Maverick Hoodie. This piece of outerwear is like wearing a stuffed animal, but its design is incredibly practical. With a half-zip and front pockets, it's easy to stay nice and warm. But the best part of this jacket is the thin lining, so if the fleece gets a little wet from the weather, you'll stay completely dry. For inclusive sizing, Nike makes a cozy AF sherpa jacket with the signature swoosh.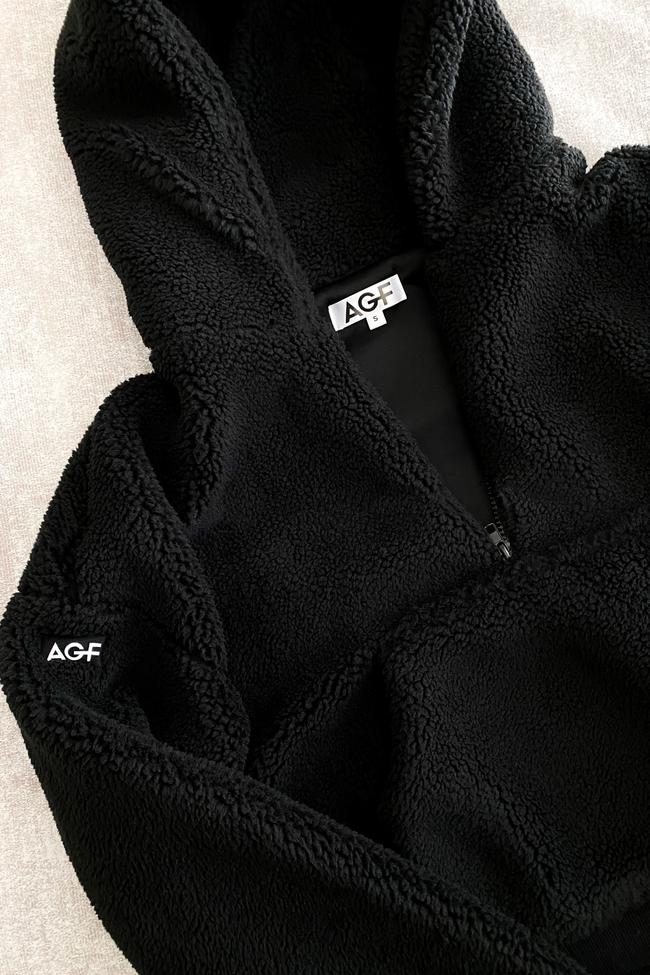 For a wider range of sizes in activewear for outdoor workouts, Athleta makes a matching crop and leggings in a similar pink leopard print pattern, with leggings that go up to 3X in size. Day Won also makes a matching crop and leggings set in leopard with sizing that goes up to 5X and 30/32, respectively.
Ultracor
Ultracor has activewear for outdoor workouts perfect for your afternoon workout or running, where it might be a little warmer, but you still need a light jacket. I highly recommend the Cherry Blossom Collection because there are a variety of pieces for layering and the color palette is dark, so you don't have to worry about it getting a little dirty. Better yet, they're designed for high performance and high impact workouts from running to boxing.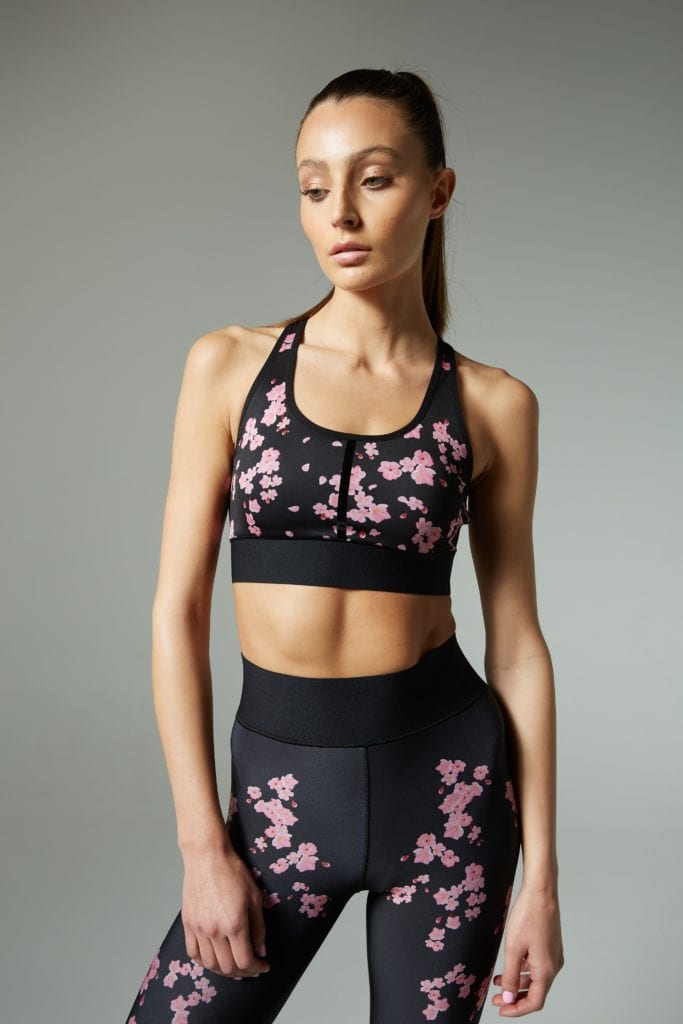 The brand's leggings are offered in four fits: Ulta, Ultra High, Sprinter, and Sprinter High in sizes XXS-XL.
But the standout pieces are the Capella and Force Tops, which are made from the same material as the leggings. These long sleeve tops help you stay warm (but not too warm) and wick away sweat. And if you get too hot, it's easy to tie the sleeves around your waist or stuff in a backpack.
Athleta's Elation Textured Tights in a Frosted Floral Cranberry offer a similar color palette in a wider size range, too. If bold florals are your thing, try Nike's medium-support floral sports bra in sizes up to 3X here.
Onzie
Onzie has the best leggings for outdoor runs and hikes. The High Rise Pocket Legging features two pockets designed to fit your phone, credit card, keys, or anything else you need on the go. They're cut a little longer than a regular capri pant, so you can wear them all year round. With a waistband that hits just under the belly button, you'll find these form fitting leggings super comfortable. Choose from Leopard, Disguised (camo), or Black. For extended sizing options, we love the High Waisted Cold Weather Pocket Leggings from Fabletics—it's got a soft, brushed lining that makes this the perfect outdoors pair.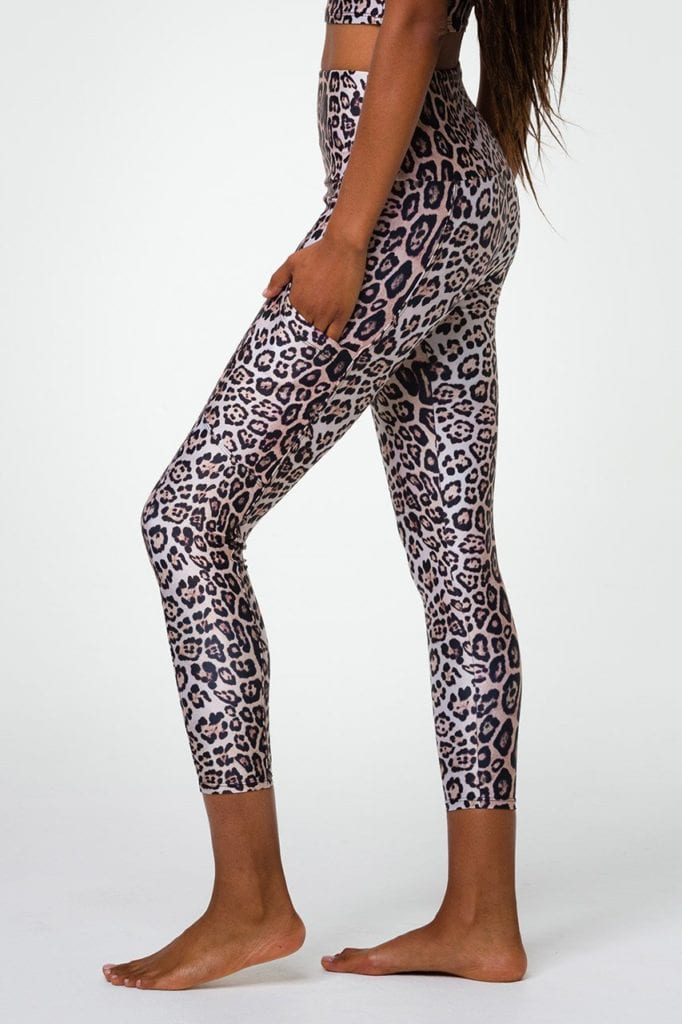 For those who are exercising with masks on, Onzie even has a two-pack of Mindful Masks that match the Leopard and Black leggings. If you have to wear a mask, why not get a matching one?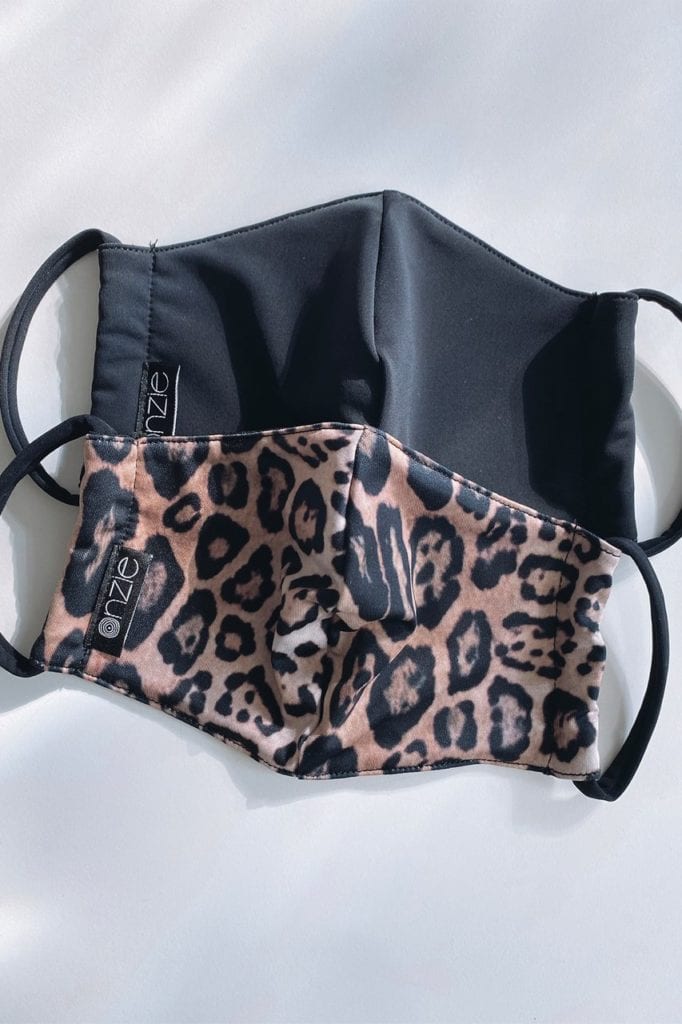 Then add outerwear like the Cinch Jacket. Just as good for workouts and errands, this trendy jacket has a drawstring waist and elasticized cuffs. The funnel collar can be worn up or down, depending on how warm or cool you are. It's also a very reasonable price for such a versatile piece of outerwear. For plus-size shoppers, try the Nike Sportswear Windrunner.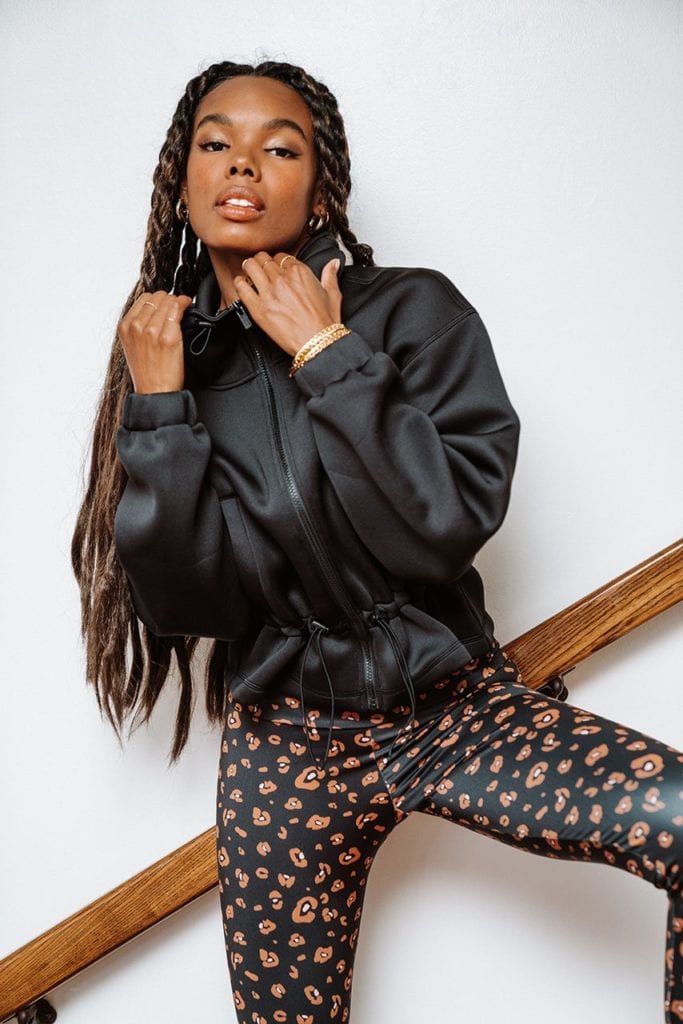 Athleta
You will want to wear Athleta Delancey Gleam Tights to the gym, outside, and just about everywhere. The faux leather look is very much on-trend this season. Made with Sculptek Light, this fabric stretches and gives you full coverage. In addition to regular sizes, it's also available in tall and petite. While these pants aren't made in plus sizes, the Elation Shine Tight fits up to 3X and has a very similar look.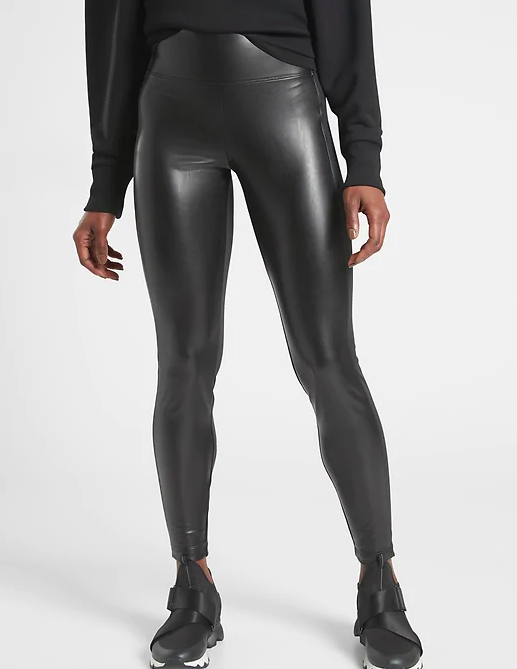 Wear it with the Solace Bra, which comes in a choice of seven colors. It's comfortable, supportive, and has a stylish strappy look that looks chic on its own or under a tank.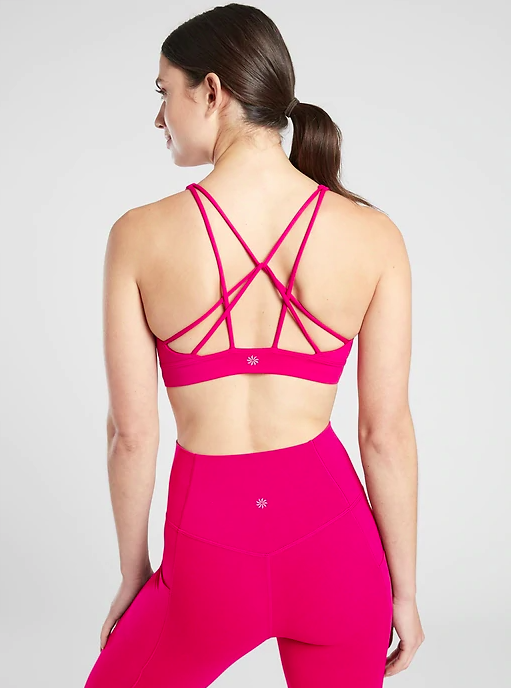 Then layer with the Inlet Jacket in either Smoked Almond Brown or Black. This piece of down outerwear is designed for medium to high impact workouts in colder climates. It features a removable hood, zip pockets, and high collar to give you extra insulation when you need it most, yet it is still easy to move around in. It's also waterproof for those times when you accidentally get caught in the snow or rain.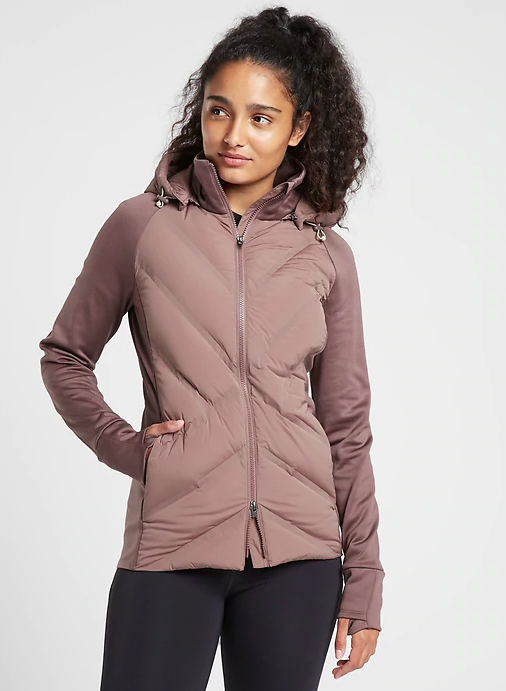 Vita LA X Ashley Moore
If you live in a warmer climate, you may want to wear shorts if you're exercising outside during the day and layer a tank or sweatshirt. The Bra + Shorts Kit is available in three fresh colors: Forest, Ocean, and Cloud. It includes a pair of boyfriend shorts (so you can stop stealing them from your actual boyfriend) as well as a one-shoulder bra. What's great about this kit is that you can choose the size of both the shorts and bra separately from each other. It's also perfect for lounging around at home.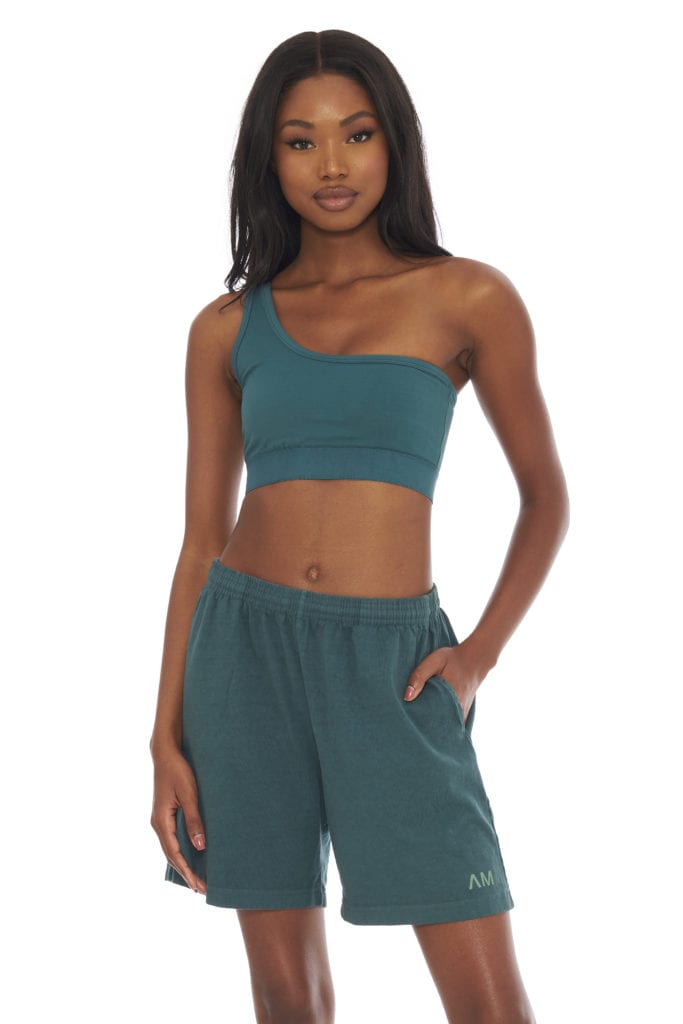 Zella's Gwen Sleevelness Knit Romper is our loungey favorite for extended sizing. It's juuuuust pulled together enough to wear our of the house, but it'll also work if you get a sudden urge to take a quick yoga class in between The Undoing episodes.
Intelligent Threads
If you're trying to step up your workouts and notice you're getting extra sore, you'll love Intelligent Threads. It's the only line that helps with muscle recovery, posture, and soreness. The lightweight dryfit PosiCharge polyester material is chemical-free and designed to stabilize bone structure which facilitates muscles staying in their correct position.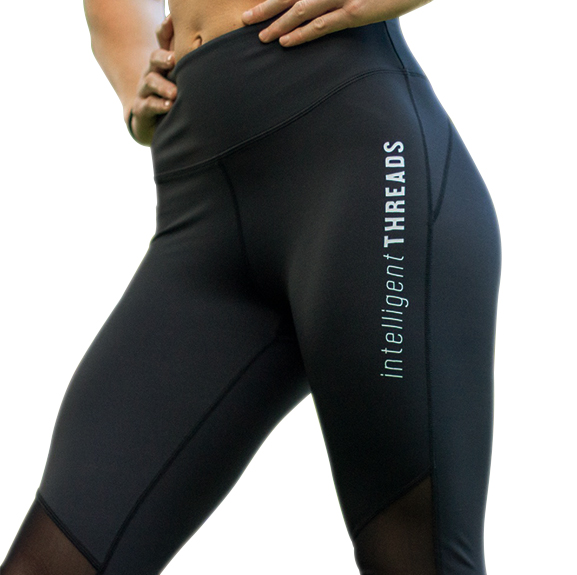 Available in sizes XS-3XL, the Relaxer Yoga Pants feature mesh knees and on-trend seams. While these pants are a splurge, if you find yourself constantly in pain or needing to book massages (and feel uncomfortable doing it right now), they might pay for themselves.