12 Best Sports Bras for Every Type of Workout
Working out looks a little different these days. While you might not be able to hit the gym at the moment, there are still plenty of opportunities to get your fitness on virtually. Some instructors are even holding socially distant classes outdoors.
Whether you decide to take a class from the comfort of your living room or head to a nearby park to workout, one thing's for certain: the right sports bra can make all the difference in your performance. And that goes for every type of workout, from low-intensity yoga and Pilates classes to high-intensity runs and cardio bootcamps.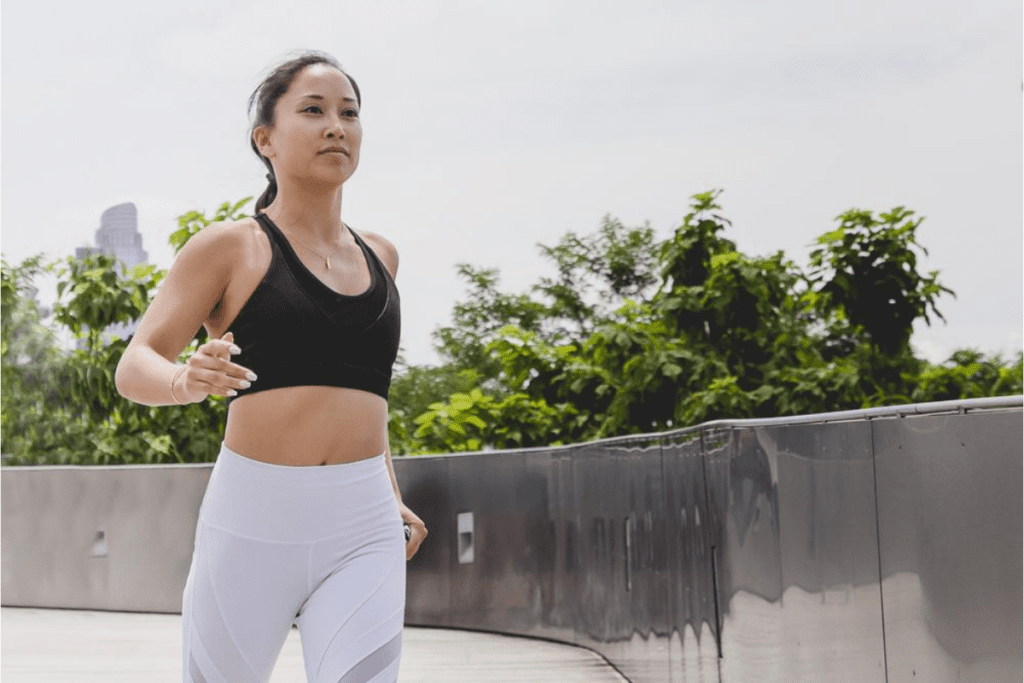 Here, we're rounding up the best workout crop tops and sports bras for different fitness intensity levels—because you should be comfortable while you sweat. 
The best workout crop tops for low-impact workouts
Yoga, Pilates, and strength training are all considered low impact because you're not doing a ton of bouncing in these workouts. For low-impact workouts, you can get away with a lightweight sports bra or crop top that doesn't have a ton of padding. 
Under Armour Women's UA Infinity Low Sports Bra ($35, underarmour.com): Made for A to C cups, this lightweight sports bra gets top marks for being very breathable. Not only does it feature mesh panels but it also wicks away sweat and dries very quickly. The padding is designed in a figure-eight pattern to allow for a light feel and easy movement. 
On Gossamer Cabana Cotton Longline Bralette ($40, bloomingdales.com): Go from lounging on the couch to Pilates or barre in this everyday bralette. Made with super-soft pima cotton, this sports bra is breathable for max comfort. Plus, the straps are adjustable, making it easy to find your perfect fit. Available in small – extra-large sizes. 
Lululemon Flow Y Bra Nulu Light Support ($48, lululemon.com): Get your Ohm on in this yoga sports bra that feels virtually weightless. This sports bra provides light support for B and C cups and is made from a trademarked fabric that has a buttery texture and wicks sweat. 
YIANNA Sports Bras for Women ($18.99-19.99, amazon.com): This stellar sports bra goes up to 2XL, making it a good option for women of all sizes. The criss-cross back straps are flattering while being comfortable. The pads are removable, so you can choose less or more support depending on how intensely you want to exercise. 
The best workout crop tops for medium-impact workouts
Medium-impact workouts include indoor cycling, Zumba, and walking or hiking. When it comes to choosing a sports bra for medium-impact workouts, you'll want one that's moisture-wicking. Underwire can also help keep you in place as you move around. 
Nike Women's Medium-Support 1-Piece Pad Pocket Sports Bra ($50, nike.com): Kristen Geil, chief content officer of A Sweat Life, raves about this sports bra with multiple hidden pockets. "The back pocket fits my phone in a case right between my shoulders so I can ditch the armband," says Geil, who's also a fan of the flattering long line of the bra. "The bottom doesn't ride or roll up at all," she adds. Available in XS-XL. 
Girlfriend Collective Paloma Bra ($38, girlfriendcollective.com): This racerback workout crop top has a long-line silhouette and comfortable support band made for medium-impact classes. Even cooler: The material is made from recycled water bottles (yes, really). Plus, it's available up to size 6XL. 
GapFit Eclipse Medium Support Strappy Sports Bra ($39.95, gap.com): Gap has never let me down with their sports bras, and this one happens to be my go-to for medium-impact workouts like Zumba and indoor cycling. Available from XS-XXL, it's stretchy and supportive. The fabric is breathable and dries quickly, plus the straps make it easy to move around. 
Fabletics Callie Medium Impact Sports Bra ($59.95, fabletics.com): This workout crop top is seriously fashionable (hello, asymmetrical neckline and shiny finish), so you'll never want to put a tank over it. It goes up to a size 4X and has removable cups so you can customize your support depending on what workout you're doing. 
The best sports bras for high-impact workouts
This is when you want to bring out the big guns. High-impact workouts, like bootcamp classes and running, require maximum support, coverage, and structure to minimize bounce so you can exercise with ease. 
Athleta Glory 2.0 Bra ($65, athleta.gap.com): Sweat it out in a HIIT class or cardio bootcamp in this padded sports bra available in B-DD cup sizes. The fabric is soft and lightweight for ultimate comfort, and the padded cups and underwire ensure you'll be supported adequately while you train. 
Le Mystere Hi-Impact Sports Bra ($62, lemystere.com): This sports bra has convertible straps, so you can wear it the standard way or cross the straps if that feels more comfortable to you. The underwire and padded shoulder straps help keep you in place without restricting movement. Available in 32B-40G. 
Adidas Ultimate Bra ($65, adidas.com): When you're in need of a lot of support, put on this sports bra designed specifically for high-impact workouts. It's got adjustable straps and zips in the front so it's easy to get on and off. The moisture-wicking fabric ensures you'll never feel sticky post-workout. Available up to size 48E. 
Nine Bull Women's High Impact Sports Bra ($22.99, amazon.com): This slim-fit high-impact crop top (available in S-XXL) is made from stretchy, sweat-wicking fabric. It has a wide band and a full coverage design for comfortable movement in boxing, HIIT, and other high-intensity classes.