A Beginner's Guide To Sustainable Cleaning
Spring is the time for cleaning, and this year keeping our homes clean has probably never been more essential. As we find ourselves spending more time than usual at home this spring cleaning season, it's the perfect opportunity to do a deep dive and really get into the spring cleaning spirit.
However, traditional cleaning products generally come packaged in large amounts of plastic that will eventually end up in our landfills and aren't exactly environmentally friendly. Additionally, many traditional cleaning products contain harmful chemicals that you may not want to be breathing in or using to clean the same surfaces you use for things like cooking.
We rounded up our favorite eco-friendly cleaning products that you can use to keep your home safe and clean while also protecting the planet.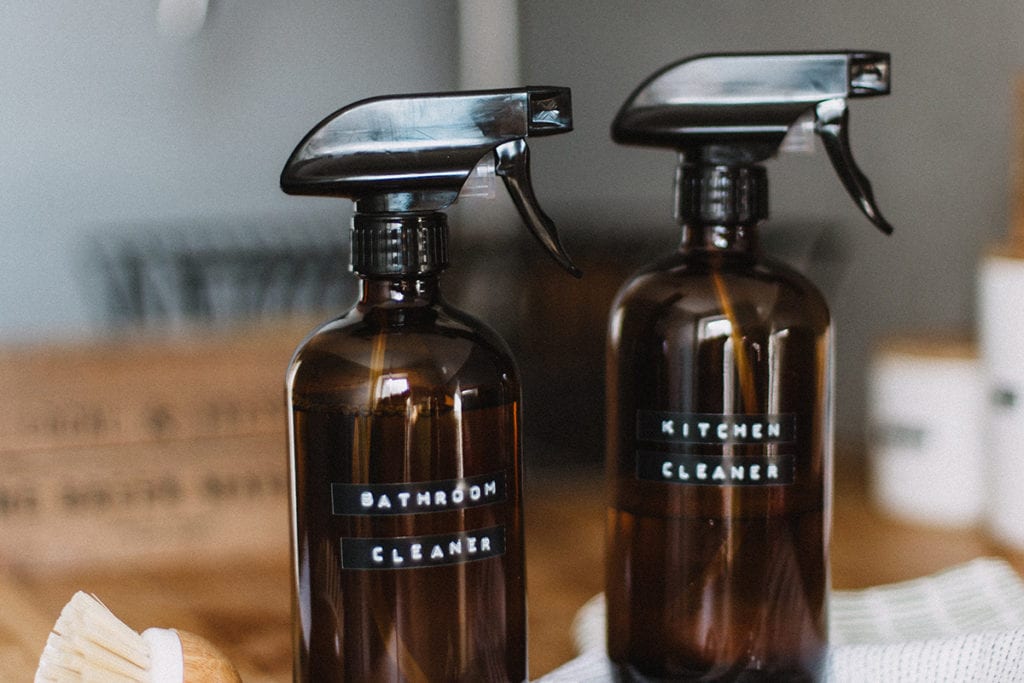 My absolute favorite company for doing the bulk of my cleaning at home, Blueland sells refillable bottles and cleaning formula tablets. Simply drop the tablet in the bottle and fill with warm water. Once the tablet dissolves you're good to go. They currently offer a multi-surface all purpose cleaner, bathroom cleaner, glass and mirror cleaner, and foaming hand soap.
Refill tablets come in compostable and recyclable packaging and to top it all off each refill will only set you back $2, making this cleaner good for you, the planet, and your wallet. And by the way, the bottles are so pretty. Keep them out as decor and when people ask you about them you have the perfect opportunity to plant the seed of a more environmentally friendly alternative for more people.
Where Blueland meets your needs for keeping surfaces clean, Dropps is here for your laundry and dishes. They sell laundry and dishwasher detergent pods encased in biodegradable materials and free of toxic ingredients. This means that you won't unwittingly be contributing to microplastics entering our water systems by using these products. Additionally, they ship plastic free and carbon neutral, meaning they pay to offset the carbon emissions produced by their shipments.
Another major culprit of microplastics as a byproduct of cleaning is small pieces of synthetic fibers that shed in the washing machine. Materials like polyester, nylon, and acrylic are all made from types of plastic. Even awesome and sustainable choices like Girlfriend Collective, a brand that sells leggings made from post-consumer water bottles are guilty of shedding microplastics in the wash.
That's where Cora Ball steps in. Throw this product in the washing machine with any synthetic fabrics and it catches microplastics before they make it into the ocean. Once you see some starting to build up (it might take a few washes because these plastics are so tiny), simply remove the plastic buildup and throw it in the trash.
Cleaning tools
While you're upgrading your cleaning routine to be more environmentally friendly, also consider the tools you're using and whether there's an eco-friendly alternative. For example, do you need paper towels to wipe things down with all-purpose cleaner or can you keep some rags on hand and wash them between uses? Similarly, consider zero-waste swaps for other tools like this compostable dish brush, recyclable pot scrubber, or wooden toilet brush.
Where to shop for eco-friendly cleaning products
I love and use every product mentioned here, but that's not to say I haven't tried sustainable alternatives that I haven't liked. While most were objectively high quality products, they just weren't right for me. If you try any of these products and find that they don't suit your needs don't feel like you have to give up on environmentally friendly products.
Luckily, other people have made it their livelihood to do this work for us and find the best, sustainable, and ethically made products on the market and sell them all in one place. Check out Earth Hero or Package Free Shop for all of your low waste sustainable needs cleaning and beyond.