Why Hope Matters Right Now More Than Ever
For a couple of months, I hosted a mid-day dose of gratitude on Instagram LIVE that I called "What's Good?" I brought on a guest and we very simply discussed what was good. It lasted anywhere from 5 minutes to 15 minutes and it was meant to put a sprinkle – just a little taste – of something good out into the world.

But as the weeks wore on and outrage over racial injustice broke out over the world, I STFU and shuttered that daily five-minute show. Justice > gratitude.

Withdrawing my voice from the tubes (ahem … the Internet) to get out of the way of a unified message was the right thing to do for me. But I neglected to replace that gratitude practice with another, and I've been feeling a sense of lack in my own life.

I was examining my own unease over the past couple of weeks, the constant news alerts, the constant LIVE alerts, and my own feeling of exhaustion juxtaposed against difficulty sleeping. Ah yes, an incoming case of the sads (as I like to call it) that I hadn't even noticed crept into my house/gym/office/restaurant.

I'm grateful for things, sure, but I simply wasn't feeling as hopeful.

I'm not alone in this feeling. Google the phrase "mental health" and you'll find that the current state of the nation's mental health has been termed a "crisis." There are a few reasons we may be experiencing some lows.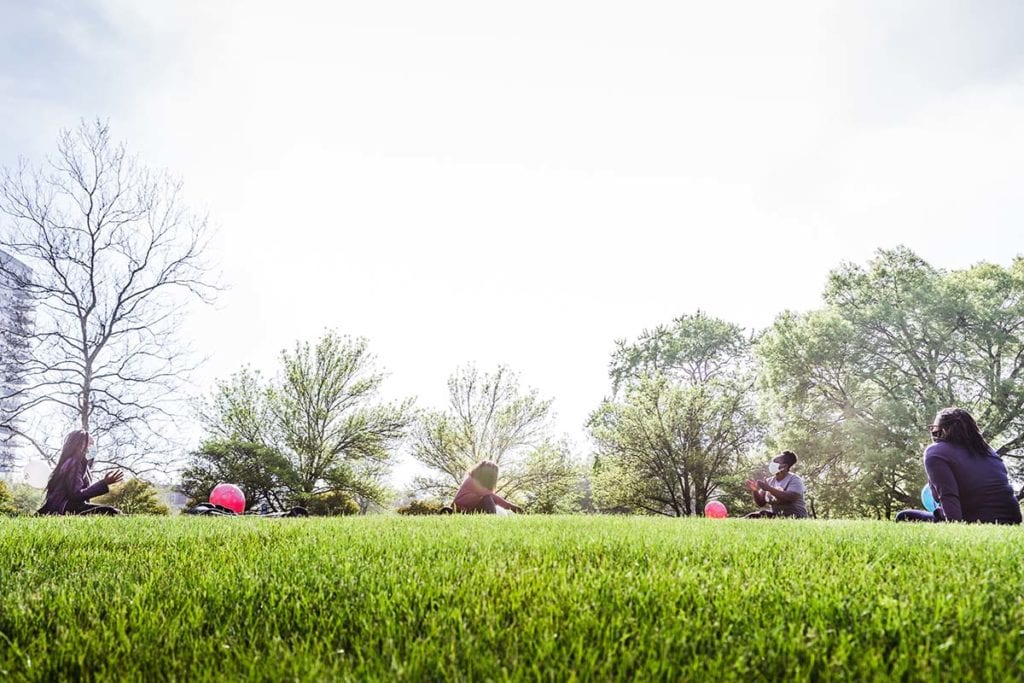 Our relationships are frozen in time and social contact is limited. The number one predictor of happiness is "the quality of your close relationships … how much vulnerability and depth exists within them; how safe you feel sharing with one another; the extent to which you can relax and be seen for who you truly are, and truly see another."

Confronting racial injustice and trauma. According to Fortune, the protests, the news, the recurring images of violence: they're impacting communities differently, but still impacting everyone nonetheless. "Communities of color have been dealing for decades with the trauma that comes from racial inequality. Adding to the trauma is that COVID-19 appears to be hitting communities of color even harder, according to data from the Kaiser Family Foundation. Some of the struggles for nonminority communities include dealing head-on with serious issues of race that they may not have otherwise tackled."

We're feeling waves of helplessness on a few fronts. Our jobs. Our living situations. Kids and what the heck to say to them and do with them. "Helplessness manifests on two levels: On a cognitive level, trauma overwhelms the areas of the brain responsible for problem solving and judgment … When this happens, you can't think on your feet, find a solution to make things better, or problem-solve to reduce the grip of the traumatic effect on you."

Our days are becoming repetitive. You say routine, I say blurday. Somewhere in between picking up and living in an airstream trailer (but honestly, why can't I?) and doing the same thing every day is a healthy balance of predictable routine and adventure.

There are new financial worries. Nearly nine in 10 (88 percent) Americans say the COVID-19 crisis is causing stress on their personal finances.

Twitter. Honestly, you guys. Short messages, potential anonymity, and limited empathy? A recipe for monsters. And I just want to tweet about whatever content I'm inhaling in peace.
But why, Jeana, oh why did you just spend 600 words bumming us out?
Because we need to acknowledge the obstacles and the opportunities to find our renewed sense of hope. And because taking care of our own mental health is another fight for which we need to prepare. Cultivating a practice of hope can give you what you need to get through this time.
Why hope?

Because "hope is not the same as happiness or optimism. It is what we feel when we think that life is worth living, that our work is worth doing. Hope is what we have when we have a positive relationship with our existence. It is the deepest of the three emotions. Happiness and optimism cannot exist without hope, but hope can exist without happiness or optimism."

In other words, hope can pull you through on the bad days, because it gives you a reason to trudge onward.

Here's where to start.
Find your new "why." What is the reason behind getting out of bed each day? Do you want to raise fair, kind, and happy kids? Are you aiming to be the kind of leader you wish you'd had? Are you working to change to world? Home in on the reason behind your days.

Set new and achievable goals that fit this moment in history. Plain and simple: Your old goals no longer apply. You probably won't be running the race you were training for. Your job is probably completely different from what it was a year ago. Now is an excellent time to set new goals that you can actually achieve. If those old goals are no longer possible, all they'll do is remind you of that. Giving yourself something new that you can accomplish given the state of the world can help you feel hopeful. Try a process-based goal, like setting a small and achievable number of miles to walk or run each day.

Cultivate meaningful relationships in safe ways. Organize a small picnic. Set a walking phone date. Create a once-a-week ritual that connects you to people who love you and support you. All of these Zoom interactions are wonderful, but they're less meaningful connections – somewhere between a hug and watching a TV show – we still have a real, deeply held need for meaningful social interactions.


Your challenge this week:
Start a hope list. At the top of your list, write: "My Why is …" and under it, write, "the things that give me hope are …" Consider that a running list. Continue to add to it and refer to it when you need a little glimpse of your more hopeful self.