A Beginner's Guide to Golf
If your summer rec leagues of kickball, basketball, and flag football have all been cancelled, golf might be the sport you're looking for. After all, you get to be outside, playing at a safe, social distance from other groups, AND you get the added fun of driving golf carts. What could be better?
However, for those new to the sport, golf can be incredibly intimidating to try and pick up. We talked with Carly Werwie, the women's head golf coach at Loyola University Chicago, for some golfing 101 tips.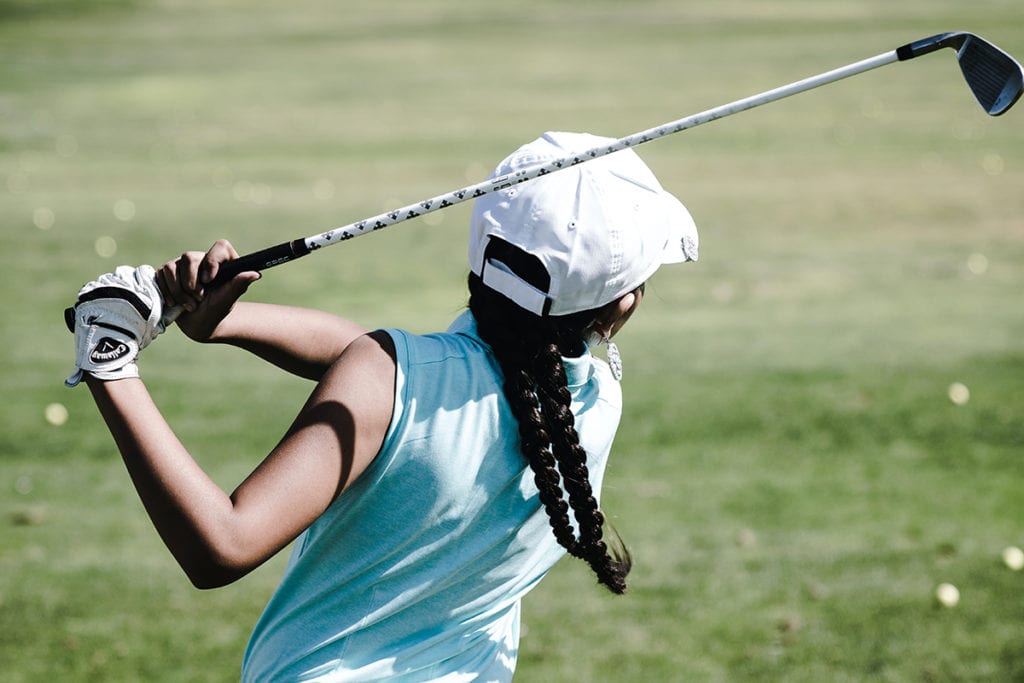 Golfing basics
A golf course typically consists of 18 holes, and the goal is to complete each hole in as few strokes as possible.
Par is the number of strokes it should take a player to complete a hole—so a par 3 hole should take three strokes to complete. Some commonly used golfing jargon that you'll hear related to par are birdie (scoring one stroke under par), eagle (scoring two strokes under par), bogey (scoring one stroke over par), and double bogey (you can probably guess).
Related to the course, the tee box is where all golfers start each hole. Tees are set up at different distances, so depending on how much you want to challenge yourself, you can start further back or, if you're new to golf, a little bit closer.
Your first shot is hit into the fairway, or the grassy area situated between the tee box and the green (where the actual hole is—it's a smaller area with super-short grass, and a flag usually marks the hole). Watch out for sand traps (an artificially-made depression filled with sand that's hard to hit your ball out of), and try to avoid hitting your ball in the rough (the longer grass flanking either side of the fairway).
What golf clubs do beginners need?
While you can carry up to 14 golf clubs on the course, Werwie says beginners won't need quite so many.
"Beginners should carry a putter, a pitching wedge, a 7 iron, 8 iron, 9 iron, a driver, and a hybrid," she advises. Here's what all those clubs are used for:
Woods are used to hit long shots more than 175 yards away from the green. Your driver is usually a 1 wood, and it's used to hit your first shot in the tee box.
Irons are usually used when you're less than 200 yards away from the green. The closer you are to the green, the higher iron you'll use. A standard set of irons has from 3 to 9, plus a pitching wedge.
Hybrids combine a wood head design with an iron shaft (aka the long part of a golf club). They've become popular in recent years because they're easier to hit than long irons.
A pitching wedge is a specialty iron that gives you better shot control; it's used after your driver once you're on the fairway.
A putter is used on the green to get the ball into the hole—it's the last club you need every hole.
While some courses will let you rent clubs, Werwie recommends looking for a boxed set to get you started.
"Boxed sets vary in price and might start around $200," she explains. Want to spend less? Look for a secondhand sports store or organizations like Goodwill, but know that the golf sets they have are likely older models.
The basics of golf strokes
Once you've got your clubs, it's time to start swinging! Werwie outlined a few basic shots plus her best cue for beginners.
Full swings are done with irons, woods, and your driver. You'll do a full swing in the tee box, on the fairway, and in the rough.
"Get a good turn," Werwie advises. "If you're right-handed, you'll start your swing by rotating to the right with most of your weight on your right foot. Then, when you start to rotate back down to hit the ball. your weight will shift to your left side."
Chip shots are smaller swings that don't go above your knee or waist, using a pitching wedge or another type of wedge.
"With your feet fairly close, avoid trying to scoop or help the golf ball up- just let your hands lead the ball. I like to tell my players that your hands [which are clutching the grip of the club] and club head are in a race, and you want your hands to hit the golf club first."
Putting is done on the green when you're ready to aim for the hole.
"Go shoe to shoe," Werwie says. "If you're right-handed, your putter should go from your right food to your left foot, like a pendulum."
Your best bet is to watch some online instructional videos for top-to-bottom technique. Werwie recommends Golf Digest, the PGA website, the Golf Channel website, and "get golf ready" programs at your local course.
What should I wear to play golf?
In general, comfortable athletic clothes that are in good shape will work for your golfing needs—this isn't the time to wear that cut-off t-shirt from freshman year intramurals, but nice athleisure will work, says Werwie.
"An athletic dress, skirt or shorts, capris, or pants will work," depending on the weather, she says. "For tops, most places require a collared shirt or polo, but some courses are transitioning to accepting more athleisure. But, this isn't the place for a strappy tank top." You'll also want a visor or a hat to keep the sun out of your eyes.
And if you don't have golf shoes or don't want to invest in them right off the bat, no big deal. Tennis shoes are fine to start.
Finally, some golfers prefer a glove, worn on their non-dominant hand. Werwie says that this helps with your grip on the club.
What are the basics of golf etiquette?
"Most courses cap out your group at four people," Werwie notes. "You can ride in a golf cart or walk, or you can use a push-cart to walk your clubs."
While some cheering is acceptable when someone in your group sinks a long putt, err on the quieter side out of respect to other golfers, says Werwie. Now's the time to perfect your golf clap.
On the course, if your shot makes a divot (which is like a small hole or impression in the grass), it's your responsibility to fill it before moving on. Similarly, most sand traps have rakes out to even out the sand after you hit out of it (although most rakes have been taken up during the pandemic, as have flags).
Finally, on the putting green, the grass is super short and delicate. Werwie advises you not to drag your feet on the green to protect the grass.
What workouts will help my golf game?
Yoga and Pilates were the first two Werwie recommended.
"Yoga promotes strength and flexibility, especially in your hips and shoulders, which are crucial areas for golf," she says. Pilates has similar benefits, plus an additional focus on core strength.
She also recommends circuit training in place of running and longer steady-state cardio.
"Golf is all about quick swings, power, and plyometric movements. Speed and power together are really important," and you get more of that from circuit training than straight up cardio (although she does note that Peloton cycling classes are really popular among pro golfers, many of whom participated in the recent Peloton/ESPN All Star ride).
Ready to take your first swing off the tee? Join Carly Werwie and aSweatLife for a Golf 101 Workshop! Get the details and sign up here.