Advice on Working With Your Partner for the First Time
You wake up, and peacefully gaze into your loving partner's eyes. After five seconds of unbroken eye contact, you kiss and both put your perfectly-rested feet on the floor as you start your work day – together! Yes, pinch yourself, you're working with your romantic partner and it's perfect. One of you will make the coffee and the other will take on another morning task (insert making breakfast, feeding kids, caring for aging parents). The division of labor is natural – and happens seamlessly as you prepare for your day of working in close proximity. In your perfectly clean home. Side-by-side.
Wake, up. That was a f*%king dream and it's 8:50 am. You have 10 minutes until your first call of the day. Your partner is in the common space already, noisily small-talking on a conference call and you need to get it together and find somewhere quiet, stat.
This is the new reality that many couples across the world now find themselves in: two people who love each other and share a home are now suddenly – kind of – co-workers too.
I know this new norm you're living because I spent the better part of two years working with my husband. We were among the co-founders of a tech company. And while we're no longer professionally linked, we are still super married. Henceforth, consider me an expert on this topic.
And while, adding "colleagues" to the list of things you are to each other is exciting, this new title can also be taxing on a relationship.
To serve my journalistic responsibility of giving you outside sources on working with your partner, please direct your attention momentarily to the podcast How I Built This with Guy Raz. Over the years, it's covered an array of businesses on weekly episodes, including some episodes that are now essential-listening for our newly minted co-working, co-habitants: the couple-as-co-founder episodes. I listen intently for the #couplegoals lessons hidden in these HIBT episodes. And in these episodes, you'll find some of the romantic partners successfully prioritized their relationship and made it, and some did not.*
So what can couples who are now working in close quarters do to stay on the happier side of things? Here's my two cents.
Communicate openly
If you've never worked together before, you're going to figure out very, very quickly what your working quirks are. Your co-workers are too polite to say anything to you about this stuff, but your partner is probably not (Please see the "fight fair" section). To get ahead of that, it's a good idea to have a positively framed conversation about how you work best. Sit down – laptops closed – and talk about the setting you like to work in.
Start with these questions:
Do you like ambient music at work? If so, what genre? (If you disagree, talk about wearing headphones or alternating who chooses the music).
Do you like to talk to your coworkers while you work? Do you talk to yourself? (This one is more just so you can see it coming).
How many calls do you typically have each day?
Do you like to eat at your desk? Do you plan on watching TV during lunch?
Please describe the most annoying person you've ever worked with in great detail.
Agree to a schedule
Navigating a work day in a space that's not meant to be an office takes cleaver maneuvering – especially if you have young kids at home. Three key daily conversations can save you from some future conflict (or at least allow you to see it coming).
What's going to happen each day? Start each day by detailing your work schedule and your home schedule (meals, kids, dogs, etc.). Do your level best to divide the load between the two of you, realizing that there will be days when you have a more demanding schedule and days when they do. Be sure to talk through who will use which space and for what. For example, if you have a big presentation make sure you know where you will be physically, so you can avoid most pitfalls.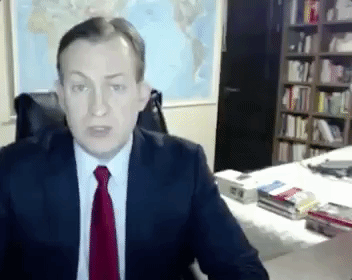 Who will make meals? I used to make lunch for just myself, which made my husband crazy – he always makes enough for two. (#feminism?) But if you outline a schedule that sounds like, "I've got breakfast, you do lunch and we'll make dinner together," that's a pretty good deal.
What's happening on the home front? Someone needs to take care of the things at home – and how you divide that stuff is up to you in your relationship. But if you don't talk about it, someone is going to accidentally make an assumption and someone is going to accidentally say that thing everyone's dad used to say about "making an ass out of u and me."
Fight fair
You know each other's buttons. I cannot emphasize this enough: Do not push them on purpose under any circumstance, no matter how tempting it may be.
You may have their back, sure. But you also know secrets, annoying habits, least favorite smells, gross bathroom things. And it can be easy to pull from that list and leave a real zinger hanging in the air when you're too comfortable or too stressed.
Try this: Picture the face of your friendly HR representative, when you're about to punch low. Only say the thing you would say in a disagreement with a co-worker who has the recourse of reporting you to HR.
Be as clean as the craziest of the pair
One of you is cleaner than the other. The dirty one will make the clean one crazy. These are the facts.
You also may swap who the messy one is and who the clean one is. In the case of my marriage, I go through phases. For example, at times I don't care that the dishwasher does the work for me, I feel that it's tyranny to expect me to transport my bowl and spoon to it. I also go through phases when I cannot even think about working until the bed is made, the kitchen is clean and our dining room table has been cleaned – with the appropriate cleaning spray!
It doesn't hurt the messy one to get cleaner. But clean one, try really hard not to make a big fuss about the mug you found somewhere. Both of those are me.
Above all else, try to appreciate each other. We really are living in a unique time and you're going through it with someone you love. So have a little fun while working with your partner, try to only fart in bathrooms, and above all else – laugh.
(*marriages end for lots of reasons, but this piece is already long, so I can't write them all).