How Ale Breuer and Kim Marsh of Ezza Nails Are Launching a Beauty Revolution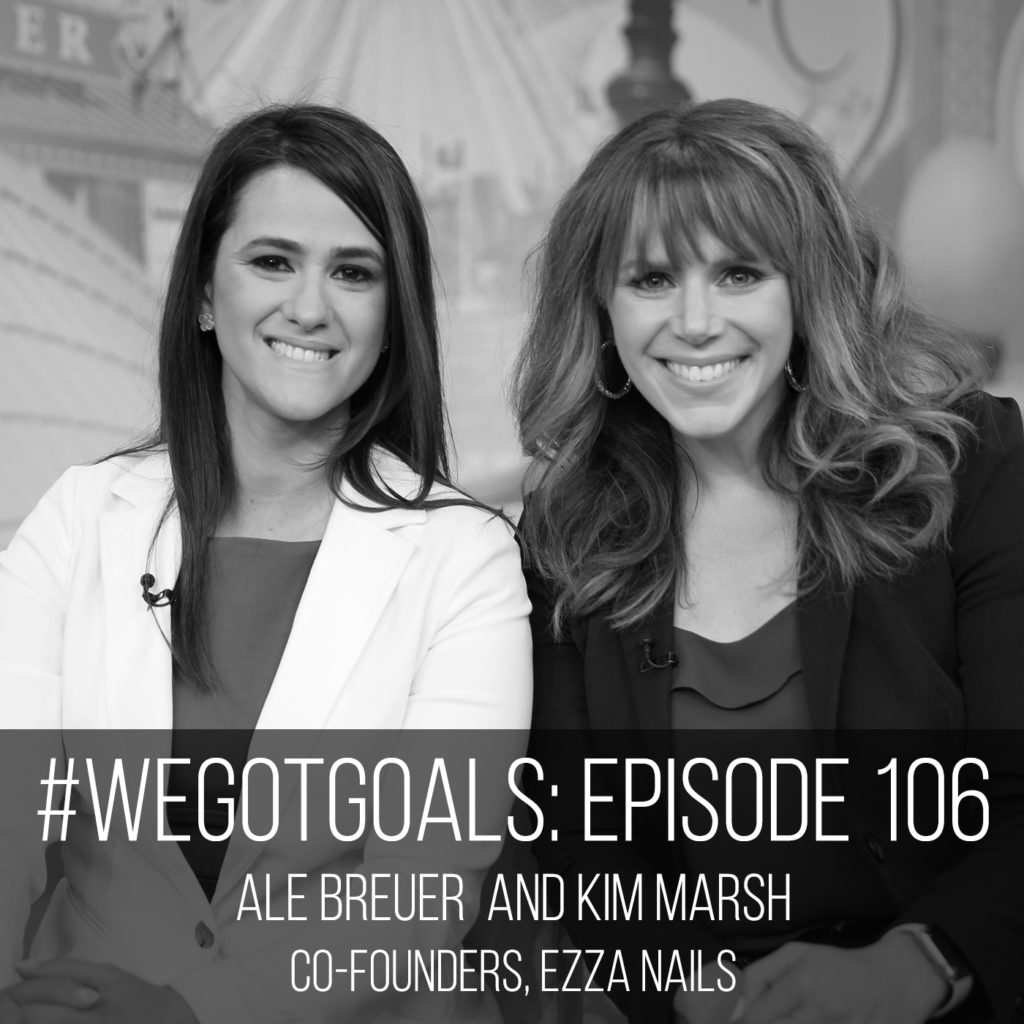 A good mani leaves you feeling polished, strong, and put-together—ready to face whatever challenges the day brings you. But often, the process of procuring it poses a conundrum.
You could go for a high-end service at a swanky spa, if you have the cash and spare time. Or, you might choose an inexpensive yet inefficient neighborhood spot that leaves you feeling vaguely icky about the inequity between customers and employees—especially in light of a brutal New York Times expose several years ago that detailed horrific labor conditions in the industry.
Our guests this week on the #WeGotGoals podcast, ezza nails co-founders Ale Breuer and Kim Marsh, are passionate about changing this situation for everyone involved—driving, as Marsh has put it, "the nail care revolution."
Breuer and Marsh joined me in the studio, fresh from opening their second location and closing their seed-round funding of $1.5 million, to share how they're creating a better earth by improving conditions for the women living on it.
From the customer perspective, the ezza experience screams busy millennial professional. You can book your appointment (and choose your polish color) online, come in as early as 7 a.m. or as late as 8:30 p.m., join as a member for a significant price break, and pay and tip without touching cash.
But most importantly, you can feel good about the business you're supporting. "What truly, truly makes us different is we empower women on both sides of the manicure table," Breuer said. It's a mission that's always been critical to the Teach for America alumnae, who met while earning their MBAs at the University of Chicago's Booth School of Business.
That empowerment begins with a shift in language; employees are called "squadmates," for one thing. But it's not mere terminology. They're paid fair wages, receive opportunities for education and advancement, and work flexible part-time or full-time schedules.
Breuer had the idea for elevating nail care early on during her MBA program. She experimented with mobile services and a pop-up shop before Marsh joined as her partner, and the two decided the business needed permanent addresses to provide a consistent, branded experience.
Opening the first location ranks as the pair's standout achievement. "What's great about brick and mortar is that you can actually be inside your business and see what you have built," Breuer said. "That first day, when we opened and we had customers come in and members come in to our business, was truly one of a kind."
Getting there wasn't easy; they heard "no" plenty of times along the way, especially from male potential investors. Persisting—being "tough as nails," per their tagline—involved recruiting a top-notch team of other female leaders, seeking out mentors among other entrepreneurs, and adjusting the way they pitched the business, focusing on the opportunity instead of solely empowerment and citing success stories like Drybar.
In 2017, they won $75,000 in the Booth New Venture Challenge, which helped them get the doors open. Now, they have hard data (including hundreds of members) to prove their concept. When we spoke—just two weeks out from opening their second spot—they were fully booked there 24 hours in advance.
Breuer and Marsh drive this growth by being "near-maniacal" about setting goals and monitoring progress toward them, on a monthly and even weekly basis. They're always striving for better net promoter scores for both customers and squadmates—how likely people are to recommend booking a service at ezza, or working there.
Though they're fine-tuned to operational details, Marsh and Breuer also hold true to their core values, including staying powerfully positive. Squad members write each other notes of support and gratitude on core value notepads; squad outings and appreciation days are regular occurrences.
After all, if the team enjoys their work and love coming in, customers will take notice. "It's so different when you think about a nail salon visit versus having a nail home—an experience in a community that you feel a connection to," Marsh said.
That atmosphere and dedicated clientele and staff, they believe, will drive them toward their next big goal: taking the brand nationwide. To truly shift an entire industry toward equity and fair labor practices, they'll need to secure enough market share so that other salons will have to follow suit. This winter, they'll start fundraising again for their series A round—this time, with a passionate group of investors, squadmates, and members already on board.
Listen to the full episode to hear more about what Breuer learned when she went to nail school, how her mom inspired the company's name, and all the other ways they're working toward their goal of nationwide nail domination.
If you're in Chicago, you can visit ezza nails at 240 E. Illinois St. in Streeterville, 180 N. Wacker Dr. in the Loop, and within the year, in the West Loop, too. And wherever you are—follow them online or on Instagram for updates on when they'll be in YOUR neighborhood.
Like what you hear on #WeGotGoals? Pplease subscribe on iTunes, Spotify, or wherever you get your podcasts. And if you'd be so kind as to leave us a rating or a review, that will help us continue to grow our own community of goal-getters.