The Top 10 Trends We Saw at Expo West
This past week, I had the absolute honor and pleasure of attending Expo West, the largest natural products convention in the United States. For four days I walked (and ate) my way through the Anaheim Convention Center where I was introduced to both new and familiar health, wellness, fitness and food brands.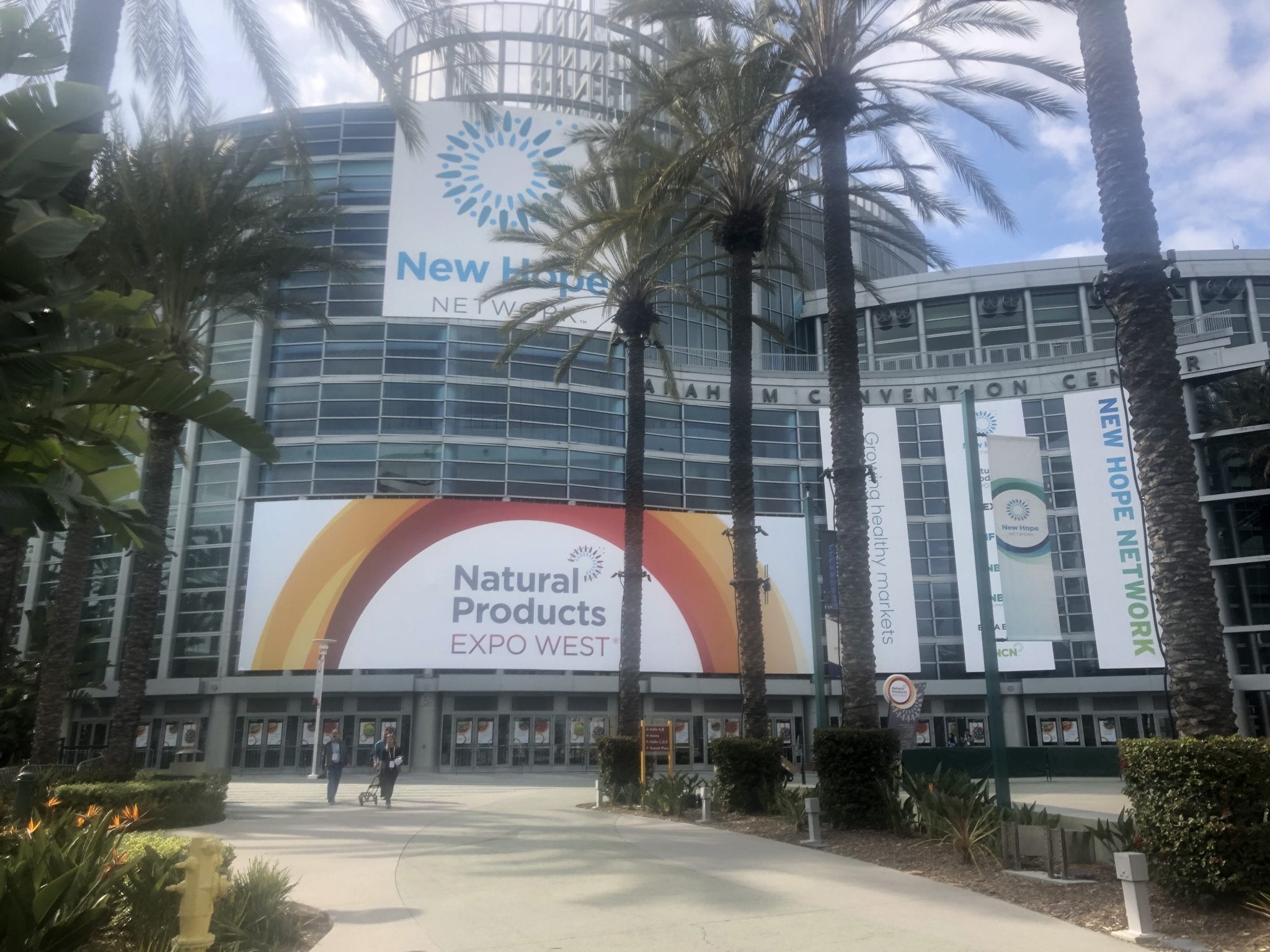 From eating edible cookie dough, munching on mushroom chips and sipping some new flavors of bone broth, I identified the latest up and coming trends for the natural foods industry. Here are 10 food trends (plus some bonus trends) to look out for this year.
Trends Here to Stay
Before I dive into the newest food trends, I want to point out some trends that are definitely not going anywhere any time soon: Keto, plant-based and protein. With the ever growing popularity of the Keto Diet, high fat low carb (HFLC) and plant-based lifestyles, Keto-friendly and plant-based foods were very popular this year.
Another trend that was popular was protein-packed everything. From breakfast cereals to traditional protein bars, brands are packing their foods with protein so you are guaranteed a solid spoonful of protein with each and every serving. 
#1 Bite-sized
We all lead very busy lifestyles and brands are noticing, which was evident by the rise of bite-sized foods this year. From individual packets of breakfast bites to small cookies that are easy to enjoy on the go, bite-sized was a major trend this year at Expo West.
#2 Breakfast bars
Breakfast is the most important meal of the day (or is it?), but with crazy calendars and packed planners, many of us may be missing out on the first meal of the day. Enter breakfast bars. Companies like Enjoy Life are rolling out bite-sized breakfast ovals ranging in flavors like Apple Cinnamon, Berry Medley, Chocolate Banana and Maple  Fig, ultimately making breakfast more accessible to everyone no matter how crazy life gets.
#3 Brownies
Being a self-proclaimed chocolate lover myself, one of my favorite trends to emerge from Expo West this year was brownies. Chicago-based company Simple Mills even debuted their brand-new almond flour brownie at this year's convention.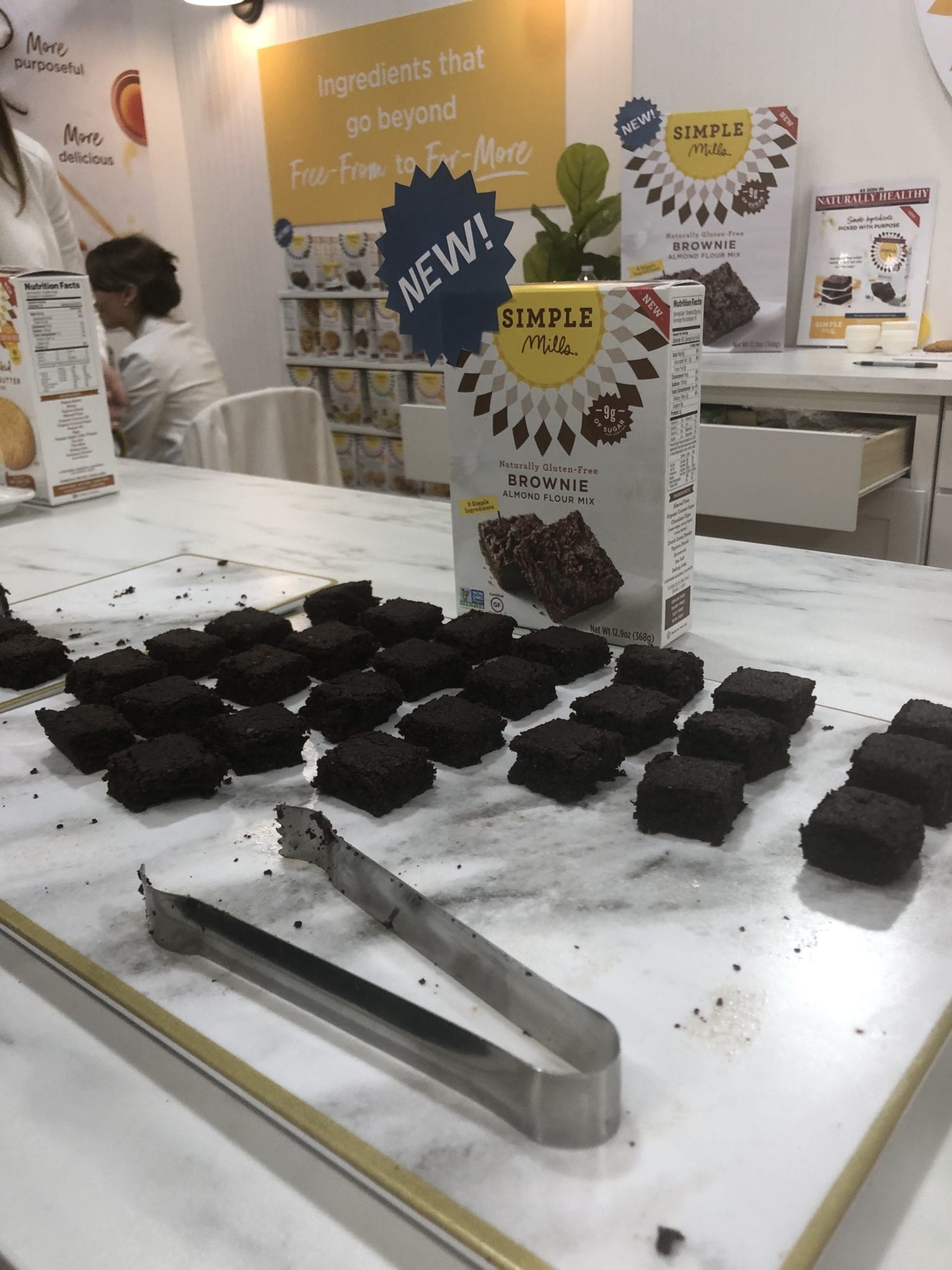 Made with coconut sugar and offering only a fraction of the sugar found in most traditional brownies, Simple Mills' new brownies were by far the tastiest I sampled (and believe me, I sampled a lot of brownies last week!)
#4 Cauliflower
It's no surprise here, but cauliflower was a star of the show this year. We all love our cauliflower rice and cauliflower pizza crusts, but brands are upping their cauliflower game and using this cruciferous vegetable as the base of chips and other crunchy snacks.
I was lucky enough to discover, sample and fall in love with From the Ground Up, who offers a variety of crackers, chips and pretzels all made from cauliflower. Cauliflower pretzels anyone? Yep. It's a thing. You're welcome. (Side note: This company also offers butternut squash pretzels which was probably one of my favorite foods from last week).
#5 Chickpeas
As I mentioned earlier, protein-packed foods and plant-based foods are here to stay, which is why it makes perfect sense why chickpeas were everywhere this year.  Roasted chickpeas, flavored chickpeas, chickpea chips, chickpea puffs dusted with cheese, you name it and chickpeas were most likely used to make it. Chickpeas had a super strong presence this year and I think this trend will only to continue to grow.
#6 Dates
Need a date? No not that kind of date. (I will take one though, if you know any good single guys out there). I am referring to the actual fruit. Brands were offering bite-sized dates drizzled with almond butter, stuffed with goat cheese, or made into syrup, caramel and even chocolate date spread. (Drool). Step aside, honey and maple syrup, because dates are quickly becoming the new natural sweetener of choice.
#7 Alternative flours
Most of us are familiar with better-for-you baking flours such as almond flour and coconut flour, but this year, both cassava flour and sorghum flour were the main ingredients used in almost everything I encountered. From chips to cookies, cassava and sorghum flours were the bases of many baked goods and snacks at this year's Expo West.
If you're not yet familiar with these two flour alternatives, cassava flour is made from the cassava root and is an ideal alternative to wheat flour as it is completely grain free. Sorghum flour has a neutral flavor and light color and can be used with other flours in a variety of baking methods, hence its popularity.
#8 Meat alternatives
With the rise of plant-based diets, it is no surprise many meat alternatives have emerged on the natural foods scene. This year I encountered multiple meatless burgers (such as beet burgers), chicken tenders (made with chickpeas), empanadas stuffed with mushrooms, and sausage links that were actually beans.
Many of these foods are made with foods I normally do not consume like beans and lentils, which is why I politely passed. However, if you are considering a plant-based diet, but are concerned about missing meat too much, rest assured there are plenty of meatless options available to you. As for me, I will stick to my medium rare grass-fed burgers.
#9 Pili nuts
Pili nuts are IN, people. I called this trend last year and no one believed me. Well, if I ever needed any more proof I have it now. Pili nuts were the "it" nut at this year's Expo West. Many people have never heard of a Pili nut, but think of it as an almond mixed with a Macadamia nut. I know, delicious, right? Pili nuts offer a smooth, rich, creamy and buttery taste, similar to that of a Macadamia nut and compliment baked goods well.
#10 Watermelon water
Water melon water is the new coconut water (hey, if it's good enough for Beyoncé…). Made from the seeds, skin and rinds of the watermelon, watermelon water is the new way to stay hydrated. I really enjoyed this trend—it's like taking a sip of summer in a cup, but since watermelon is a fruit, it is naturally high in sugar. I tried one bottle that contained 12 grams of sugar for one serving, and although that is not awful, I prefer to eat my daily grams of sugar as opposed to drinking them, so this girl will be sticking to good old H20 for the time being.
This year's flavor:
Mint chocolate chip – It was everywhere!
Bonus trends
Many of us are no longer just paying attention to what we put in and on our bodies, but also what we bring into our homes and what we put on our pets, so it's not shocking natural pet products and natural cleaning products are on the rise in the natural and organics industry.
Other trends I believe will take off within the next year include designer dessert waffles, French-inspired beverages, baked goods and desserts, honey filled chocolate candies, flavor infusions (i.e. flavored nut butters mixed with fancier spices like cardamom, cinnamon, elderberry and lavender), mushroom chips, rose water and Tiger nuts.
If you are interested in hearing more about my week-long Anaheim adventure or learning more about these trends, pop over to @312ChicagoBlonde to view my photos and videos from Expo West 2019!