#WeGotGoals: Sarah Robb O'Hagan Creates Her American Dream, Teaching Others Too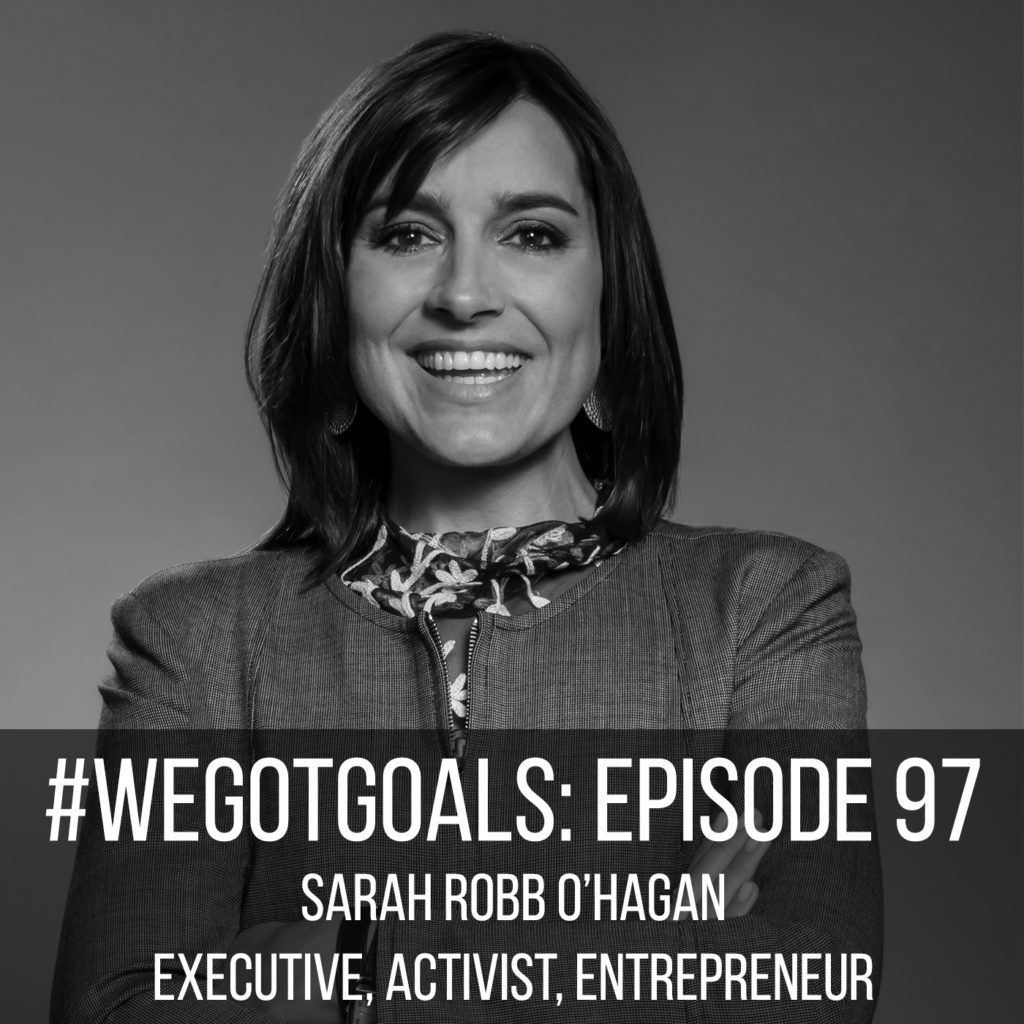 "I do think that I've become the patron saint of failure," Sarah Robb O'Hagan said as I spoke to her for the #WeGotGoals podcast with a laugh. But that's exactly what made me pay attention when I met her two years ago: a special sort of grit that's simultaneously powerful and vulnerable. 
On this week's episode, Robb O'Hagan and I talk about her goals, sure, and they're well worth a listen, but I was most struck by her retelling of childhood in New Zealand. It's also telling to note what was dominating the news when we spoke – it was in close proximity to the college cheating scandal that made "Aunt Becky" trend on twitter and days after a terrorist attack devastated a mosque in New Zealand. And in the background, we had rescheduled our interview so that Robb O'Hagan could attend a vigil in a mosque in New York City shoulder-to-shoulder with a grieving community.
Robb O'Hagan is naturally an introspective person, but I'd think that because of this convergence of factors, you'll catch a certain nostalgia in this interview –  a mix of gratitude for her upbringing and a connection to home.
And just like everyone on the podcast before her, I asked Robb O'Hagan to share a big goal she set and achieved in the past. For her it was leaving New Zealand, which could be misconstrued as out of alignment with a deep love for her home. But after listening – and re-listening – I would argue that it was her upbringing there that gave her the courage and confidence she needed to laugh in the face of a challenge.
Growing up in land of "50 million sheep and 5 million people," she delightfully explains, her parents empowered her to "figure it out." Their parenting style? The opposite of helicopter or snowplow parents, a fact that makes her profoundly grateful.
#ICYMI, a snowplow parent amounts to a parent who actively works to eliminate the threat of hardships and failures for their children. In Robb O'Hagan's book Extreme YOU: Step Up. Stand Out. Kick Ass. Repeat. she writes about taking big risks and dealing with big failures.
Risks, failures, and big wins pepper her resume – in fact, her LinkedIn profile lists the failures in every role she's held. Taking big risks led her to a role where she was "in over her head" at Virgin Megastores, which got her exactly one week of severance. Big risks also led her to the successful rebrand of Gatorade, a move she was initially skewered for in the media, but under her leadership, it turned out to be a winning strategy.
And as she speaks about her goals for the future, she talks about her desire to change the face of leadership in business and the world, speaking with pride about Jacinda Ardern, the Prime Minister of New Zealand.
You'll hear her speak about mentorship, leadership and the climb, but you'll also hear her give a simple piece of advice to change your personal worldview today.
"Pick a complete stranger in the office that [you] don't normally spend time with and ask them to go to lunch," she said. "It will blow your mind."
Listen to this episode of #WeGotGoals featuring Sarah Robb O'Hagan wherever you get your podcasts on Apple, Spotify, and more. This season, you'll hear guests who have done big things related to building community, making the world a better place, getting better, stronger, and faster, and giving generously.
This post contains affiliate links. If you buy something by clicking that link, it won't cost you any extra, and we'll get a few cents to keep the lights on around here. Thanks for your support!
Let us know!
Did this post help you get closer to achieving one of your goals?