I Tried the Air Force's Fitness Assessment—Here's What Happened
I'm a military spouse, so for better or worse, my life often revolves around the military. My husband and I work, grocery shop, and workout on base. I'm surrounded by airplanes and Airmen, and I wouldn't have it any other way.   
Recently, I was coming off being sick and a small injury and wasn't feeling motivated. I felt like I'd lost any momentum and needed a little kick-start. I've watched my husband Chris prepare for quite a few official fitness assessments, and I thought it could be a *fun* way to get back into a routine and measure my progress. I decided to take an initial test for a baseline and then retest a few weeks later.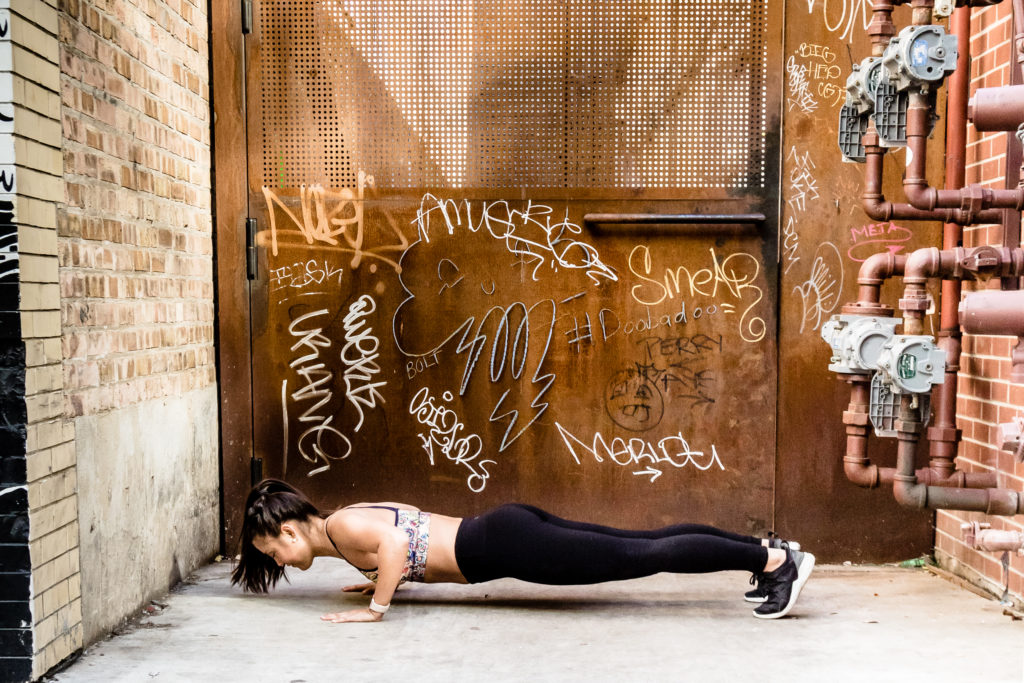 The current US Air Force Fitness Assessment (also called the Physical Fitness Test, or PT test) consists of a waist measurement, one minute each of push-ups and sit-ups, and a timed 1.5-mile run. You score points for each portion, and you must pass each separate component to pass overall. For many bases, how often you are required to test depends on your score. The better you do, the less frequently you have to test. (Side note: Chris says to never test the week after your honeymoon. It will be terrible.)
Chris and I went to the track on base where he served as my proctor. He counted my reps, monitored my form, and walked me through the process.  I'm sure he enjoyed being on the other side for once!
I limped through that initial test. I'm cutting myself some slack, but due to my poor performance in pushups and situps, I didn't pass (using this as my reference point). The shame!
My initial score:
Waist Measurement: 30.5" (20/20 points)
Push-ups: 13 (0/10 points) *Need 18 to pass
Sit-ups: 20 (0/10 points) *Need 38 to pass
1.5 Mile Run: 14:03 (52.8/60 points)
I started exercising regularly again and retested one month later. I *thankfully* passed with a 91.6 and Chris no longer has to disown me. (I did change the sit-ups to a plank, but more on that later.)
Retest Score, One Month Later:
Waist Measurement: 29.5" (20/20 points)
Push-ups: 22 (6.3/10 points)
1 Minute Plank: 10/10
1.5 Mile Run: 13:20 (55.3/60 points)
So, what'd I learn from taking on a military-style challenge? Here are my takeaways:
Sit-ups are a no go
While I performed sit-ups for my initial test to get the full PT experience, they put too much pressure on my spine and low back. Considering I already have back problems, I decided to skip these in favor of a one-minute forearm plank for my retest. Other military branches are starting to phase out sit-ups, and there are rumblings the Air Force may revamp their tests in the future as well. (The USAF is also starting to give certain career fields more rigorous tests to make sure they're combat ready.)
Push-ups are hard!
I'll admit it, whenever a workout calls for push-ups, I'll default to doing them on my knees. While I was still building strength, I wasn't pushing myself to progress to "full" push-ups. Practicing for the test reminded me that I'm not going to get any better at them if I consistently modify! Also, I felt like a total badass doing my 22 REAL push-ups. Push-ups are also a great way to measure upper body endurance, and a recent NYT article suggests they may be a strong indicator of heart health.
Fitness isn't linear
We're going to experience setbacks like injuries and illnesses, and some months I'm going to be more motivated than others. I liked having a way to "measure" my progress and check my current fitness levels. I'd like to do a personalized version of the fitness assessment every so often – it's a great workout.
It wasn't lost on me that I was able to do this test for fun, without any career or real-world repercussions. I could never do what the the Rangers, Special Forces, Navy SEALs, Combat Rescue Officers, and others do. Shoutout to those serving our country who suit up everyday and put their lives on the line for us. You're the real MVPs.