Five Lessons I Learned From Dealing With Injury (Again)
One second, I was cruising along the Chicago Lakefront Trail at tempo pace. The next, my foot hurt so bad I could barely walk, let alone run. I hobbled home and immediately called the sports doc.
Three days, an X-ray and an MRI later, I had my diagnosis: A stress reaction in the second metatarsal, an overuse injury common in runners. The treatment? Three weeks in a walking boot before I could try putting weight on my foot again. My plans of running the Berlin Marathon four weeks later were pretty much out the window. Instead, I found myself hoping I'd even be able to trek around Germany wearing two regular shoes.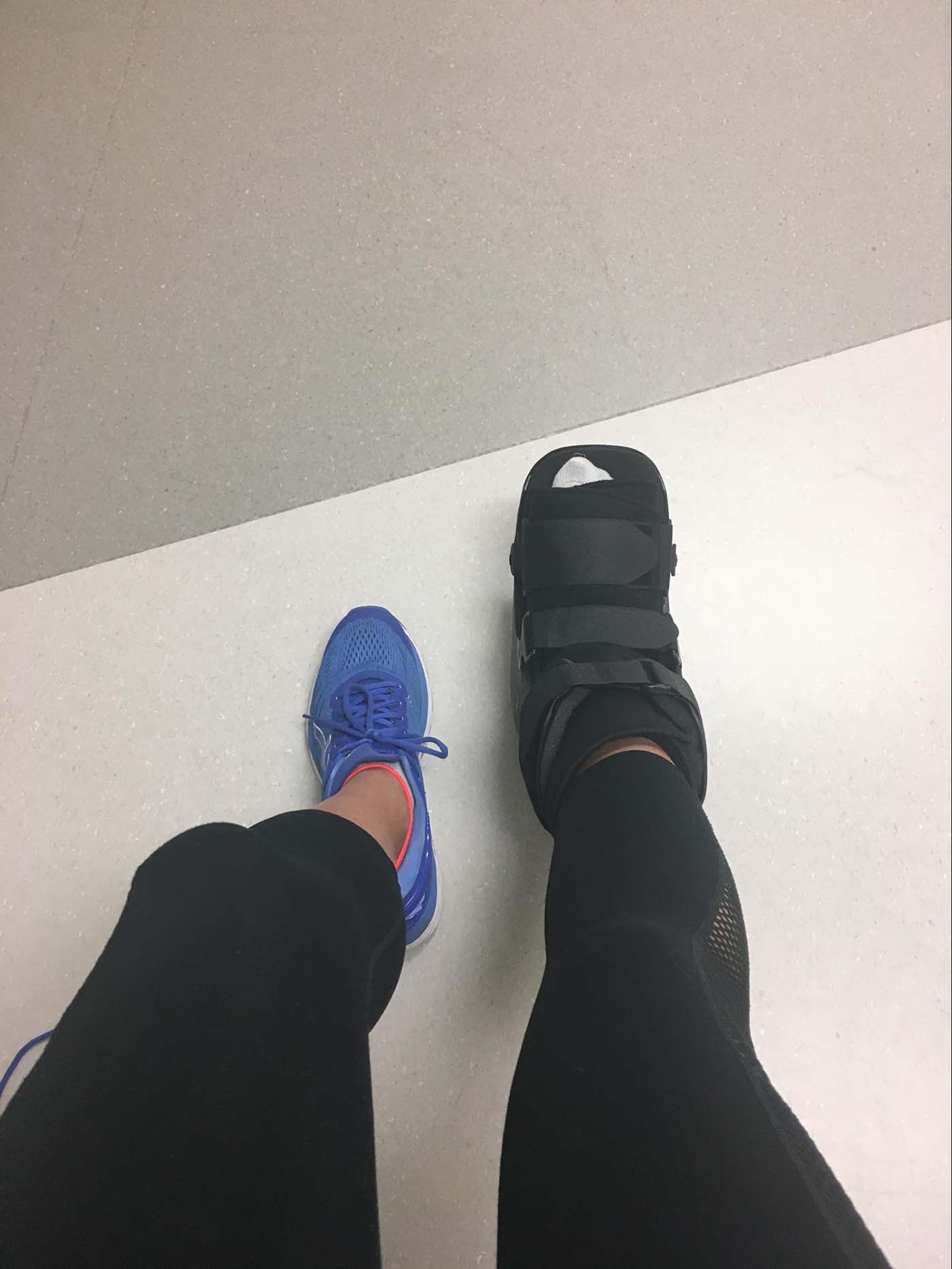 I think and write a lot about the physical and psychological effects of sports injuries. While I would have highly preferred not to gain more personal experience in the topic at the moment, it's been an interesting test of some of the ideas and skills I've been considering lately. Here's what I've learned—some of it for what feels like the 53rd time, but also, some brand-new revelations.
Injuries suck.
Yes, I already knew this, but reliving the experience again always provides me with a brand-new heaping helping of empathy for those who're experiencing them. Whether you're sidelined for two weeks, or six months, or face a permanent shift in your ability to move your body, it will always be incredibly frustrating.
Are there worse problems to have than an injury that doesn't even require crutches or surgery? Undoubtedly. Does that mean I don't deserve to feel bummed about the setback? No way. Really allowing myself to experience the sadness of a goal deferred has actually enabled me to move on effectively to the step of putting it in context.
Rush through that process without giving your feelings their due—sinking into them for a minute, writing them down, being honest with your training partners or friends or teammates—and you're not only sad, you're also beating yourself up about being sad. It's an emotional double whammy that doesn't do anything to ease anyone's suffering—yours or that of the people who "have it worse."
The words you use matter.
I've learned a lot from collaborating with mental skills coach Carrie Jackson Cheadle, and one thing she teaches athletes is to tell their injury story in an empowering way. Take that word "preferred" above. I got it from her and I've come to really love it, because it gives me a way of talking about my experience that acknowledges the disappointment but also gives me the opportunity to share something positive.
"Oh, that totally sucks!" a running friend will say. "Yeah, I'd prefer that the timing didn't line up this way," I'll answer. Then I'll continue with something like: "But I'm working on coming back stronger and still looking forward to an incredible European trip."
Ambitious cross-training is not always the answer.
I firmly believe you can and should make time for motion in your life, and that no matter your limitations, there's always something you can do. (Case in point—I found this awesome chair cardio workout that's possible to do while wearing a boot!)
I'd been training really hard for Berlin, and I was proud of the gains I'd made. In the past I might've shifted that intensity to cross-training to maintain my fitness with hours and hours of swimming, pool running, playing that chair session on repeat (#armjacksfordays). That way, when I came back to running, I'd be ahead of the game training-wise and ramping back up wouldn't be so much of a struggle-fest.
But this time, I chose a different target: Creating optimal conditions for healing. My body was telling me something wasn't right, that it needed a break. So instead of intense alternate workouts, I chose some activities that aligned with that new goal. I got more sleep. I sampled some water aerobics classes, which got blood flowing and also made me smile—that's key for stress relief, which influences the healing process. (Seriously, could you do Aqua Zumba to "Happy" or "Despacito" without grinning?)
I also started doing rehab meditations on Headspace, which has an awesome 10-day series guiding you through positive visualizations. I'm now repeating it the third time through. I booked appointments with dietitians and endocrinologists and am rethinking my overall training strategy.
I can't say whether these steps have made a difference in the physical speed of my healing process, because there's no control version of me who's busting her ass on the stationary bike to compare to. But I can say that I feel happier and more at peace with the situation than I ever have during an injury, and that's a true gift. I'll be running again soon enough—I've already started my oh-so-gradual return—with all the time in the world to regain that specific fitness. Which brings me to the next lesson …
Being honest about your goals is life-changing.
Another favorite tidbit of mine from Carrie surrounds "secret goals." These have definitely complicated my recovery from injury in the past. I might say out loud that I'm fully committed to do whatever it takes to recover, for however long it takes, but inside my head is a ticking clock. I think, "If I can start running again by X date, I'll have time to train for this race." Sometimes I'm aware of this, sometimes not—but even though these goals aren't my stated ones, I feel frustrated and disappointed all over again when I don't measure up to them.
Setting the goal of creating the optimal conditions for healing meant that I had to haul out any other goals from the cobwebs—say, running part of the Berlin course or signing up for a later fall marathon—and look at their compatibility with that primary target. In both cases, I realized they weren't, and legitimately let go of them. Sure, there was sadness there too, but also a profound sense of relief.
The mental side of recovery is hard—but I can handle it.
Now, that doesn't mean any of this has come without a struggle. Like many other people who first came to endurance sports to lose weight, there's still a regular battle in my head about letting my routine shift and being OK with my clothes fitting a little differently for a while. But I've come to appreciate this challenge as no different from any other I'll face when trying to do my best.
As I constantly remind myself during tough workouts or races, I do hard things all the time. Sometimes that means pushing more, and sometimes it involves holding back. In both cases, the hard things are very much the reason I do any of this in the first place—they make me a better athlete and a better human. The mental toughness I've built up from training and racing is what's allowing me to stay disciplined in my commitment to recovery. And when I'm fully healthy again, the lessons I'm learning right now will undoubtedly power me to future victories.
Let us know!
Did this post help you get closer to achieving one of your goals?