How I Conquered My Eating Disorder and Discovered Self-Love Through Body Positivity
Having had an eating disorder for 30 years, body positivity was never a part of my life, let alone self-love.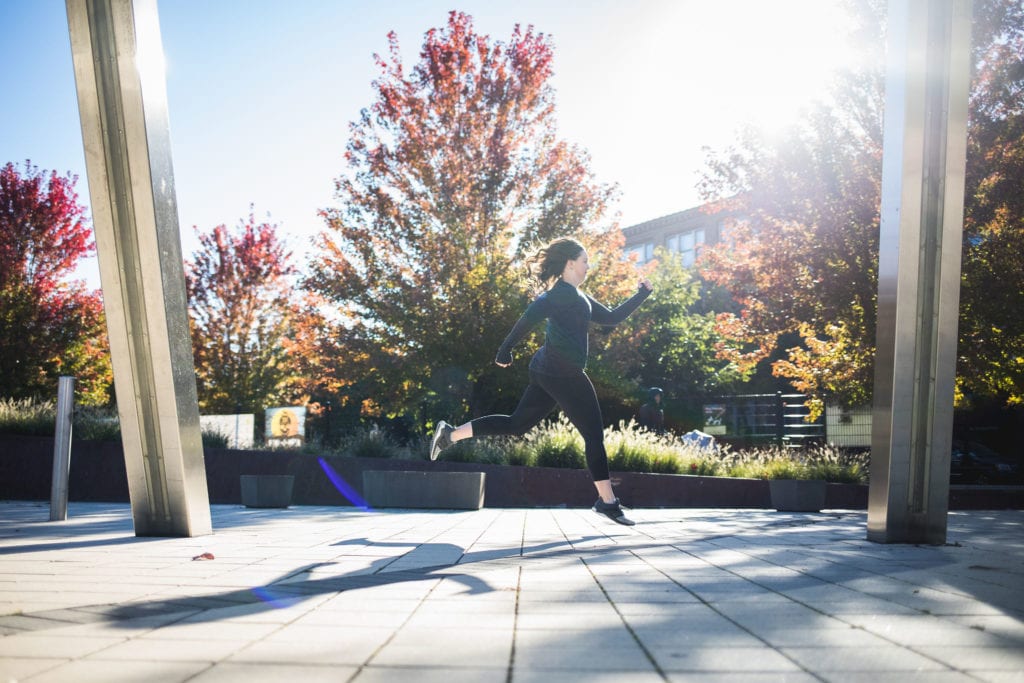 At the age of 9 in a dysfunctional home, I turned to food for love, comfort and nurturing.  Thus, my eating disorder began in 1977. Because I was so active, I grew only a little chubby. But the compulsive overeating kicked in with the numbers on the scale when I was in high school.  I graduated weighing 152 pounds on my 5'3″ frame. I then quickly put on 20 pounds before Thanksgiving break of freshman year of college. My repulsion of my body grew as I hit the highest weight of my life.
On top of that, in my late 20's, I finally faced the reality that I would not become a 5'9″ leggy blonde. (I'm a 5'3″ brunette)
For most of my teenage and adult life, I rarely looked at my naked body in a mirror.  It was depressing and too big of a reality check to see what I was doing to myself.
I became a runner in 1996, so that kept my weight in check throughout the binges. Through one crappy marriage and one wonderful marriage, dimly lit sex was frequently the norm.  I was uncomfortable in my own skin and I didn't want my husband to see the body that I corrupted and scorned.
I remember all too well how agonizing it was to pull up a pair of jeans and find that they wouldn't make it over my thighs. If I was only able to not button them, that was a victory. That could be fixed easily with a rubber band.
My cleavage spilled out of the top of my bra from weight gain, not from a push-up bra.  Somehow you don't feel sexy when you are spilling out of your bra from every angle.
It wasn't until 2008 when I finally realized that this obsession with food was a mental health problem, an eating disorder. Once I became abstinent, or sober, my weight leveled out at a healthy place, and I've been there, give or take a few pounds, for 11 years.
In 2010, I discovered triathlon, which was the game changer for me.  Swimming, biking and running worked just about every muscle group in my body.  I lifted weights, as well. When I dared to look in the mirror, I started to feel good about what I saw. I began to see lean muscle. I felt strong and empowered. My body shape changed.  
Love, and maybe even some pride, slowly replaced the feelings that I felt for decades of revulsion in both myself and my body. I bore two children, and had numerous surgeries that left scars. Despite all of that, I finally became comfortable in my own skin. I even wore bikinis for the first time when I was in my 40's!
When I began to love my body—all that it had been through and all that it could do—I felt differently about myself as a person.  I realized I was capable of athletic accomplishments, such as becoming an Ironman three times. I took pride in achieving recovery from the eating disorder.  I learned that other things in my life were, literally and figuratively, so much bigger than my body and weight. I gained a confidence that had been missing for over 30 years, more than half my life!
Three decades of abusing food to cure my mental health issues severely damaged my body image.  I disliked myself for what I was doing to my body, and I felt negative about what my body had become through my eating disorder.  It wasn't until I conquered my addiction that a positive body image slowly emerged. Now, I am able to love myself despite all that I have been through.