How Training for Triathlons Helped Me Overcome My Eating Disorder
I was a food addict and compulsive overeater for 30+ years. While Overeaters Anonymous, therapy, blogging and recovery books inched me towards healthy eating, it was triathlon that filled me with passion and relegated my food obsession to the backseat.
I'm 49.  I have been an athlete my whole life — Little League baseball, then playing softball and basketball for my school teams.  During college and beyond, I joined a gym, and then began running when I was 28.  I discovered triathlon when I was 42; I was hooked.  Triathlon fulfilled me in mind, body and spirit.
While I was lucky to be born with some natural athletic ability, I was unlucky to grow up in a home in which I did not receive the love I needed. I saw a dysfunctional relationship between my parents.  Unbeknownst to me, I turned to food as a coping mechanism at around the age of 8 or 9.  
And not just food, but large amounts of food.  Copious amounts of food that I ate hidden from family and friends.  Food became an obsession.  What would I eat? Where would I get it? Where would I eat it?  Repeat.  Could I socialize with friends at a party or event with foods? Forget it.   The food was more important than the people around me.
I felt terrible physically and mentally.  I'd vow, disgusted with myself, that I would stop the next day.  So many vows were broken.  My brain was not wired properly; Food controlled my life.
When I was 40, I realized that I didn't just have a "sweet tooth" for the past 30 years. I had an eating disorder – compulsive overeating.  I was a food addict.  I took this discovery as a fatal diagnosis and turned all my energy to recovering.   Though all of the elements I mentioned earlier were key in my recovery, triathlon cemented everything in place.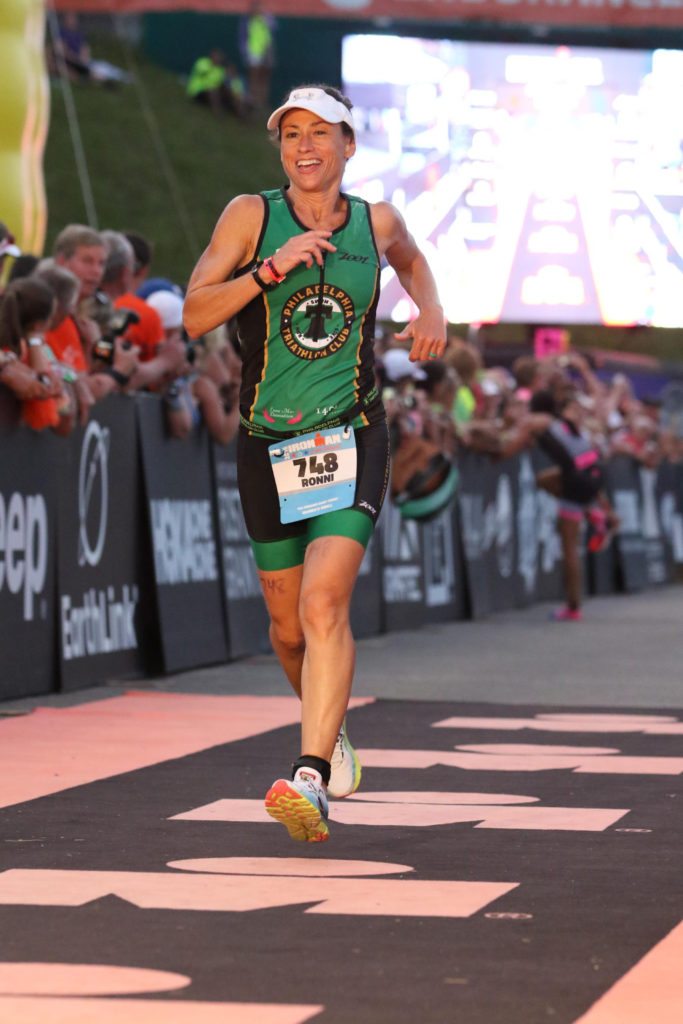 Being a type-A personality, training for triathlons was all-consuming.  I was fueled by the training, the nutrition, the racing, the gear and the camaraderie of a tri club.  I loved it all.  It was a sport that catered to all of my personal and athletic needs.  While I competed mostly with myself, I was also competing with other women in my age group.
I naturally progressed to competing in sprints, then Olympics, then 70.3's, then 140.6's.  The longer the distance I accomplished, the more empowered I felt crossing the finish line.  I felt strong and confident.  
Though I still struggled at times with the desire to eat too much junk, my nutrition needs quietly took over: How do I best fuel my body for training and racing?  I began to "eat to live" replacing a 30-year feeling of  "living to eat."
I learned in therapy that in order to stop thinking about food so much, I had to allow other things to fill my life.  Triathlon came into my world in the form of an email about a triathlon charity event.  Never a swimmer or cyclist, I stepped outside my comfort zone. I opened myself to a new sport, and as a result, discovered a passion, something that mentally and physically filled me and my needs.
If there are addicts or recovering addicts in your life, whether it be alcohol, drugs, pills, food, or otherwise, please know that they are in a battle every day.  It's not that they are weak or have no willpower; They have a mental illness.  There is strength in choosing to recover.
When people try to reclaim their lives from an addiction, filling downtime becomes a huge problem.  They don't know what to do with themselves when they are struggling to stay away from their triggers. 
As a friend or family member, it would be helpful to encourage them to leave the house.  Join them in a favorite activity to take up their time, or better yet, help them discover a new and exciting passion. It could be an adult education class, a book club, joining a gym or engaging in a sport they haven't thought about for a long time.
Maybe when they were younger, they loved art or playing the piano.  Perhaps they thought about going back to school at one point.  Help them connect with their younger selves to remember what was fun or delighted them, and see if they can recapture the joy as an adult.
Recovering from an addiction is hard work.  It takes a great deal to admit you have a problem and great strength to retake your life.  Discovering a new passion or rekindling an old one is a great tool for finding and maintaining recovery.  Training for triathlons was the passion that called to me. I'm forever grateful that I found it.
Learn more about recovering from an eating disorder here.
Let us know!
Did this post help you get closer to achieving one of your goals?